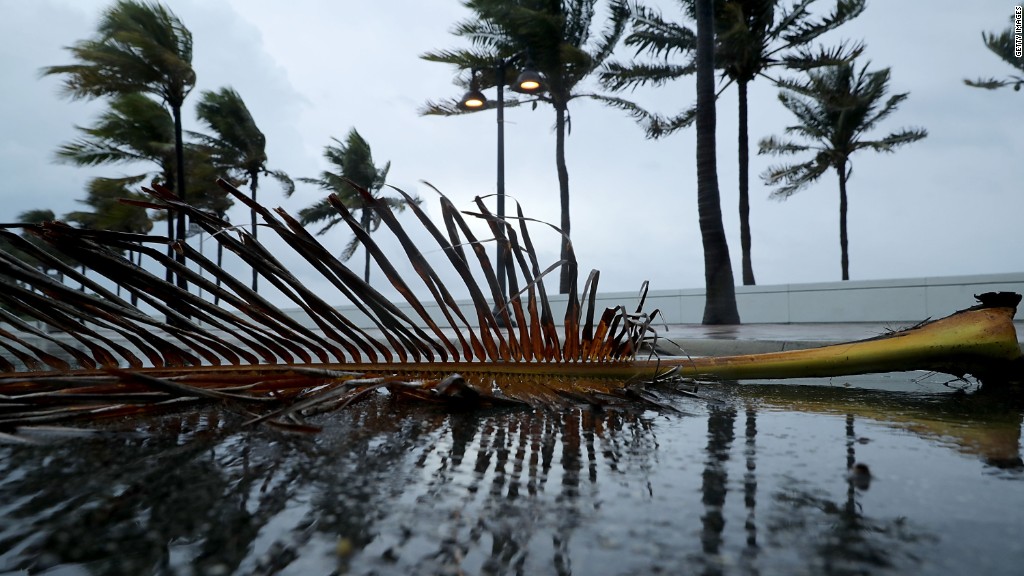 One monster hurricane can cause serious economic damage.
So what happens when two massive storms hit the U.S. within two weeks of each other?
Hurricane Harvey decimated parts of Texas and damaged southwest Louisiana when it hit the region late last month, destroying billions of dollars worth of property.
Now, Hurricane Irma is tearing through Florida.
Both storms will be extremely costly. RMS, a catastrophe modeling company, estimates that Harvey has caused between $25 billion and $35 billion in losses that will be covered by insurance. The total economic damage, which includes uninsured losses, could be between $70 billion and $90 billion.
RMS is waiting until Monday or Tuesday to release damage estimates from Irma, since the storm's path is still in flux.
AIR Worldwide, another so-called catastrophe modeling firm, says Irma might cause anywhere between $15 billion and $50 billion worth of insured losses in the United States. Damage in the Caribbean could bring that number to $65 billion.
Related: Florida's economy is poised to take a major hit from Hurricane Irma
Others say Irma's cost could be even higher. Chuck Watson, an analyst with the disaster research group Enki Research, said the situation "looks pretty grim."
Watson estimated that Irma could cause $172 billion in total U.S. damage, based on the storm's path as of Sunday morning. He expected that $65 billion of that amount will be insured losses, and that $40 billion will need to be covered by the National Flood Insurance Program. That assumed the storm maintains its intensity as it moves north.
Irma was initially expected to hit Miami directly, but it shifted west. Forecasts show the storm moving up Florida's west coast on Sunday and Monday, hitting Naples and Fort Meyers before reaching Tampa. It made landfall in the Florida Keys early Sunday.
Property damage isn't the only issue in play. Harvey has already hurt the job market, and Irma could exacerbate the problem. That could knock down short-term economic growth.
On Thursday, the federal government reported that 62,000 more people sought jobless insurance in the last week of August, mostly from Texas.
That raised the total number of claims for the week to 298,000 -- the highest level in more than two years.
Related: Hurricanes Harvey and Irma may mess with the job market
That said, the economy is typically resilient after natural disasters, so economists predict that any dip won't last long.
Much of reconstruction is subsidized by insurance payouts and federal aid, and it usually gives hiring a boost, said Gus Faucher, the chief economist of the PNC Financial Services Group.
"U.S. economic growth may briefly slow in the third quarter because of Harvey and Irma, but should bounce back later this year and into 2018," he said in a note to clients Friday.
Most of the negative impact will be regional, said Jim Baird, partner and chief investment officer at Plante Moran Financial Advisors.
"The near-term economic impact of what increasingly appears to be two severe natural disasters in close proximity to one another will be a clear negative, and disruptive to the regional economies in the impacted areas. Having said that, the national economy appears to remain on track," he said in a statement last week.
-- CNNMoney's Paul R. La Monica contributed to this story.