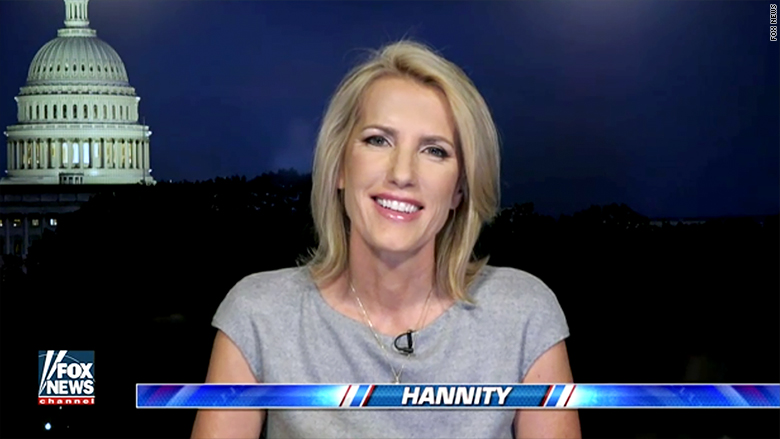 Laura Ingraham, the radio host and Fox News commentator, is about to become a prime time host on the conservative cable network.
Ingraham is expected to take over the 10 p.m. hour on Fox News, according to people who spoke on condition of anonymity.
While there may be one or two final details to negotiate, Ingraham has been telling friends that the deal is essentially done, the sources said.
Her new show will be part of a broader change to the network's top-rated prime time lineup. Sean Hannity's show, currently at 10 p.m., will move one hour earlier to 9 p.m., multiple sources confirmed.
And "The Five," a talk show originally named for its 5 p.m. time slot, will shift from 9 p.m. back to its namesake hour.
The changes come on the heels of Eric Bolling's exit from Fox and the cancellation of his 5 p.m. show "Fox News Specialists" last Friday.
Fox is temporarily replacing the "Specialists" with news programming. But "The Five" will move back to 5 p.m. in the coming weeks, the sources said.
The launch date for Ingraham's new show is unknown. But the sources said the new schedule is confirmed and known among senior staffers. This is a change from last month, when the talks between Ingraham and Fox were first reported.
A Fox News spokeswoman told CNNMoney there is "no deal in place" with Ingraham.
Putting Ingraham at 10 p.m. is an important bet by Fox News, and it comes with some risk. The network rarely shuffles its lineup like this.
But Ingraham is well known and well liked among Fox viewers. On her radio show and her Fox appearances, she channels the feelings of President Trump's base and challenges Republican establishment figures.
At times she is critical of Trump, too -- but in a way that positions her as a champion for the voters who elected him.
The president recently tweeted a response to one of her appearances on "Fox & Friends."
The schedule change is really a reset of sorts, five months after the shuffle that ensued when the network abruptly removed Bill O'Reilly amid a sexual harassment scandal.
Fox executives made logical moves at the time: Tucker Carlson moved from 9 to 8 p.m., replacing O'Reilly, and "The Five" got a promotion to prime time.
A new 5 p.m. show, the "Specialists," was quickly built around Bolling.
But allegations of inappropriate behavior in Bolling's past caused the network to suspend him "pending the results of an investigation" last month. While it is not known what, if anything, the investigators found, Fox announced his departure last Friday.
Bolling's co-hosts Eboni Williams and Kat Timpf are remaining at the network as contributors.
"The Five" mostly held its own at 9 p.m., but Fox has been losing to MSNBC's Rachel Maddow at that hour, causing no small amount of consternation behind the scenes.
Fox is accustomed to winning every hour of every day, thanks to its incredibly loyal right-leaning audience, so the shifting of Hannity may be an attempt to fortify the 9 p.m. time slot.