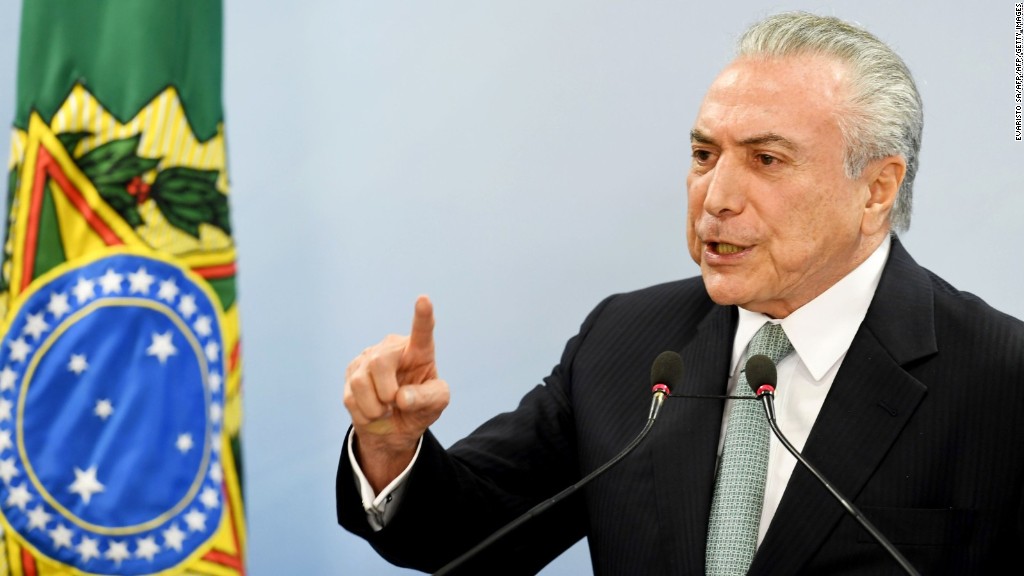 Brazil's police have arrested the boss of the world's largest meatpacking company on suspicion of insider trading.
JBS (JBSAY) CEO Wesley Batista was detained on Wednesday after the Brazilian Supreme Court issued a warrant claiming that he sold shares in the firm while negotiating a plea agreement with prosecutors over previous corruption charges.
A spokesperson for JBS confirmed Batista's arrest to CNNMoney.
Joesley Batista, Wesley's brother and former chairman of JBS, turned himself into authorities on Sunday after the supreme court issued a warrant for his arrest too, Brazilian state media reported.
The brothers agreed earlier this year to pay a fine of $3.2 billion after it was discovered that JBS had doled out about $150 million in bribes to 2,000 politicians over a decade. In exchange, they were expected to receive more lenient sentences, state media reported, citing the attorney general's office.
But, police say, they now stand accused of violating that plea agreement by profiting on the sale of the company's stock before the deal was made public in May. JBS stock fell 30% on May 22, although it has since recovered slightly.
Federal police said in a statement Wednesday that the suspicious trading took place between April 24 and May 17.
In a statement, JBS and lawyers for the Batistas described the arrests as "unjust, absurd and regrettable," saying the brothers had made themselves available to law enforcement, given testimony and presented all the documents requested.
"The Brazilian state uses all means to promote revenge against those who collaborated with Justice," the statement said.
Related: Brazil meatpacker stock plunges 30%
JBS has been under fire for much of this year after investigators revealed a massive bribery ring between the company, food inspectors and government leaders. JBS paid off inspectors to approve spoiled meat that was exported to other nations. Some countries, such as China, temporarily banned Brazilian beef exports.
The corruption scandal was just the latest to scar Brazilian business and politics. President Michel Temer survived an impeachment vote in August, brought by lawmakers after he was accused of bribery. Temer denies the allegations.
His predecessor, Dilma Rousseff, was impeached a year ago on charges of manipulating the government budget. She still denies any wrongdoing.
Rouseff's wildly popular predecessor, Luiz Inacio Lula da Silva, was sentenced in July to nearly 10 years in prison for accepting bribes. He is appealing the case.
In 2014, investigators unveiled a massive bribery ring involving Brazil's state-run oil company, Petrobras. It helped plunge Brazil's economy into its worst recession in history. Brazil came out of recession earlier this year, though the recovery has been anemic.