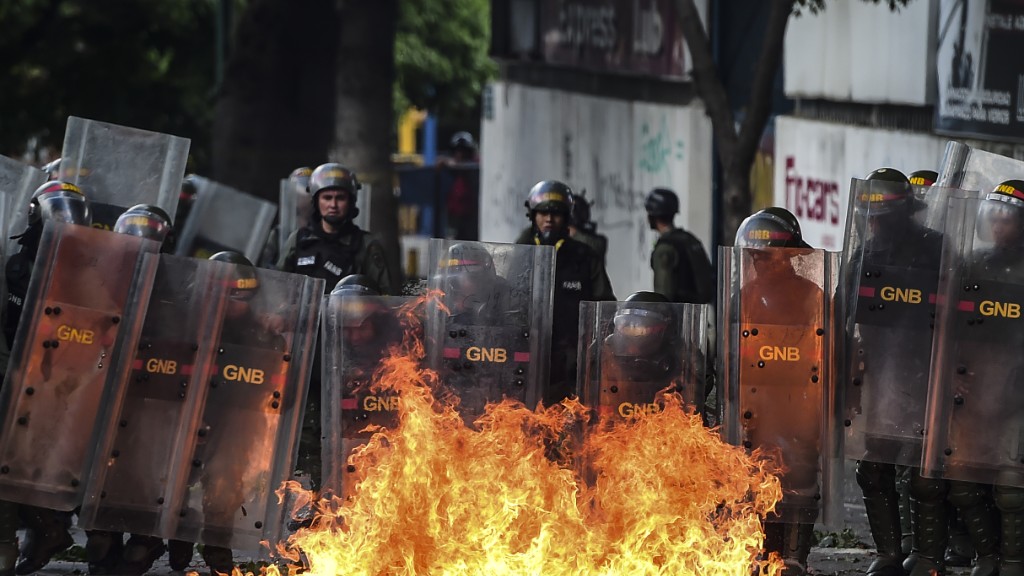 Let them eat rabbits.
That was basically the message from President Nicolas Maduro to Venezuelans starving and struggling through severe food shortages brought on by a spiraling economic crisis.
Maduro unveiled "Plan Rabbit" on Wednesday with his agriculture minister, Freddy Bernal, at a meeting that was broadcast on Periscope. (In the video, the announcement comes after the two-hour mark).
The Venezuelan leaders, who blame President Trump and the United States for Venezuela's economic crisis, recommend that people raise rabbits at home as a source of food.
"The rabbit isn't a pet, it's only two and a half kilos of meat," Bernal said smiling, with a few laughs around him. "Trump's attack against the Venezuelan people is an opportunity to revise and change cultural consumption patterns."
Maduro, grinning, cheered Bernal's talk, adding "The first part of Plan Rabbit moves forward!" He added that some rabbits have already been distributed to a few communities as part of a pilot project.
Related: Trump bars banks from buying Venezuela state bonds
Maduro says U.S. sanctions on him and over 20 of his officials have exacerbated the crisis. The Trump administration also recently banned U.S. banks from buying newly-issued bonds from Venezuela's government and the state-run oil company, PDVSA.
"Plan Rabbit" illustrates the government's extreme measures to alleviate food shortages in Venezuela. Rabbit is not a commonly eaten item in the South American nation, where Bernal conceded that it's mostly viewed as a cute pet.
The agriculture minister argued that rabbits easily reproduce and are a source of protein. He also recommended citizens consider raising and growing other animals and vegetables at home.
It's just the latest attempt to try and solve the food shortage problem. The government forces citizens to pick up groceries on certain days of the week depending on social security numbers. It still sells staple items, such as corn flour, at extremely low prices.
It has also hiked the minimum wage three times this year, though inflation is expected to outrun any wage increases. The IMF forecasts that prices will rise 720% in Venezuela this year.
Related: Venezuela is inching closer to default
A national poll published earlier this year found that Venezuelans lost 19 pounds on average in 2016 due to food shortages. Venezuelans line up for hours outside supermarkets, waiting to buy the most basic items.
Venezuela must ship in almost all the food it needs after the government severely mismanaged farmland that it nationalized. The very low, fixed prices on everything from corn flour to coffee have put many farmers out of work.
Compared with 2015, food imports from Venezuela's top trade partners were down 61% in the first five months of this year, according to Panjiva, a trade research firm.
"We're looking for creative solutions in the socialist vision," Maduro said.
-- Osmary Hernandez contributed reporting to this article