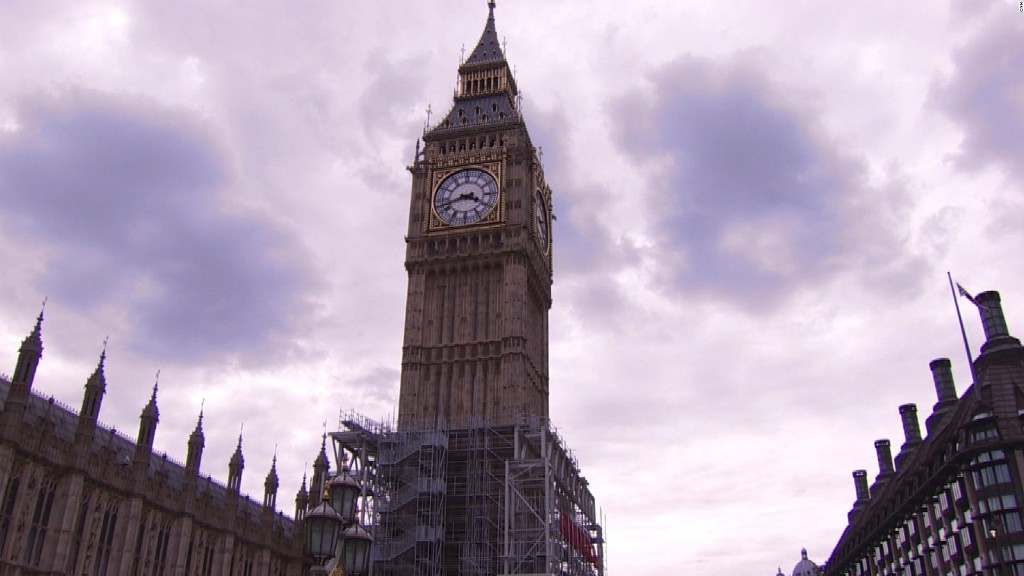 It's a big week for Brexit.
Britain's negotiations with the European Union have been moving at a glacial pace and Prime Minister Theresa May is hoping to inject energy into the talks with a big speech in Italy on Friday.
There's still a huge amount to settle before Brexit happens in March 2019: The size of the divorce bill Britain pays the EU; the rights of millions of migrants; and the future terms of trade between the U.K. and Europe, at least for an interim period.
And the pressure is mounting. May's government appears deeply divided over its strategy, and business is getting very nervous about the risk of a disorderly Brexit that could play havoc with the economy.
Here's what to watch this week:
1. A divided government?
Government confusion was the theme of weekend talk shows after Foreign Secretary Boris Johnson upstaged May -- his boss -- with a 4,000-word article in The Telegraph newspaper on Saturday setting out his Brexit vision.
Johnson came under fire from some members of his own party for the timing of the article -- a week before May's speech and a day after a terror attack on London -- as well as for its content.
The foreign secretary, who has no formal role in the Brexit talks, repeated a debunked claim that the U.K. "will take back control of roughly £350 million per week" when it leaves the EU. The figure was promoted by Johnson during last year's referendum.
The move revealed a split in May's political party, with officials who favor a clean break with the EU coming to Johnson's defense. But he was slapped down by the U.K. Statistics Authority, the official watchdog for government data.
"I am surprised and disappointed that you have chosen to repeat the figure," said David Norgrove, the head of the authority. "It is a clear misuse of official statistics."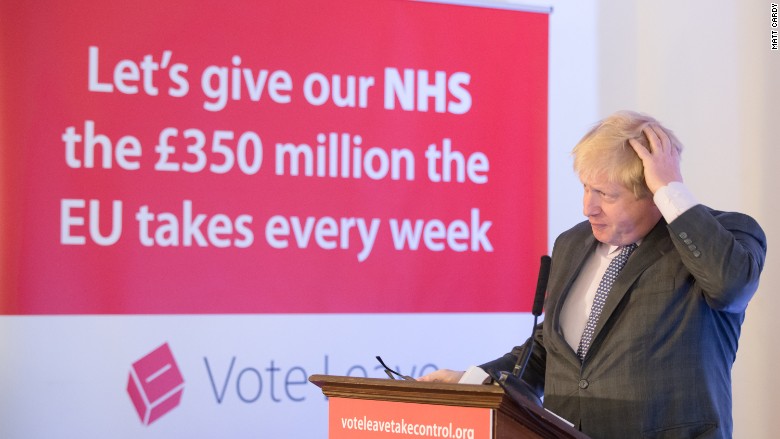 Related: Britain tried to calm fears over EU trade after Brexit
The U.K. does pay more to the EU than it receives so should have more money to spend at home after Brexit. However, the net contribution was estimated by the government at about £165 million a week in 2016.
Gambling firm Paddy Power on Monday made Johnson the clear favorite to be the next minister to leave cabinet.
2. Business fears rising
Companies are becoming increasingly anxious about the lack of clarity. They are worried that the U.K. will crash out of the EU -- the world's biggest free trading area -- without a deal.
More than 100 companies wrote to Britain's top Brexit negotiator and his EU counterpart on Sunday urging the two sides to agree a transitional period of up to three years.
The letter was signed by firms such as Ford (F), GE (GE), IBM (IBM) and Johnson & Johnson (JNJ) from across industry.
"Our businesses need to make decisions now about investment and employment that will affect economic growth and jobs in the future," they wrote.
3. Big speech to come
May will deliver her speech on Brexit in Florence on Friday. It has been touted by May's allies as a key address, designed to set out Britain's latest position.
"Because we've had these few months of negotiations, we can see where the key points at issue are, and they will be addressed in the prime minister's speech," said Damian Green, the most senior member of May's cabinet.
London mayor: Theresa May 'needs to get a grip' on Brexit
He said May would talk about a possible transitional period after Brexit, including the possibility of continuing to make some payments to some EU institutions -- an option Johnson appeared to dismiss in his article.
4. Talks due to resume
After three rounds of negotiations over the summer that left the EU and business leaders frustrated by the lack of progress, there is clearly a need to move forward.
The third round ended last month in a very public dispute over how much the U.K. should pay in a divorce settlement, an issue the EU says must be agreed before the future trading relationship can be discussed.
Talks resume a week from today -- Monday, September 25. Buckle up.