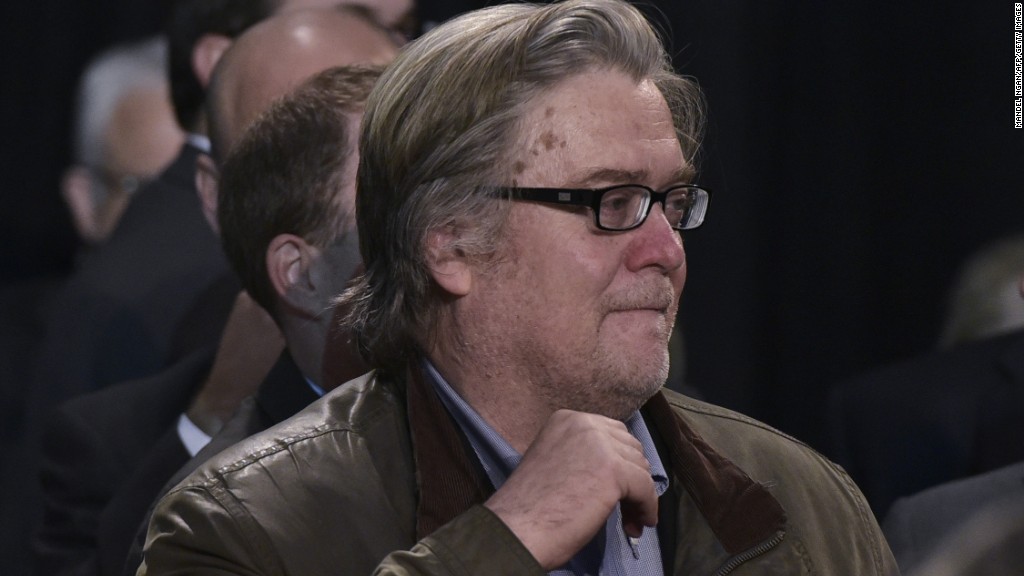 Former White House chief strategist Steve Bannon on Tuesday morning ordered top editors at Breitbart to step up its overwhelmingly negative coverage of the Alabama Senate candidate backed by President Trump, a person familiar with the matter told CNN.
Trump has endorsed Luther Strange in the race that will decide who will fill the Senate seat vacated when Jeff Sessions became attorney general. Bannon, who returned to Breitbart as executive chairman following his exit from the White House, is supporting anti-establishment candidate Judge Roy Moore.
Shortly after Bannon told top editors to increase the site's volume of reporting on the race, Matthew Boyle, Breitbart's Washington editor, told staff "the only story that matters until next week is Alabama."
"As of now, everyone is working on the Alabama race," Boyle wrote in a message obtained by CNN in the company's internal Slack channel. "If anyone has any questions please let me know."
Related: Emails: Breitbart editor pledges to do 'dirty work' for Bannon, smears Ivanka
By Tuesday afternoon, Breitbart's front page was full of stories related to the race. The top story reported that former White House aide Sebastian Gorka and former Alaska Governor Sarah Palin were set to campaign for Moore, while other stories attacked Strange and the "tsunami" of "dark money" supposedly supporting him. Trump's major speech to the United Nations was buried under coverage of the race.
Bannon, Boyle and spokespeople for Breitbart did not respond to multiple requests for comment.
Bannon and his allies are readying primary challenges against Republican senators, a person close to Bannon told CNN earlier this month. Bannon has said he does not believe the Republican establishment supports Trump and has promised to fight for the ideas that got him elected from outside the White House.
"They do not want Donald Trump's populist, economic nationalist agenda to be implemented," Bannon said during a recent "60 Minutes" interview. "It's very obvious."