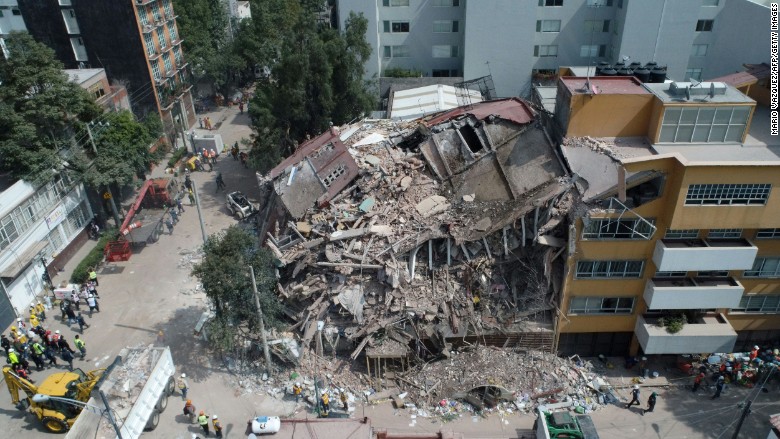 Facebook says it will give $1 million to the Red Cross in Mexico to help rebuild areas that were decimated by a powerful earthquake this week.
The tech giant said in addition to its gift to Cruz Roja Mexicana, a branch of the International Red Cross, it is working with the United Nations Children's Fund, or UNICEF, to waive fees on donations made on UNICEF's Facebook page.
The 7.1 magnitude earthquake struck Central Mexico on Tuesday. Its epicenter was perilously close to Mexico's densely populated capital city. More than 200 people have been reported dead so far.
It came after an even more powerful temblor struck just off the coast of Mexico on September 8. Its death toll was at least 90.
Both earthquakes produced jarring images of leveled buildings and desperate rescue workers. President Enrique Peña Nieto said more than 20 bodies were found in the debris of an elementary school in Mexico City that collapsed after Tuesday's earthquake. Dozens of children were still missing Wednesday afternoon.
Related: Here's what big companies are giving for Irma relief
A Facebook spokesperson said people have been using its social media platform to "come together" following the disaster.
"Since the earthquake, we've seen thousands of Community Help postings (currently over 10,000) with people offering and asking for volunteer work, transportation, shelter and food," spokesperson Jenna Stokes said in an email.
Stokes pointed to a couple of instances in which calls for help on Facebook were quickly answered.
One man took to Facebook to ask for volunteers to help with rescue efforts at a parish in Mexico City.
"In less than an hour a local man came by to help," Stokes said.
--CNN's Nicole Chavez, Steve Almasy, Ray Sanchez and Darran Simon contributed to this report.