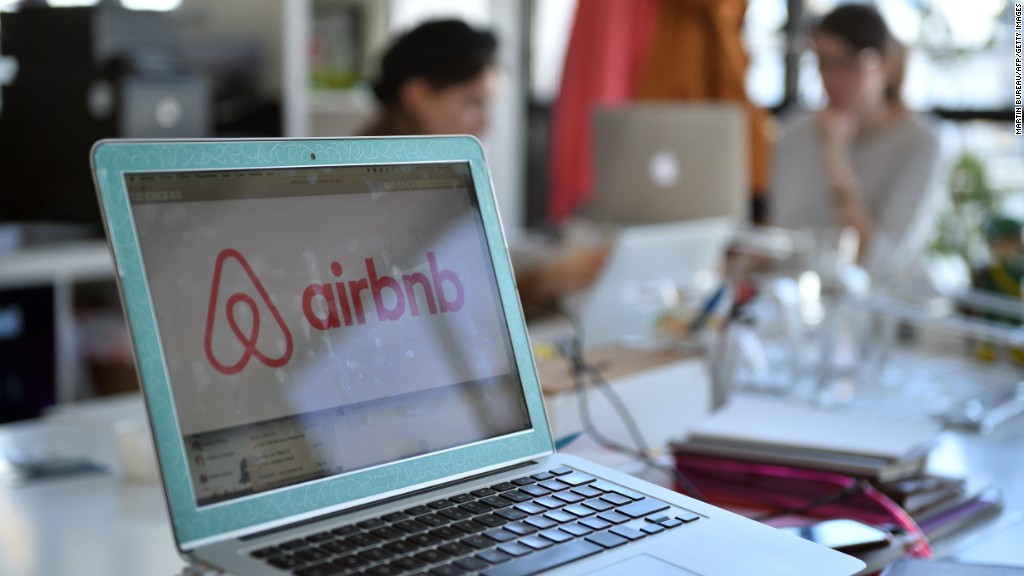 Airbnb is moving into the dining space.
The short-term rental startup on Wednesday announced that users can now book restaurant reservations within the Airbnb app.
The reservation service is made possible through a partnership with Resy, a restaurant-booking app. Airbnb has fully integrated Resy into the Airbnb app.
For now, users can book reservations at almost 650 restaurants in 16 U.S. cities, like Washington D.C., San Francisco and Los Angeles. The service will expand to more domestic markets soon and it will eventually roll out internationally.
Related: Airbnb to call out 'premium' listings
"The experience of booking accommodations and restaurants shouldn't be disjointed, and there's a real opportunity to put those things together. That's how people are exploring cities," Ben Leventhal, cofounder and CEO of Resy, told CNN Tech at an event in New York City. "When I go to San Francisco or Nashville or anywhere, the first thing I say is 'Where am I eating?'"
Using the restaurants tab on Airbnb's website or app, users can search by cuisine, time of day, or see a map view to find a restaurant in a certain neighborhood.
For select cities, curated restaurant recommendations will appear, such as "essential brunch spots," "Italian dining" or "hottest restaurants." These are handpicked by Airbnb and Resy based on a wide variety of criteria.
Airbnb began testing reservation booking through Resy in May with several restaurants in San Francisco. Earlier this year, Resy announced a $13 million funding round led by Airbnb.
Resy currently operates in about 115 U.S. markets and offers bookings at approximately 900 restaurants. Startups like OpenTable and Reserve offer similar services.
Related: Airbnb extends Hurricane Harvey 'free housing' program
The move is part of Airbnb's ongoing effort to expand beyond housing, according to Joe Zadeh, Airbnb VP of Trips.
"The bigger picture is 'How does Airbnb create the best possible trip? How do we make the tech super easy?'" he said.
Last year, the company announced Trips, a feature that lets users book excursions with local residents within the Airbnb app. These activities, called Airbnb Experiences, range from surfing to making your own pottery to sharing a meal. Users pay locals for the experiences.
Airbnb also allows users to find events based on location and interest. According to Zadeh, experiences involving food have been some of the most popular.
The company originally launched Airbnb Experiences in 12 cities. As of July, it offered more than 1,800 activities around the world.