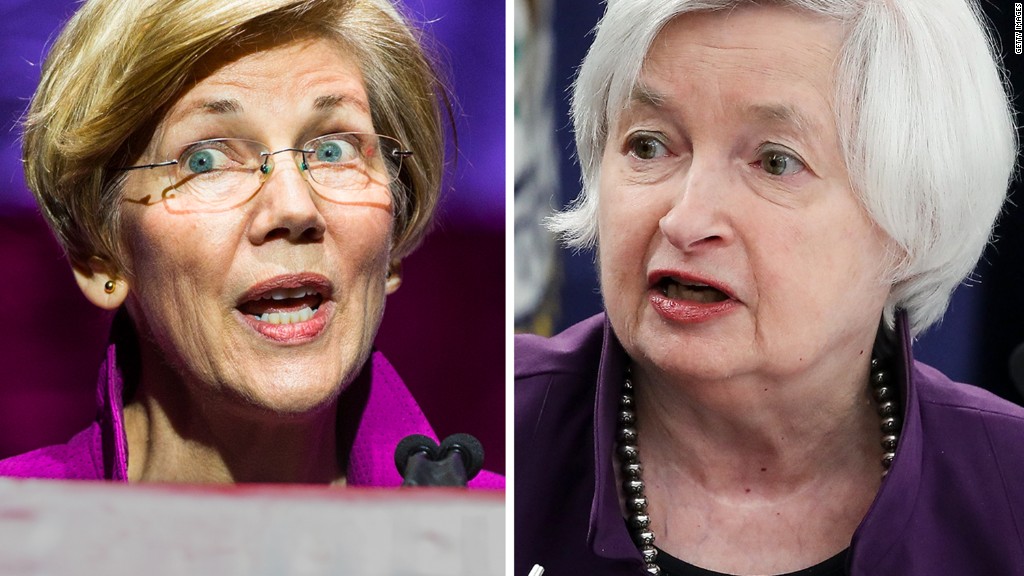 Get ready for Elizabeth Warren versus Wells Fargo, Part II.
The Senate Banking Committee revealed plans on Thursday to hold a new hearing on the Wells Fargo (WFC) scandals on October 3.
CEO Tim Sloan, who took over during the bank's fake-account fiasco, is likely to be grilled by Warren, a vocal critic of Wells Fargo, and her colleagues on the committee.
The Republican-controlled banking committee came under pressure to hold another hearing after the disclosure of a string of additional problems at America's second-largest bank.
The first hearing, held last September, was triggered by Wells Fargo's firing of 5,300 workers for creating 2 million fake accounts. Warren unleashed a verbal takedown of former Wells Fargo CEO John Stumpf that instantly went viral.
Since then, Wells Fargo has run into more trouble. The bank has uncovered as many as 1.4 million more fake accounts by digging deeper into its broken culture. Wells Fargo has also admitted to charging thousands of customers for car insurance they didn't need. At least some had their vehicles wrongfully repossessed.
That's not all. Wells Fargo has recently been accused of ripping off mom-and-pop businesses on credit card fees. Some former employees allege Wells Fargo fired them in retaliation for calling the bank's ethics hotline.
Related: Wells Fargo uncovers up to 1.4 million more fake accounts
Warren, a Democrat from Massachusetts, has held up the scandals as evidence that regulators need to do more to hold the bank -- and all big banks -- accountable. She has begged Federal Reserve chief Janet Yellen to remove much of Wells Fargo's board, alleging these directors were asleep at the wheel during the fake-account disaster.
Yellen on Wednesday reiterated that Wells Fargo's behavior was "egregious and unacceptable." She said the Fed is "working very hard" to understand what went wrong and decide whether more punishments are warranted. (Regulators outside the Fed fined Wells Fargo $185 million last September for the fake-account scandal.)
Wells Fargo hopes to ease the outrage from lawmakers by arguing it's taken meaningful action to fix its internal problems. "We welcome the opportunity to further update the Committee about the progress Wells Fargo has made," the bank said in a statement.
Related: Wells Fargo scandals sabotage Trump's deregulation push
Wells Fargo has in fact done a lot since last fall. Not only was Sloan put in charge, but former Fed official Betsy Duke has been tapped to take over as chairman of the board on January 1. Wells Fargo overhauled the management of its retail bank and clawed back more than $180 million from senior execs. The bank has also revamped the unrealistic sales goals that fueled the unauthorized opening of bank and credit card accounts.
Isaac Boltansky, policy analyst at investment firm Compass Point Research, said Sloan should benefit because he wasn't at the helm during the fake-account scandal. He predicted Sloan will be far better prepared for his grilling than Stumpf was last fall.
"That hearing was a train wreck," Boltansky said.
Critics argue the latest controversies show Wells Fargo hasn't done enough. The Wells Fargo scandals also undercut efforts by President Trump and Republicans to rip up rules they claim are hindering big banks.
Wells Fargo still faces a slew of investigations, including from the Securities and Exchange Commission and the Department of Justice.