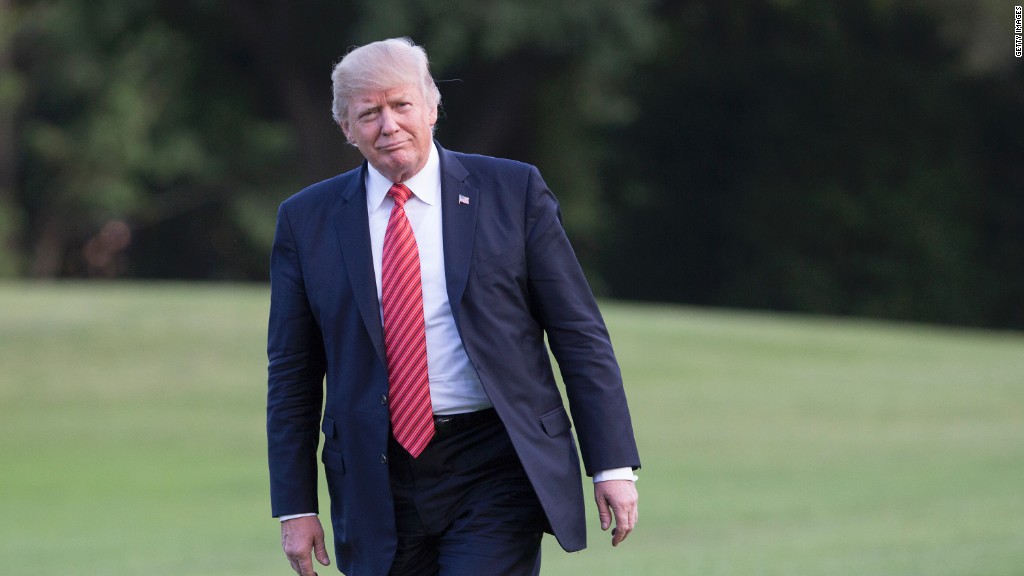 Did national anthem protests and President Trump's harsh criticism of them hurt the NFL's ratings on Sunday? Maybe. Then again, maybe not.
The early ratings numbers, which are incomplete and subject to a great deal of change, showed CBS' numbers up compared to the same week last year, while NBC and Fox's numbers were down.
But even if ratings are down year-over-year, the early numbers also indicate that ratings for this week's slate of games could end up being better than they were for the season's first two weeks, even despite the controversy.
NBC's "Sunday Night Football" game, the Washington Redskins' lopsided 27-10 victory over the Oakland Raiders, nabbed an 11.6 overnight rating compared to a 12.9 rating for a match-up between the Chicago Bears and the Dallas Cowboys one year ago. That's a drop of roughly 10%.
To come up with overnight ratings, Nielsen takes the percentage of households watching in 56 U.S. markets and comes up with an overnight average -- so an 11.6, for instance, means that 11.6% of households in those 54 markets tuned into the game on NBC on Sunday night. (In this case it was actually 54 markets rather than the standard 56 because numbers for two major Florida markets, West Palm Beach and Fort Myers, are still delayed due to the effects of Hurricane Irma.)
Fox took a bigger hit. Overnight ratings for its singleheader slate of games were down 16% compared to last year's week 3 numbers.
But CBS' overnight ratings were up 4% compared to last year's week 3 coverage. The network's two afternoon national games, one between the Green Bay Packers and the Cincinnati Bengals and the other between the Kansas City Chiefs and the Los Angeles Chargers, were basically even with last year.
The networks saw huge boosts for their pregame shows, though.
CBS' pregame show, "The NFL Today," was up 33% compared to last year, and scored its best overnight rating since 2010. Fox's first pregame show, "Fox NFL Kickoff," was up 30% compared to last year while its second pregame show, "Fox NFL Sunday," was up 9%. Both networks tackled the political news of the weekend.
So what does all of this all mean? Hard to say.
Overnight ratings can give a glimpse of which way viewership is going, but don't always tell the whole story. The overnight numbers for this week, combined with the generally sluggish ratings for the first two weeks of this season, are concerning to the NFL and its TV partners, but it's still early and the NFL is still bringing in the biggest numbers on TV. Nielsen will release viewership data on Tuesday.
Trump began a firestorm around the NFL on Friday night when he went after the league and attacked players who have been kneeling or sitting during the national anthem to draw attention to social justice issues.
"Wouldn't you love to see one of these NFL owners, when somebody disrespects our flag, to say, 'Get that son of a bitch off the field right now, out, he's fired. He's fired,'" Trump told a crowd in Alabama on Friday night.
The protests began last season when quarterback Colin Kaepernick started kneeling during the anthem in protest of racial injustice.
Trump's comments on Friday night shined a spotlight on the league and the protests, leading the networks to change up their planned broadcasts of games and the anthems preceding them.
Fox, CBS, and NBC all broadcast the national anthem live during football games Sunday -- a notable shift away from their usual practice. ESPN, which also abandoned some of its usual pregame chatter to talk politics, plans to air the anthem live on "Monday Night Football."