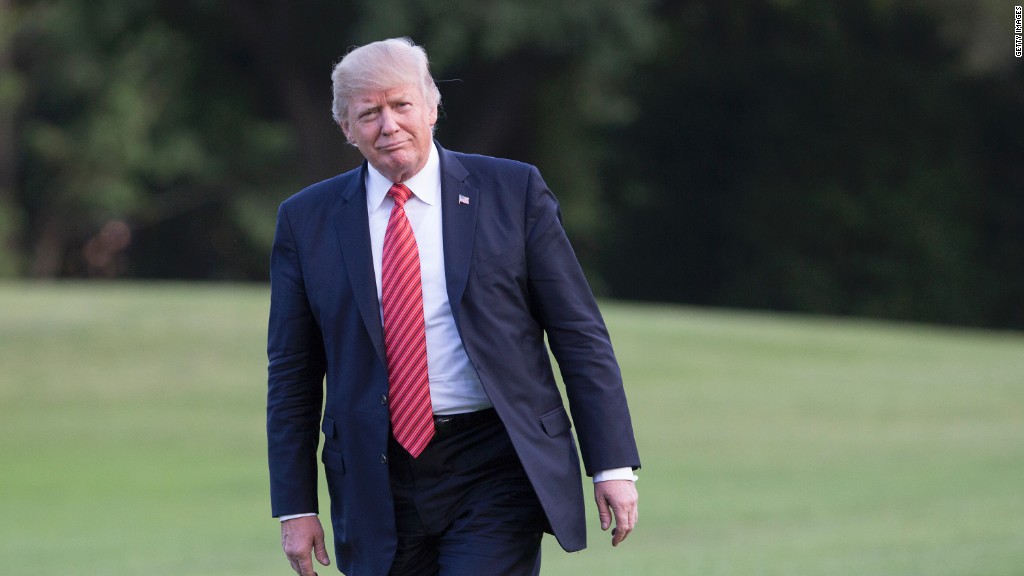 NFL owners -- including many who sided with their players in protests this weekend -- were big donors to President Trump's inauguration festivities.
At least $7.75 million of the $106 million raised for Trump's inaugural committee came from NFL owners and the league, according to public records.
NFL Ventures, a lucrative business unit of the league, gave $100,000. And many owners gave far more.
That includes $1 million from Shahid Khan, the Pakistani-American owner of the Jacksonville Jaguars, who linked arms with his players during the National Anthem before his team's game in London.
In a statement, Khan also criticized Trump, who said that when any player disrespects the flag, owners should say, "Get that son of a bitch off the field right now."
Related: How NFL owners responded to Trump
The Kraft Group, the business of Patriots owner Robert Kraft, who has been a vocal supporter of Trump, also gave $1 million. So did Robert McNair, owner of the Houston Texans and a contributor to the Trump campaign.
Both issued statements critical of Trump's comments and supporting the right of players to take a knee during the anthem, as did Cleveland Browns owner Jimmy Haslam, who gave $100,000 to the inaugural along with $300,000 from his company.
Related: After Trump, sports media gets political in a whole new way
Some of the owners who gave money to the inaugural issued statements supportive of players' right to take a knee during the anthem but not directly critical of Trump.
Those include Stan Kroenke, owner of the Los Angeles Rams, who gave $1 million, and Tampa Bay Buccaneers co-chairman Joel Glazer, whose brother and co-chairman, Ed, gave $250,000.
Christopher Johnson, who has run the Jets since Trump tapped his brother, Woody, to be ambassador to Britain, also issued a statement supportive of the players but not directly critical of Trump. Woody Johnson gave $1 million to the committee.
Related: How NFL owners responded to Trump
The committee collected $1 million each from two owners who did not address Trump's comments this weekend: Dallas Cowboys owner Jerry Jones, who gave through a corporation, and Washington Redskins owner Daniel Snyder.
Jones, whose Cowboys play Monday night, had earlier had been critical of players who protested during the anthem. Snyder's Redskins issued a statement that did not directly make reference to the anthem protests or Trump and also did not mention Snyder by name.
Correction: An earlier version of this article incorrectly stated the relationship between Jets CEO Christopher Johnson and Woody Johnson, U.S. ambassador to the United Kingdom. They are brothers.