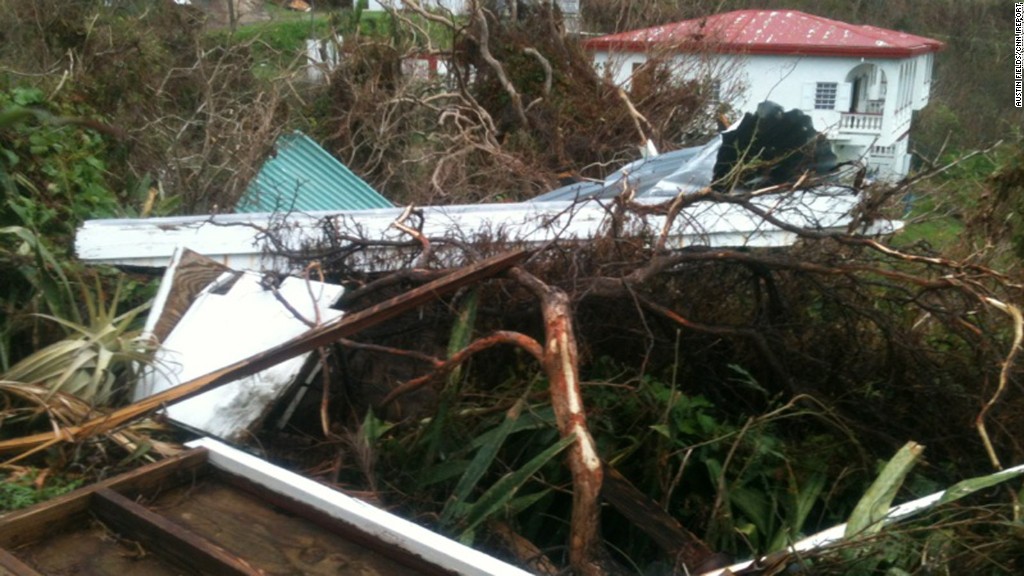 Hurricane Maria has devastated Puerto Rico and upended the lives of millions of Americans. It's also left billions of dollars in damage that will wreak havoc on the island's economy, according to initial estimates.
AIR Worldwide, which calculates the financial toll of natural disasters, predicts that losses in the Caribbean covered by insurance will be between $40 billion and $85 billion. More than 85% of those losses are in Puerto Rico, the firm said.
That number doesn't include damage to property that isn't insured, and excludes flood damage covered by the National Flood Insurance Program.
Puerto Rico was in an economic crisis before it was slammed by Maria as a Category 4 storm. The island, which remains almost entirely without electricity, is already in the midst of an 11-year recession. It filed for the largest municipal bankruptcy in U.S. history back in May.
Related: Puerto Rico: 11 years in recession and now no electricity
Estimates from Chuck Watson, an analyst with the disaster research group Enki Research, were slightly more conservative.
Watson expects that Puerto Rico will face $30 billion in total damages -- $20 billion in physical damages (both insured and uninsured) and $10 billion in lost economic productivity.
But even that level of damage would take a massive toll on Puerto Rico's $103 billion economy, since it represents roughly 30% of the territory's GDP.
The longer Puerto Rico is without power, the worse the situation will be, Watson said.
"If it takes six months to get the grid back online, you're getting more economic impact than physical impact," Watson said.
His current model assumes that it will take three months for 90% of Puerto Rico to have electricity restored.
Related: Hurricanes Irma and Harvey have racked up billions in damages. Who pays?
Watson said he's also concerned that people will decide to flee Puerto Rico permanently.
"A lot of people have family here on the mainland," he said. "It's almost like [Hurricane] Katrina in New Orleans, where a lot of people left and didn't come back. It really guts your economy, because a lot of people who leave are your middle class and your professionals."
The dire situation comes as Florida, Georgia and Texas continue to recover from Hurricanes Harvey and Irma.
AIR Worldwide put insured losses for Hurricane Irma between $32 billion and $50 billion in both the U.S. and the Caribbean. The firm predicted that insured losses will exceed $10 billion for Hurricane Harvey.
Moody's Analytics said it anticipates that total damage from the two storms will exceed $150 billion.
But economists expect the U.S. areas affected by Harvey and Irma will recover much faster. Texas has the nation's second largest economy, and economic output reached $1.7 trillion at the end of 2016. Florida, the country's fourth largest economy, had a 2016 GDP of $947 billion.