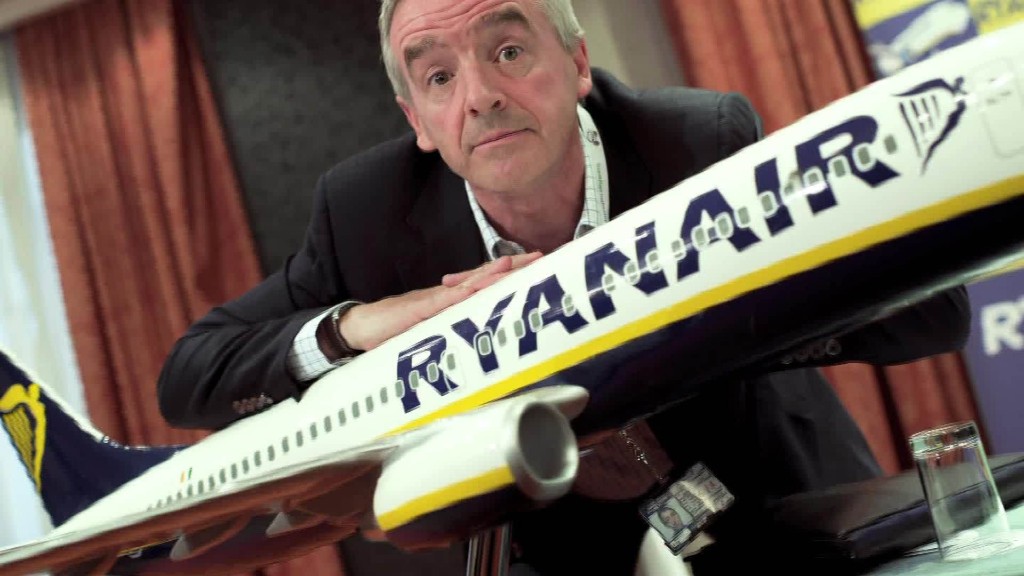 Europe's biggest airline has been forced to cancel more flights and abandon a takeover bid for Italy's national carrier as it grapples with its biggest crisis in years.
Ryanair said Wednesday that it will cancel 18,000 flights scheduled between November and March because of a shortage of pilots. It said 400,000 people have already booked seats on these flights.
The latest cancellations come on top of 2,100 flights Ryanair has already canceled in September and October. That means some 715,000 passengers in total have been affected by a staffing crunch triggered by a change in the way pilots take vacation.
The airline also announced it would withdraw from bidding for Alitalia, the bankrupt Italian airline, to "eliminate all management distractions."
Ryanair (RYAAY) had said previously that it would cancel 40 to 50 flights a day up until the end of October because of a pilot scheduling problem.
Related: Ryanair offers pilots major cash to keep flying
Ryanair said it would fly 25 fewer planes than previously planned over the winter period, and then 10 fewer starting in April, to avoid further cancellations down the road. It said it would temporarily suspend flights on 30 routes out of a total of 1,800.
It said it hoped Wednesday's announcement would draw a line under recent turmoil.
"From today, there will be no more rostering related flight cancellations this winter or in summer 2018," Ryanair CEO Michael O'Leary said in a statement.
"We deeply regret any doubt we caused existing customers last week about Ryanair's reliability," he added.
The airline said the new cancellations would affect less than 1% of the 50 million people flying Ryanair this winter.
Ryanair said customers should have received an email on Wednesday giving them between five weeks and five months notice of the cancellations, and offering them alternative flights or refunds.
Ryanair now expects to carry over 129 million passengers in the year to March 2018, two million fewer than it previously forecast.
It said refunds and costs related to the initial 2,100 cancellations would total less than €25 million ($29 million). On top of that, free flight vouchers it issued to passengers would cost an additional €25 million.
It didn't say how much the cancellations announced Wednesday would cost.
-- Emma Bowden contributed reporting.