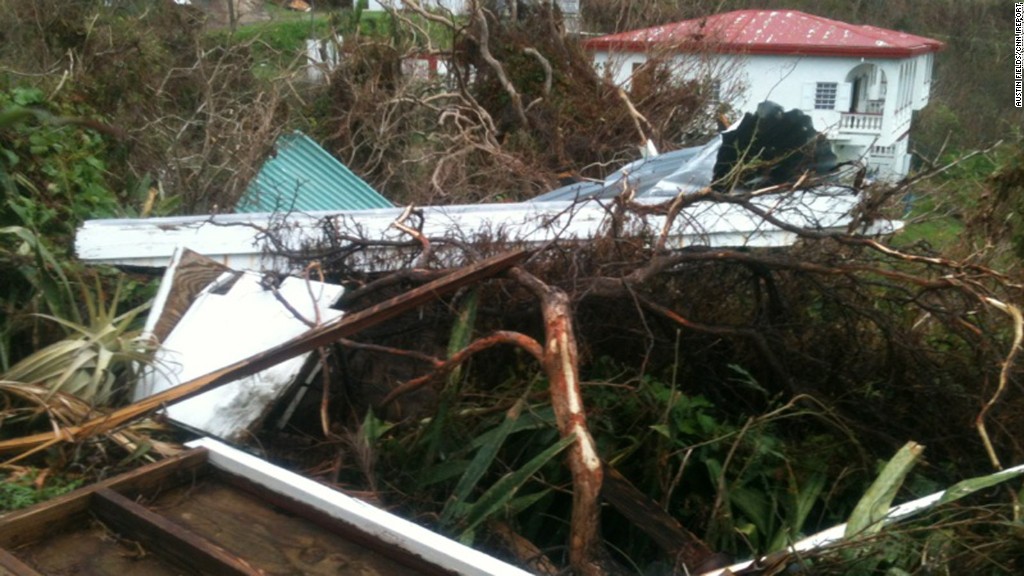 A Democratic commissioner and other critics say President Trump's Federal Communications Commission is not doing enough to respond to the crisis in Puerto Rico and the recent hurricanes in Texas and Florida.
Jessica Rosenworcel, a Democratic commissioner, questioned the agency's choice not to call for hearings yet to inform its response in the wake of a series of devastating hurricanes.
"After Hurricane Katrina and Hurricane Sandy @FCC held hearings to address network recovery. Why won't agency do it for Harvey, Irma & Maria?" she wrote on Twitter (TWTR) Tuesday.
The three hurricanes knocked out cellular, cable and Internet services for millions of Americans over the past month. Hurricane Maria's impact on Puerto Rico has been particularly brutal. Only 20% of Puerto Rico's cell towers are functioning, according to Luis Romero, VP of the Puerto Rico Telecommunications Alliance.
"These are people struggling to make phone calls in the United States. @FCC must study networks in disaster. Stat," Rosenworcel said.
In 2012, the FCC announced hearings within weeks of Hurricane Sandy. These hearings were used to gather information to help strengthen communications networks and guide future response efforts.
But hearings can sometimes result in additional regulation for the industry, which critics suggest could be a point of concern for the current FCC. Ajit Pai, the FCC chairman appointed by Trump, has been focused on scrapping regulations.
"Frankly, I think Pai is worried ... that hearings will point to problems the FCC needs to solve through regulation," says Harold Feld, SVP at Public Knowledge, an advocacy group.
Related: Here's how Trump's FCC affects you
In response to the criticism, the FCC says it is currently focused on the urgent recovery effort at hand in Puerto Rico and the U.S. Virgin Islands.
"There has been devastating damage to the communications infrastructure there, and that's where we must focus our immediate attention," an FCC spokesperson said in a statement. "Once this crisis has passed, the Chairman looks forward to considering the ideas on next steps offered by all of his colleagues.
Pai visited Houston and South Florida after Hurricanes Harvey and Irma to meet with first responders. He hopes to visit Puerto Rico "when conditions permit," according to the FCC spokesperson.
"I see a lot of lip service," says Rear Admiral David Simpson, who oversaw the FCC's Public Safety and Homeland Security Bureau during the previous administration. "I see the chairman flying to the affected areas, but then I don't see any tangible actions afterward."
Simpson stresses that the terrain and infrastructure in Puerto Rico requires urgent assessment of how to proceed.
"I don't see where the FCC has done any kind of a rapid triage in what the unique issues are for Puerto Rico," he says. "There needs to be a rapid assessment of the market's capacity in Puerto Rico to recover from this."
The FCC spokesperson said Pai has "talked directly" with officials from the major carriers in Puerto Rico. Pai has also reached out to FEMA about getting fuel and generators delivered to communications providers.
"The FCC has also regularly been conveying requests for assistance from communications providers to those federal partners who are able to help," the spokesperson said.
Correction: An earlier version of this article cited a former FCC official saying the commission should set up a multi-agency task force on Puerto Rico. The FCC says it is already part of one.
-- CNN's Paul Murphy contributed to this report.