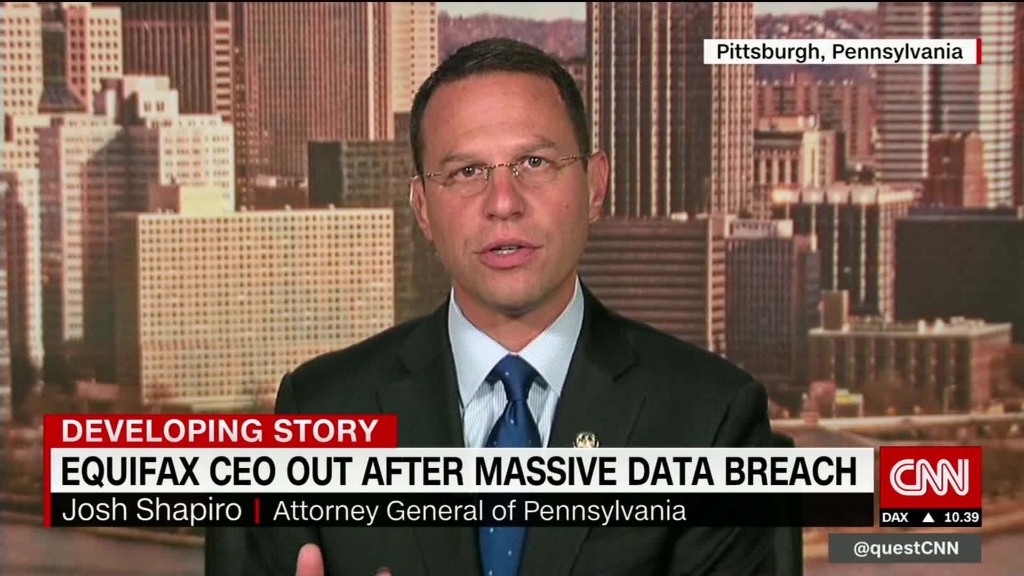 Equifax says it will allow customers to lock and unlock access to their credit files for free -- and for life -- in what is the latest mea culpa from the company amid an ongoing cybersecurity scandal.
The development was announced on Wednesday via a Wall Street Journal op-ed penned by interim CEO Paulino do Rego Barros Jr. He took the reins at Equifax on Tuesday, replacing Richard Smith, who oversaw the company during a massive data breach that compromised the personal information of as many as 143 million people.
In the wake of the scandal, affected customers have been advised to implement credit freezes. The move aims to block anyone from opening new accounts in your name.
After a barrage of criticism for not taking immediate action to lift fees associated with implementing a credit freeze, Equifax said on September 11 it would waive fees for the next 30 days.
Now, according to Barros' op-ed, Equifax plans to extend that until the end of January 2018 -- at which point he says Equifax will offer "a new service allowing all consumers the option of controlling access to their personal credit data," he said.
Equifax data breach: What you need to know
"The service we are developing will let consumers easily lock and unlock access to their Equifax credit files" Barros wrote. "You will be able to do this at will. It will be reliable, safe and simple. Most significantly, the service will be offered free, for life."
A credit file freeze with Equifax does not mean anyone affected by the data breach will be in the clear. To ensure a complete freeze is in place, customers also have to do the same with the two other credit reporting agencies -- TransUnion and Experian.
The costs to freeze and lift the freeze on your credit vary based on where you live, but commonly ranges from $2 to $10 per agency.
Equifax will likely be dealing with the fallout from the data breach for years to come.
The ordeal gave hackers access to information that includes names, social security numbers, birth dates, addresses, and the numbers of some driver's licenses -- all the details required for identity fraud.
With that kind of data on hand, it's possible a criminal could take out a loan in someone's name or run their credit score into the ground.
The issue has spurred the FBI and the Federal Trade Commission to launch investigations. At least 50 class action lawsuits have been filed.
Related: How to find out if you're affected by the Equifax hack
Questions have been raised about its decision to wait more than a month after discovering the hack to alert the public.
Equifax (EFX) also sparked ire for sending customers to a fraudulent site to check if they'd been affected. They also initially asked customers to waive their right to sue the company in exchange for credit monitoring services.
Barros apologized for the company's faults in his op-ed, which began with the words: "I want to express my sincere and total apology."
"We were hacked. That's the simple fact. But we compounded the problem with insufficient support for consumers. Our website did not function as it should have, and our call center couldn't manage the volume of calls we received," he wrote. "Answers to key consumer questions were too often delayed, incomplete or both. We know it's our job to earn back your trust."
--CNNMoney's Anna Bahney contributed to this report.