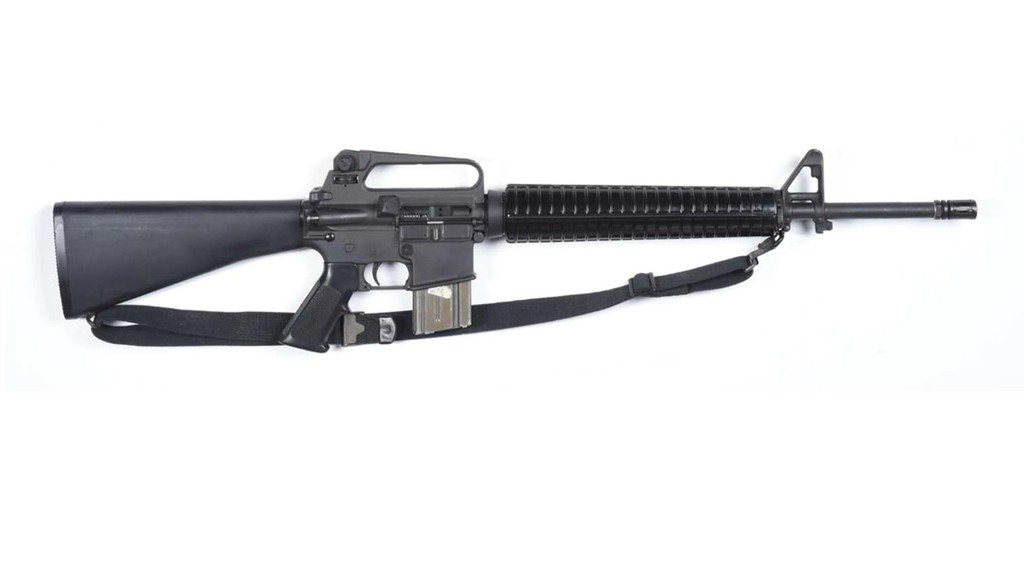 Gun companies are suffering a sales slump under the Trump administration.
But a regulatory change could give them a boost overseas.
The administration is considering shifting oversight of gun exports from the State Department to the Commerce Department. The proposed change would treat handguns more like commodities and less like military weapons, and loosen the bureaucracy for gun manufacturers.
"They are currently hamstrung by considerable red tape," gun industry analyst Rommel Dionisio wrote in a report for Aegis Capital.
Right now, the State Department oversees most weapon exports, including handguns, and evaluates them from a national security perspective. The Commerce Department oversees exports such as textiles, steel and food, plus some types of guns commonly used in hunting.
Moving most gun exports under the Commerce Department would eliminate certain registration requirements and fees for gun makers. Analysts and a gun industry group say it would open a foreign market that is mostly untapped.
"This initiative will improve our nation's ability to compete in the global marketplace for commercial and sporting firearms and ammunition without impairing national security," the National Shooting Sports Foundation, a gun industry group, said in a statement.
The State Department would continue to monitor exports of military-grade weapons like machine guns and rocket launchers. But the oversight of semiautomatic AR-15s, which are commercially available in the United States, would shift to the Commerce Department.
Rachel Stohl, director of the Conventional Defense Program at the Stimson Center, a policy research organization on security threats, said she opposes a policy that could it make it easier for commercially available guns like the .50-caliber Barrett, a rifle favored by snipers, to end up in the wrong hands.
"This is about preventing U.S.-origin weapons for ending up in the hands of those that use them to commit human rights violations, for terrorist purposes, for criminal purposes," she said.
Related: No fed gun control for new silencer-muzzleloader
The stock prices for Sturm Ruger (RGR) and American Outdoor Brands (AOBC), which owns Smith & Wesson, surged last week after Reuters first reported that the shift was under consideration. The news was later confirmed by CNNMoney.
A State Department official told CNNMoney that the administration was working with Commerce "to ensure that U.S. industries have every advantage in the global marketplace, while at the same time ensuring the responsible export of arms."
If it's approved by the White House, an oversight change could take months or longer to complete.
An executive with American Outdoor Brands declined to comment. Sturm Ruger did not return messages.
Sturm Ruger, in its most recent earnings report, said only 5% of its gun sales come from exports. American manufacturers exported $680 million worth of guns in the last fiscal year. The United States imported more than $2 billion, according to Chris Rogers, gun industry analyst for Panjiva.
Related: Gun maker shares spike on Trump move to loosen export oversight
Rogers said the biggest share of gun exports went to Canada ($144 million), followed by Australia ($58 million,) Japan ($46 million), Britain ($37 million) and Israel ($35 million). He said buyers include the military, police and individuals.
"When it comes to competing for existing demand, we have seen the Trump administration, including the president himself, actively get out there and sell," Rogers said. "The government can certainly help crack open those markets."
Gun sales slowed precipitously after Donald Trump won the presidency. Gun buyers had stocked up because they feared Hillary Clinton would win and push for tighter gun control. When she lost, that fear evaporated, and sales slumped.
Analysts point out that U.S. companies will only benefit if demand for guns exists in those other countries.
"Just because you can sell them doesn't mean that people want to buy them," said Rogers. "It's not like the Europeans are lining up to import handguns from the U.S."
Related: Gun companies are feeling a Trump slump hangover
Many of the most prominent gun companies in the world are located in Europe. Dionisio said that police departments and government agencies in other countries are likely to "retain considerable loyalty to their own domestic firearms producers," like Beretta in Italy and Heckler & Koch in Germany.
But other countries in Latin America and Africa, which don't have well known gun brands, might jump at the chance to buy American, said Rogers.
The problem? There's no overseas sales team at many manufacturers. The gun companies would have "to rebuild an international sales force almost from scratch," Dionisio said.