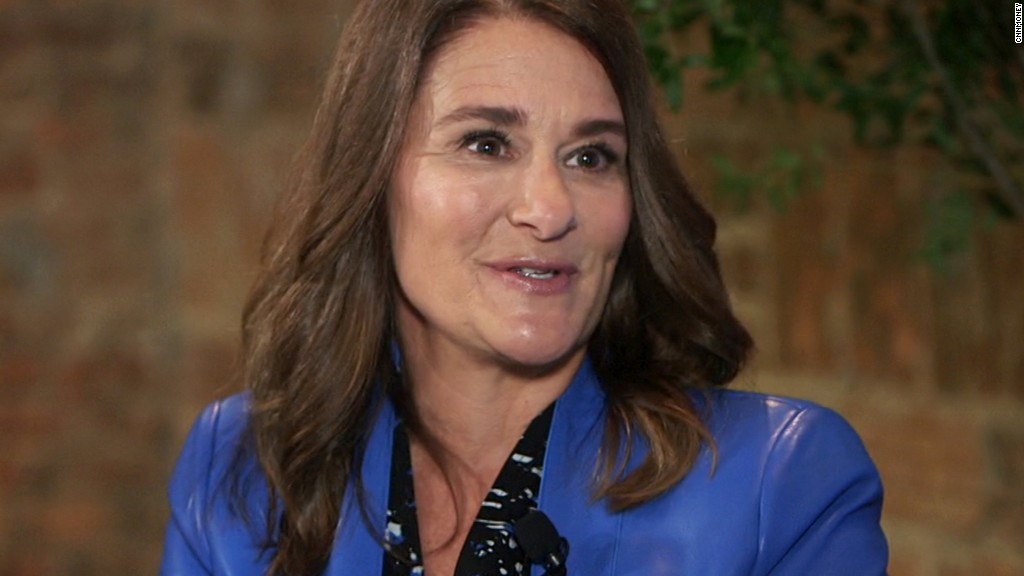 America's inequality problem is getting worse.
The richest 1% of families controlled a record-high 38.6% of the country's wealth in 2016, according to a Federal Reserve report published on Wednesday.
That's nearly twice as much as the bottom 90%, which has seen its slice of the pie continue to shrink.
The bottom 90% of families now hold just 22.8% of the wealth, down from about one-third in 1989 when the Fed started tracking this measure.
The numbers paint a stark picture of the inequality problems gripping the country and the ability of politicians, like President Donald Trump and Sen. Bernie Sanders, to attract voters by arguing that the system is "rigged" in favor of the rich.
Even the Fed acknowledged in the report that the distribution of wealth has "grown increasingly unequal in recent years."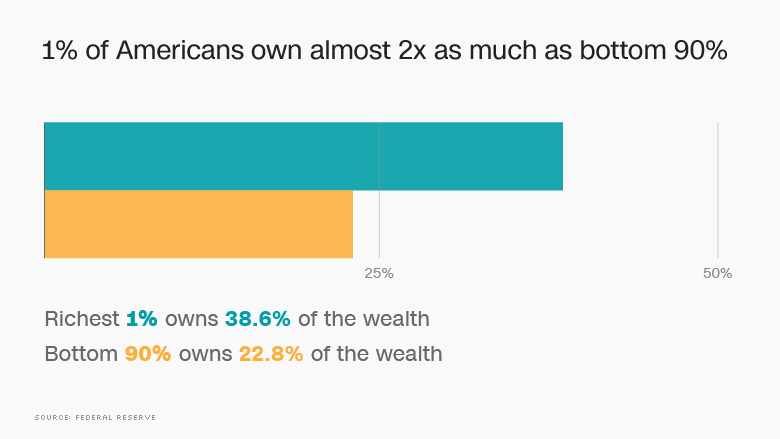 Not only that, but the richest Americans are taking home an even bigger part of the nation's overall earnings.
The top 1% of families brought in a record-high 23.8% of the overall income in 2016, the Fed said. That's up from 20.3% in 2013 and about twice as high as the low point in 1992.
The bottom 90% of families now make less than half of the country's income. That figure slipped to 49.7% last year, down from more than 60% in 1992.
The good news is that the middle class just enjoyed its biggest two-year raise in decades. Median household income ticked up by 3.2% last year following a 5.2% jump in 2015, according to the Census Bureau.
Related: Middle class income tops $59,000
However, it's not just a stagnant wages problem. The booming stock market may also be contributing to America's inequality issues.
On the one hand, the Fed said that the value of stock portfolios rose "dramatically" over the past three years to an average of $344,500.
But millions of Americas can't feel the stock market boom because they're not invested or don't have much money in the market.
Overall, 51.9% of families owned stocks in 2016, up from 48.8% in 2013. Stock ownership is much less popular among less affluent people though.
Barely one-third of families in the bottom 50% of earners own stocks, either directly or indirectly. The average stock portfolio among this group is worth about $52,000. That's up significantly from 2010, but down from $55,300 in 2013.
By contrast, the Fed said 93.6% of the top income group owned stocks in 2016. Their average holdings stood at $1.4 million last year, up from $999,400 in 2013.
--CNNMoney's Tami Luhby contributed to this report.