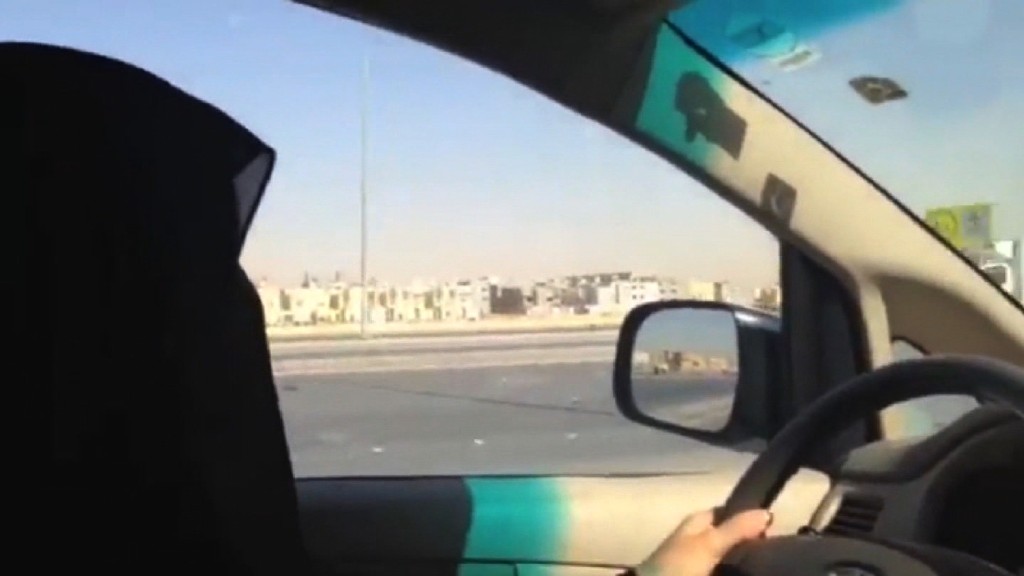 Saudi women are celebrating. They are finally being allowed to drive.
For years they have called for change, and some have been arrested for defying the driving ban. But a royal decree announced late Tuesday has changed all that.
Detailed recommendations will follow within 30 days, and the government has until June 24, 2018, to lift the ban.
The dramatic step should boost efforts to overhaul the Saudi economy, spearheaded by a young crown prince, Mohammed bin Salman.
The focus of his reform program -- Vision 2030 -- is to end the Kingdom's dependence on energy in the next decade. That will require a huge diversification of the economy, including giving women a much bigger role.
Only 22% of women are active in the workforce. Vision 2030 aims to lift that to 30%. And at 33%, the unemployment rate for women is much higher than for men. Saudi unemployment overall is 12.7%.
Vision 2030 was unveiled in 2016 and did not specifically address the issue of women driving.
Related: New app helps Saudi women claim their rights
But there have been signs of progress for women since the radical plan was launched.
In February, three top jobs in finance, including the head of the stock exchange, were filled by women. A few months later, King Salman ordered a review of laws that still make it hard for many women to work, travel, undergo medical procedures and go to university without the permission of a male relative or spouse.
More women will work
Ending the driving ban should bring broad economic benefits, and help the government meet its target of generating 65% of GDP from the private sector.
"[Lifting the ban] will have an enormous trickle down effect for many sectors of the economy from automobiles, to retail consumption and greater productivity," said John Sfakianakis, director of economic research at the Gulf Research Center in Riyadh.
"More women will have the ability to work but also have an incentive to work as more will be able to save," because they won't have to pay for drivers, he added.
Related: Saudi Arabia pushes through pain of breaking oil habit
Many working Saudi women have to rely on drivers, taxis or male family members to get around, including to work.
Employers will benefit too. Some companies add the cost of a driver to salaries and even locate factories and offices in city centers to make it easier for women to get to their place of work.
Kholoud Attar, a magazine publisher, told CNN hiring women should become easier because employers would be able to offer more attractive terms.
"We cannot do that if a big chunk of their salary goes to a driver or other transportation method," he said.
Pressure for change had been building for some time. In a blog post last year, Saudi Prince Alwaleed bin Talal wrote it was "high time that women started driving their cars."
Families who hire foreign drivers could save 3,800 riyals ($1,000) a month on average if women were allowed to drive, he noted.
Many barriers remain
The Kingdom still has a long way to go, however. Saudi is one of the worst countries in the world for gender inequality, including in income, according to a report by the World Economic Forum.
A women wanting to start her own business often has to ask two men to testify to her character before she can be granted a loan or a license.
And women still can't mix freely with members of the opposite sex -- that means most workplaces are still segregated. Some exceptions include hospitals, banks and medical colleges.
For the first time last week women were allowed to enter a stadium to celebrate national day. But analysts say that the royal family is likely to tread carefully on removing remaining obstacles to avoid a backlash from conservative religious authorities who, for decades, have exercised enormous influence in the home of Islam's holiest sites.