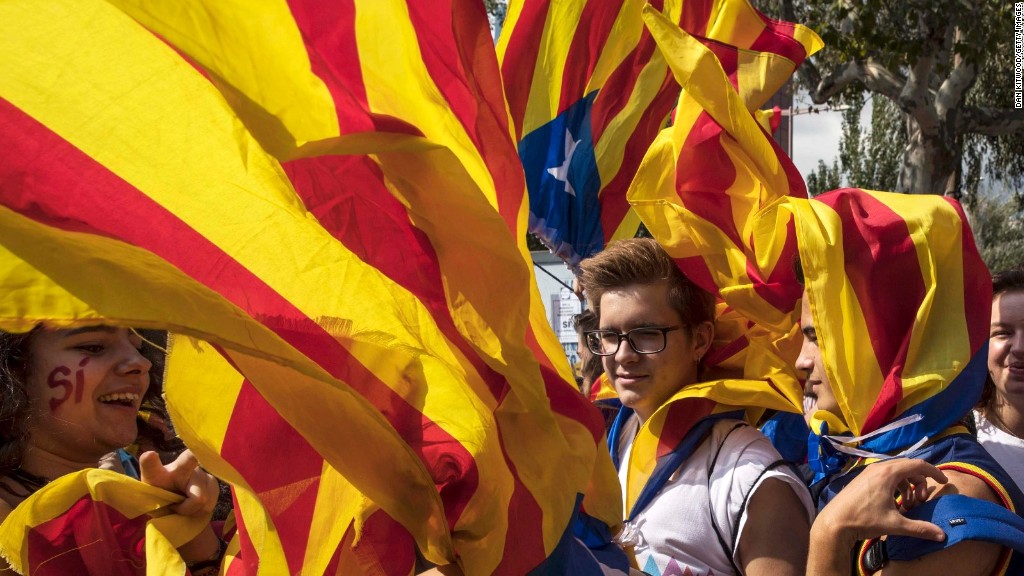 Would going it alone work for Catalonia?
The Spanish region held a controversial independence referendum on Sunday with major economic implications for the country -- and Europe.
Spain's central government fiercely opposed the referendum, and riot police raided polling stations. Regional officials said the vast majority of ballots were in favor of independence, but turnout was relatively low.
The euro dropped 0.7% against the dollar on Monday, and the yield on Spanish 10-year bonds increased. The main stock market in Madrid opened 1.4% lower before trimming its losses.
The vote comes as Spain emerges from nearly a decade of economic trauma. Catalonia is its most economically productive region.
Here's what's at stake:
Richer on their own?
Catalonia accounts for nearly a fifth of Spain's economy, and leads all regions in producing 25% of the country's exports.
It contributes much more in taxes (21% of the country's total) than it gets back from the government.
Independence supporters have seized on the imbalance, arguing that stopping transfers to Madrid would turn Catalonia's budget deficit into a surplus.
Catalonia has a proven record of attracting investment, with nearly a third of all foreign companies in Spain choosing the regional capital of Barcelona as their base.
Volkswagen (VLKAY) and Nissan (NSANF), for example, both have plants near Barcelona.
Related: Catalonia on collision course as banned referendum nears
Big risks
But there are many unanswered questions -- including continued membership in the European Union.
If Catalonia was forced to independently apply for EU membership, it would have to convince all of the bloc's current members to agree -- including Spain.
"We currently see no practical way for Catalonia to become an independent country within the EU, as most supporters of independence want," economists at Berenberg Bank wrote in a research note.
Dropping out of bloc would likely raise the cost of exporting goods produced in Catalonia to EU members and other nations.
"It would join the small list of countries that are not World Trade Organization members, meaning it would face significant trade barriers," said Stephen Brown, an economist at Capital Economics.
Barcelona: The jewel in Spain's economy
Brown said the move would increase the price of imported goods in Catalonia and result in job losses.
Independence could also make it more expensive for the region's government to borrow. Credit ratings agencies Moody's and S&P both downgraded Catalonia's debt rating in 2016.
The region could continue using the euro as its currency, but would not have a seat at the European Central Bank.
What about Spain?
Spain's highest court has banned the referendum, calling it unconstitutional. But the separatist regional government still pushed ahead with the vote.
A split would leave a hole in Spain's finances and dramatically increase uncertainty.
If Catalonia declares independence unilaterally, it might also refuse to take on its share of the national debt.
"While there does not appear to have been any serious effect on the wider Spanish economy so far, it is likely that business and consumer confidence would deteriorate if Catalonia were to secede," Brown said.
What's next
The buzzword for investors is uncertainty.
"As with Brexit, we believe that any Catalexit would plunge the region into a long period of uncertainty and would most probably be negative for the private sector," ING economist Geoffrey Minne wrote in a research note.
Kathleen Brooks, the research director at City Index, said a referendum win for the separatists could cause the euro to decline by as much as 5%.
The European currency was down about 0.3% against the dollar in morning trading in Asia on Monday.
A decisive "yes" vote is unlikely to result in Madrid or the EU recognizing Catalonia as "independent," according to experts.
"The Catalan government will instead attempt to use a positive referendum result to increase its leverage in future negotiations with the Spanish government," said Laurence Allan of IHS Markit.
-- Jethro Mullen contributed to this report.