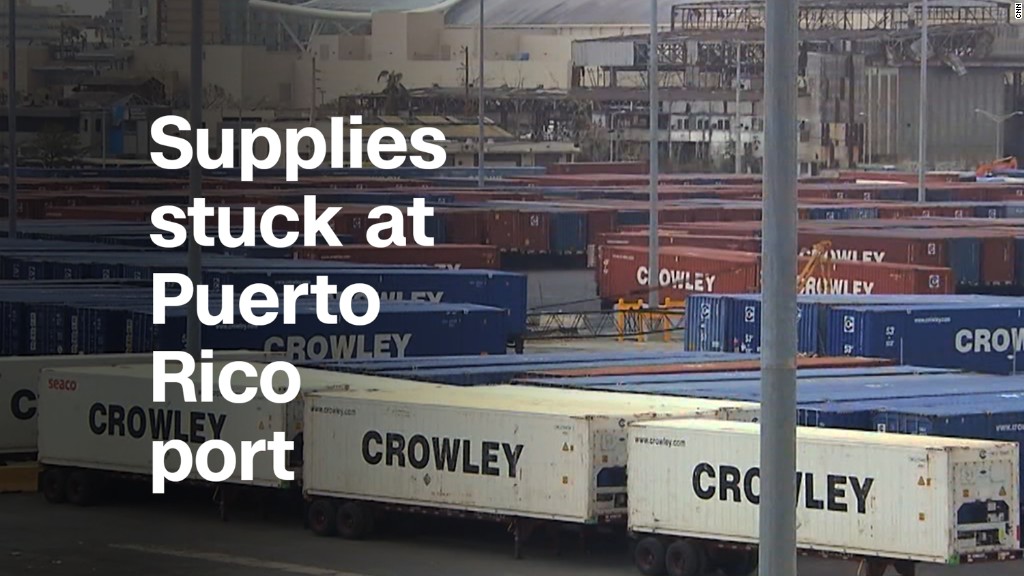 Major U.S. labor unions are organizing truck drivers to help with relief efforts in Puerto Rico as the island continues to grapple with the devastation wrought by Hurricane Maria last week.
The Teamsters union and the AFL-CIO, a federation of more than 50 unions, are working together to recruit truckers to travel to Puerto Rico and help distribute a stockpile of relief supplies
Thousands of shipping containers full of food, water, and medicines were sitting unused at Puerto Rico's Port of San Juan.
Relief workers haven't been able to distribute the goods, in part because only about 20% of Puerto Rico's truck drivers have reported back to work since Hurricane Maria swept through, according to a representative for Puerto Rican Gov. Ricardo Rosselló.
On top of that, Puerto Rico has a shortage of diesel fuel, which is needed to power the semi-trucks. Downed power lines and debris still litter roadways, blocking routes. Even contacting local drivers is an issue because cell service blackouts still cover the majority of the island.
Teamsters spokesman Galen Munro told CNN that the union hopes to get more drivers on the ground next week.
Related: Corporate donations for Hurricane Maria relief top $24 million
Munro said the union has heard from more than 100 truckers who have offered to help, and The Teamsters is working to vet those drivers and ensure they have the proper licenses and availability.
But The Teamsters said it's still facing the other logistical issues that have held up cargo distribution.
"At this time, it is unclear if there are trucks available to move the containers, fuel to operate the trucks or road access to the distribution centers," the union said Friday.
Eleven days after Hurricane Maria hit, Puerto Rico still looks like a war zone.
Supermarkets are rationing supplies, while banks are running low on cash. Only about half of the island's gas stations are functioning.
The federal relief efforts in Puerto Rico, which is a U.S. territory and home to 3.4 million Americans, have become a point of contention between President Trump and San Juan Mayor Carmen Yulín Cruz.
Trump on Puerto Rico: They want everything done for them
Yulín Cruz pushed back against Trump's assertion this week that relief work in Puerto Rico was a "good news story."
"This is, damn it, this is not a good news story," Yulín Cruz told CNN. "This is a 'people are dying' story. This is a 'life-or-death' story. This is, 'there's a truckload of stuff that cannot be taken to people' story."
On Saturday, Trump used Twitter to criticize her "leadership ability" and claimed Puerto Ricans "want everything to be done for them when it should be a community effort."
Yulín Cruz responded to the tweets in an interview with MSNBC on Saturday: "I was asking for help," she said. "I wasn't saying anything nasty about the President."
--CNN's Patrick Gillespie, Rafael Romo, Maria Santana and Dave Alsup contributed to this report.