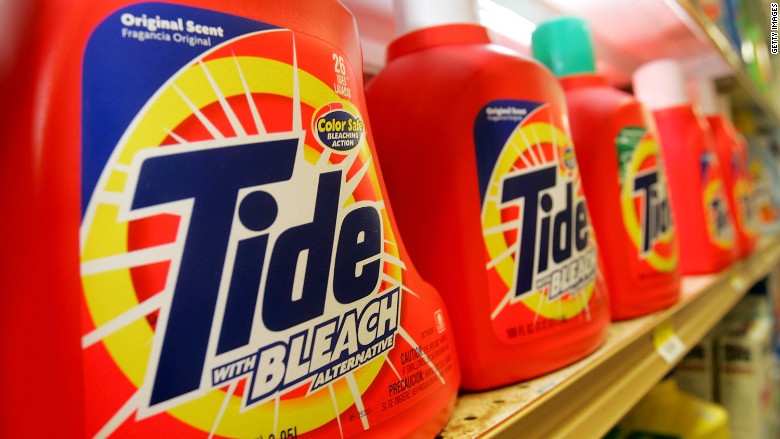 The biggest board battle in the history of corporate America is unfolding, pitting the consumer products behemoth Procter & Gamble against a billionaire activist investor who rarely loses.
At stake is the future of the company that makes all the stuff under your sink, in your laundry room and in your medicine cabinet, including Bounty, Charmin, Crest, Gillette, Pampers, Tampax and Tide.
Nelson Peltz, the head of Trian Fund Management, wants big changes at P&G (PG). Peltz says that P&G has embraced "mediocrity" and settled for losing market share to cheaper alternatives and startups like Dollar Shave Club.
Peltz wants a seat on the board. He wants P&G to reduce the number of its business units to three. (It currently has 10.) He wants to hire executives who haven't been groomed at P&G. And he wants the company to launch products that will attract a younger generation.
Related: How a soccer ball and an activist investor brought down a top CEO
In dozens of regulatory filings, P&G has said Peltz offers "no new ideas" in his "cookie-cutter activist plan." It says Peltz's plan is a thinly veiled attempt to break up P&G and sell its brands to the highest bidders.
That seems to be P&G's biggest fear. It called Peltz unfit to lead the company, accusing him of a "hidden agenda ... to derail the company."
So P&G really doesn't want Peltz on the board: It has committed $35 million in advertising against Trian -- and that number could go as high as $100 million, Peltz estimated. Trian said it set aside $25 million to fight back.
The two sides are spending so much money because Procter & Gamble is one of the most widely held stocks on the market. With 2.6 billion shares outstanding and a market value of $232 billion, it's the largest company ever to undergo such a proxy battle.
Related: Hedge funds want to kill $20 billion chemicals deal
There's a good chance you hold P&G in your retirement funds: 40% of its stock is held by individuals. It's much harder to reach mom-and-pop investors than institutional stakeholders, so both sides need to up their messaging game.
Both companies have spent money buying ads on Google, they've sent countless mailers to shareholders' homes, and their PR teams are working overtime updating websites with tit-for-tat responses to the other side.
The showdown takes place on October 10, when shareholders will vote on whether to go with Peltz or P&G's management.
Who's got the upper hand?
It's not clear who will win, but Peltz has some powerful allies on his side. On Monday, Trian announced that all three of the major firms that advise shareholders in proxy battles have sided with Peltz.
Glass Lewis and Institutional Shareholder Services had already given Peltz the thumbs-up. Now Egan-Jones has joined in, arguing that a boardroom change would be welcome, and that Peltz's giant stake in P&G makes him a good choice for a director.
Trian owns 1.5% of the company, a stake worth about $3.5 billion. A number of other top investors in P&G are backing Peltz, too.
Related: Hedge fund star Dan Loeb bets $3.5 billion on Nestle
The shareholder advisory companies also touted Peltz's experience: He has held board positions at other major consumer brands, including Heinz and Mondelez. (He worked his way onto Heinz's board via a similar proxy fight.)
Peltz isn't all that accustomed to losing, though he did fail to win a seat on DuPont's board in a 2015 proxy fight.
Meanwhile, P&G CEO David Taylor has admitted to some mistakes, including moving too slowly in China and failing to combat subscription razor services. But he said P&G is well into a turnaround: It has already sold off a bunch of brands, reduced the number of its business units, fired its CEO and restructured over the past several years.
"P&G is a profoundly different, much stronger, more profitable company than it was just a few years ago," Taylor said in a letter to shareholders on Monday.