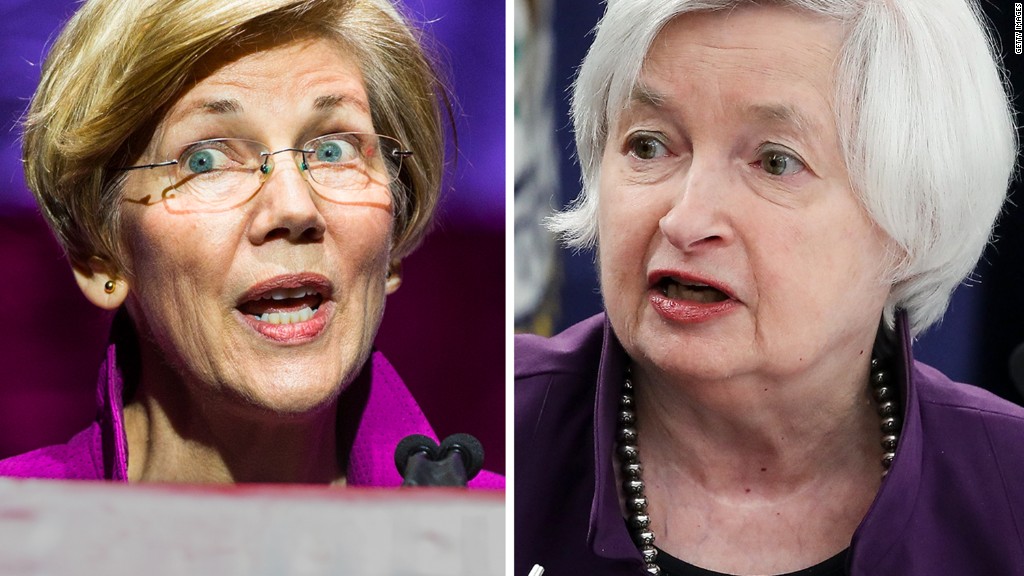 Wells Fargo was just accused of lying to Congress last year by failing to disclose a brewing scandal in the bank's auto insurance business.
The startling allegation came from Senator Sherrod Brown on Tuesday during a Senate hearing on Wells Fargo's various scandals.
"The company pure and simple lied to this committee -- and lied to the public," said Brown, the ranking Democrat on the Senate Banking Committee.
In July, Wells Fargo admitted that it forced auto insurance on as many as 570,000 borrowers who didn't need it. About 20,000 of those customers had their cars wrongfully repossessed in part due to these unwanted insurance charges.
Related: Elizabeth Warren calls for Wells Fargo CEO to be fired
Wells Fargo (WFC) has said it first became aware of the auto insurance debacle a year earlier, in July 2016, after customers complained.
However, former Wells Fargo CEO John Stumpf didn't disclose any of that to Congress at September 2016 hearings about the millions of fake accounts that the bank created. Stumpf resigned under pressure weeks after the hearings.
In written follow-up questions following the hearings last year, the Senate Banking Committee specifically asked Wells Fargo execs if they were "confident that this type of fraudulent activity does not exist" elsewhere in the bank. Lawmakers also asked whether Wells Fargo "discovered other types of misconduct," such as insurance products.
Wells Fargo responded In November 2016, a month after Tim Sloan took over as CEO. The bank said: "We believe that the activity at issue here was limited to certain" employees working in the company's community banking division. Wells Fargo did not mention the auto insurance scandal, which was rooted in its auto dealer services department.
Brown questioned why Sloan he didn't speak up publicly about the auto scandal once he became CEO.
"Why did you think it was okay to continue to cover it up?" Brown asked Sloan on Tuesday.
Sloan denied Wells Fargo tried to bury the auto insurance problems.
"We haven't been covering it up," Sloan said. The CEO defended how he handled the matter, saying he helped decide to suspend the insurance program in September 2016 after learning of the problems.
Related: Wells Fargo customer: It felt like my car was held as extortion
Wells Fargo began issuing refunds last month to customers hurt by the forced insurance. The bank said it expects all impacted borrowers to be reimbursed by mid-2018.
Sloan argues that the auto-loan trouble is "quite different" from the fake account scandal, because employees were not incentivized by sales goals to sell car insurance. By contrast, Wells Fargo has acknowledged that unrealistic sales goals encouraged workers to open up to 3.5 million unauthorized bank and credit card accounts.
Wells Fargo blamed the unwanted auto insurance on "flaws" in the bank's systems that verify customers had insurance. Wells Fargo's auto loan contracts allowed it to place borrowers in auto insurance if their own policies lapsed, an unusual policy for a big bank.
Sloan hinted that Wells Fargo may soon disclose more problems in yet another section of the bank. Wells Fargo plans to contact over 108,000 customers to address complaints about fees charged to lock in mortgage rates, he said.
Wells Fargo recently said in filings that the federal Consumer Financial Protection Bureau is investigating fees placed on customers to extend interest rate "lock periods" for mortgages.
"This is going to come out in the next couple of days, so I might as well mention it," Sloan said.