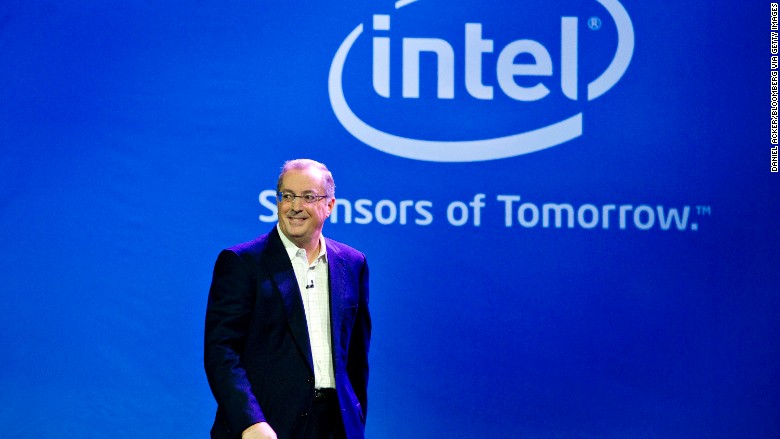 Paul Otellini, the former chief executive officer of Intel who spent 36 years at the company, died on Monday. He was 66 years old.
Otellini led Intel (INTC), one of the world's largest chipmakers, for eight years before stepping down as CEO in 2012. During that time, he ushered Intel through one of the greatest shifts the industry has experienced -- the move from away from PCs to smartphones.
In nearly four decades at the company, Otellini held a number of positions before becoming CEO in 2005. Among his jobs: executive vice president of the microprocessor and chipset business division, executive vice president of sales and marketing, and chief operating officer.
Otellini was the company's first CEO who didn't have an engineering background.
While CEO, Otellini had some successes and notable misses. Intel (INTC) originally missed out on the smartphone-chip market when it began taking off in 2007. It regained some ground later with the Atom processor and a deal with Google's Motorola, but it never fully caught up in that area.
Related: Intel's CEO Otellini to retire in May
Otellini was responsible for Intel's successful push into markets beyond PC chips, most notably data centers. While he was CEO the company made a deal with Apple (AAPL) that put Intel processors in Macs, and it purchased the McAfee computer security company.
Intel says the company generated more revenue during the eight years Otellini was CEO than in its 45 preceding years. In Otellini's last year as CEO, Intel had $53 billion in sales compared to $34 billion the last year before he took charge, according to the company.
"Paul's business acumen, optimism and dedication fueled our growth throughout his tenure as CEO," Intel Chairman Andy Bryant said in a statement. "His tireless drive, discipline and humility were cornerstones of his leadership and live on in our company values to this day."
A San Francisco native, Otellini graduated from the University of San Francisco in 1972 and received an MBA from the University of California in Berkeley in 1974. Intel said Otellini died in his sleep but did not say a cause.