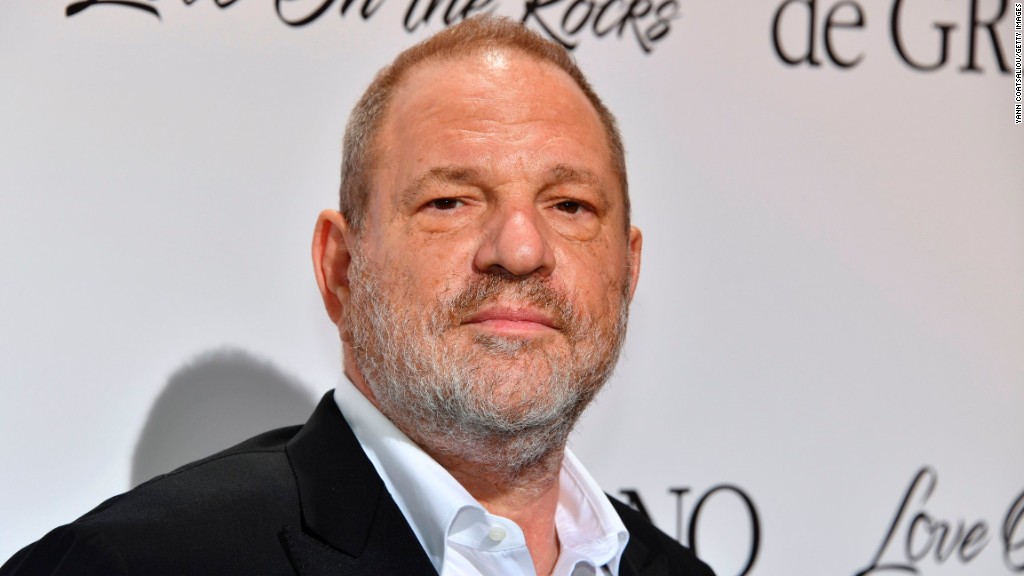 The New York Times has published a story detailing numerous accusations of sexual harassment against powerful movie producer Harvey Weinstein.
The Times identifies several of Weinstein's accusers, including actress Ashley Judd.
"Women have been talking about Harvey amongst ourselves for a long time, and it's simply beyond time to have the conversation publicly," Judd said, according to the Times.
Reached by CNNMoney for comment, Judd's publicist Annett Wolf said, "The New York Times article speaks for itself."
Weinstein is the co-chairman of The Weinstein Company, which is behind films like "Silver Linings Playbook," "The King's Speech," and "Django Unchained." He is also the co-founder of Miramax Films.
The allegations span three decades and include at least eight legal settlements with women, according to the report.
Lisa Bloom, one of Weinstein's attorneys, has been working with Weinstein for a year. She told CNN International that no new allegations have come forward since she started working with Weinstein.
'I'm trying to do better'
Weinstein issued a lengthy statement Thursday regarding the damning New York Times report.
In it, he said he's enlisted the help of Bloom and therapists to help him "deal with this issue head on."
He said he plans to take a leave of absence at a time which he did not specify.
"I came of age in the '60s and '70s, when all the rules about behavior and workplaces were different," Weinstein said in a statement given to CNNMoney. "That was the culture then. I have since learned it's not an excuse, in the office -- or out of it."
He added: "I appreciate the way I've behaved with colleagues in the past has caused a lot of pain, and I sincerely apologize for it. Though I'm trying to do better, I know I have a long way to go. That is my commitment."
"I cannot be more remorseful about the people I hurt and I plan to do right by all of them," Weinstein added.
Taking on the New York Times
Bloom spoke with CNN International's Richard Quest on Thursday shortly after the New York Times published its article.
While she acknowledged that Weinstein has "demons he has to slay," she took issue with the New York Times' handling of the story.
"What our beef has been in the last couple of days has been with The New York Times who gave us two days to respond to an article they've been working on for months and months," she said.
Charles Harder, one of the attorneys representing Weinstein, told CNNMoney that Weinstein intends to sue over the Times story.
"The New York Times published today a story that is saturated with false and defamatory statements about Harvey Weinstein," Harder said in a statement. "It relies on mostly hearsay accounts and a faulty report, apparently stolen from an employee personnel file, which has been debunked by 9 different eyewitnesses. We sent the Times the facts and evidence, but they ignored it and rushed to publish."
Harder, who led Peter Thiel's legal crusade against Gawker, did not respond to inquiries asking him to identify specific information he claims is incorrect.
Harder's statement said proceeds from Weinstein's suit against the times will be donated to "women's organizations."
The New York Times told CNNMoney in a comment that it is "confident in the accuracy" of its reporting.
"Mr. Weinstein was aware and able to respond to specific allegations in our story before publication. In fact, we published his response in full," a spokesperson said.
A movie mogul
Working with his brother, Bob, first at Miramax Films (named after their parents) and later the Weinstein Company, Weinstein has been a major figure in the film industry for decades, championing prestige movies and piling up awards.
Weinstein is renowned for having defined the modern art of Oscar campaigning, throwing lavish events. That legend grew 20 years ago, when "Shakespeare in Love" unexpectedly earned best picture honors over Steven Spielberg's "Saving Private Ryan."
The modern-day mogul has also branched out into television, in part because its movie operation has become less lucrative. While the Weinsteins have been involved with hits like "Project Runway," there have also been some high-profile flops, such as the Netflix drama "Marco Polo."
Weinstein has been active in politics, supporting Hillary Clinton's presidential run by hosting fundraisers.
How the accusations against Weinstein will affect his business going forward remains to be seen. But in his statement, Weinstein said he wants "a second chance in the community but I know I've got work to do to earn it."
"I have goals that are now priorities," he said. "Trust me, this isn't an overnight process. I've been trying to do this for 10 years and this is a wake-up call."
(CNNMoney's Brian Lowry contributed to this report.)