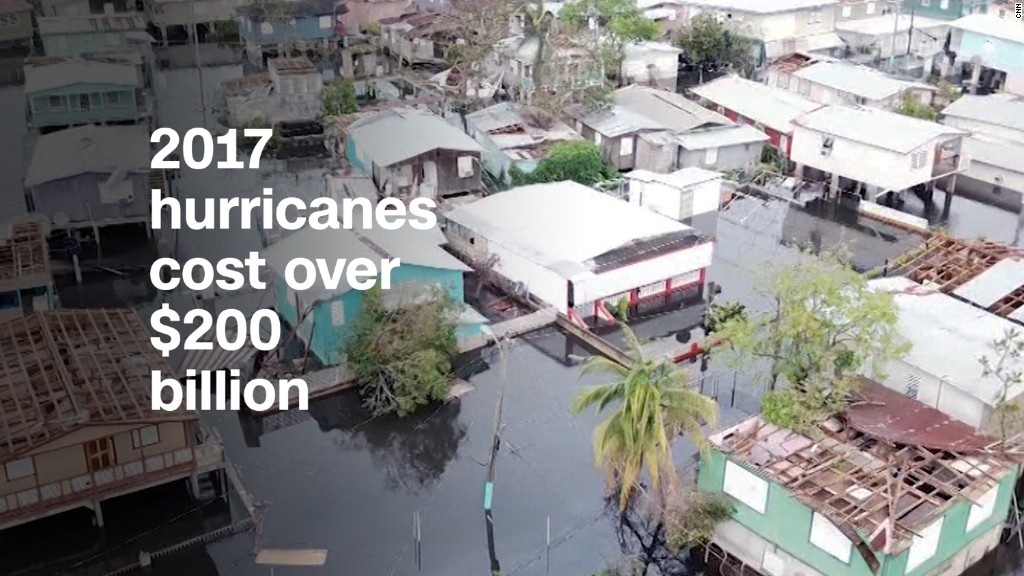 Brace yourself for some bad jobs numbers.
But don't panic. The number of jobs created in September is expected to dip sharply, primarily because of Hurricanes Harvey and Irma.
And the impact on jobs is likely to be short-lived. The storms could even boost in hiring in the upcoming months, as victims of the storms rebuild and and replace things like cars that were damaged in the storm.
Still, Friday's report is likely to show employers added only about 90,000 jobs in the month, according economists surveyed by CNNMoney. That's about half of jobs that would have been reported without the storms. So far this year employers have added an average of 175,000 jobs a month.
About a quarter of the economists say the temporary job losses might push the unemployment rate to 4.5%, while the rest believe it will remain at 4.4%.
Related: Irma and Harvey together will be as expensive as Hurricane Katrina
Even if that rate does tick higher, it will still be near what economists generally consider to be full employment. And the overall economy is well-positioned to bounce back quickly from any impact from the storms.
"Hurricanes Harvey and Irma hurt the job market in September," said Mark Zandi, chief economist with with Moody's Analytics. "Looking through the storms the job market remains sturdy and strong."
The government's monthly jobs report is a snapshot of what the Labor Department finds when it contacts businesses across the nation, which is does in the middle of each month. But many businesses in both the Houston area and across Florida were closed because of the storm when the Labor Department was collecting its September data. If the Labor Department wasn't able to contact an employer, it has to assume there was no one employed there at that time.
Related: Hurricanes will probably hurt the economy, but not for long
The storms will have a big impact on the jobs report in large part because they hit densely populated areas in Texas and Florida. There are about 11 million people working in the counties designed as disaster areas, according to the Labor Department.
Hurricane Harvey hit Texas on Aug. 25, which was too late to affect the August jobs report. But because many businesses and individuals in the region were still struggling to reopen and recover from damage wrought by the storm weeks later in mid-September, it will impact this report.
Hurricane Irma hit the Florida Keys on Sunday, Sept. 10, then moved up the state in the following days, shutting down many businesses during the week that employment is measured.
Hurricane Maria, which devastated Puerto Rico and the U.S. Virgin Islands, won't affect this report. That storm hit after the week that the Labor Department surveys businesses. Second, the widely reported national jobs numbers do not include those islands, even though the Labor Department does track hiring and job losses on those islands.