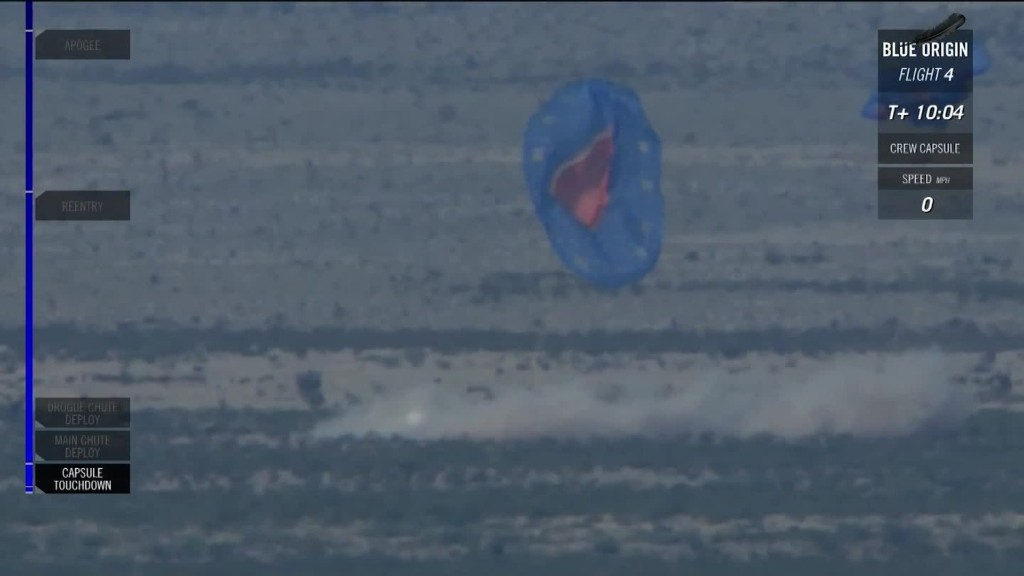 A Blue Origin rocket could take tourists to space by April 2019.
Bob Smith, the CEO of the space outfit founded by Amazon (AMZN) mastermind Jeff Bezos, mentioned the new timeline during the first meeting of the newly revamped National Space Council on Thursday.
That's a later date than Blue Origin had touted in the past. Just a year ago, the company's president, Rob Meyerson, said the first launch with passengers would be sometime in 2018.
In an emailed statement to CNNMoney on Thursday, Blue Origin insisted its "internal dates have not shifted," but added, "we will fly humans when we're ready, and not a moment sooner."
The National Space Council, which has been revived under the Trump administration after a two-decade hiatus, includes Vice President Mike Pence and various other government officials. Its goal is to help coordinate space exploration and national security efforts by the public and private sectors.
Smith briefly spoke to the panel about Blue Origin's plans to take paying customers to space.
"Within the next 18 months we're going to be launching humans into space," he said. "These won't be astronauts...these will be everyday citizens."
Related: Jeff Bezos' new rocket has its first customer
A 2019 launch would put Blue Origin's first space tourism trip slightly behind its competitor SpaceX, which is headed by Tesla (TSLA) CEO Elon Musk.
SpaceX plans to take two tourists on a trip around the moon sometime in the last quarter of 2018. SpaceX confirmed Thursday that date hasn't been adjusted since the company first announced those plans back in February.
(Note, however, that Musk is notorious for setting ambitious deadlines -- and blowing through them.)
In the grand scheme of things, SpaceX and Blue Origin have very different strategies for space tourism.
For Blue Origin, sending paying customers to space is part of the bedrock of it early business strategy.
The company wants to conduct frequent launches to the edge of space -- where passengers can briefly experience weightlessness and marvel at the view. (So far, the company has only conducted unmanned test launches of its New Shepherd rocket.)
The goal is to make it relatively cheap for an Average Joe to enjoy spaceflight, though Blue Origin hasn't yet indicated exactly how much tickets will cost. The revenue it makes from ticket sales is supposed to help fund the company's future endeavors, such as launching satellites into space.
Bezos also told reporters in April that he sells about $1 billion worth of his Amazon shares every year in order to keep Blue Origin stocked with cash, according to Reuters.
Related: Blue Origin unveils space capsule with 'largest windows in space'
SpaceX is in some sense doing the opposite. The company already has a lucrative business delivering satellites to space and sending cargo to the International Space Station.
Those efforts are meant to help fund its ultimate goal: Send perhaps the bravest space tourists to live on Mars.
Meanwhile, SpaceX's moon trip appears to be a one-off commitment the company made to two people. SpaceX has not revealed how much it's charging the passengers -- though it's undoubtedly a significant sum, likely many millions.
Blue Origin does have plans to build a much more powerful rocket, called New Glenn, that's capable of competing with SpaceX for satellite launch contracts.
Smith, the Blue Origin CEO, said Thursday that the factory where New Glenn will be manufactured will likely be completed by the end of the year. But even after it's built, the company will have to complete the long, tedious process of certifying the rocket to fly.
Bezos has said the first launch of that rocket will be in 2020.