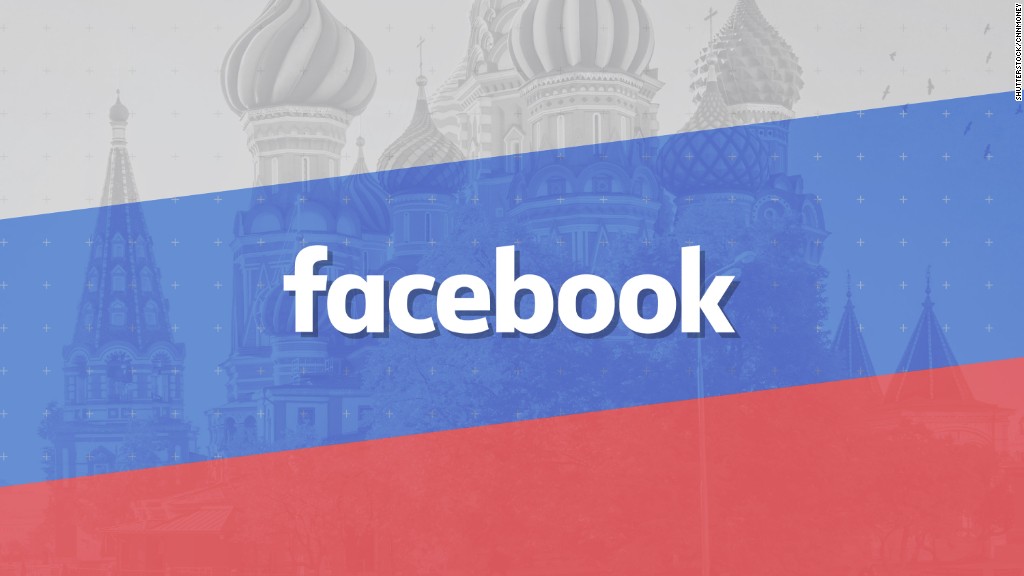 "Young, gifted and black." "Melanin and muscles." "Our sons matter." The slogans on the clothing that a group called "Blacktivist" offered for sale through Facebook were supposed to look like they came from American Black Lives Matter activists. But they were in fact being promoted by a Russian-linked group working to amplify political discord in the U.S. before the presidential election.
CNN first reported last week that "Blacktivist" accounts on Facebook and Twitter had regularly shared content intended to stoke outrage in an apparent attempt to amplify racial tensions during the U.S. presidential election. The accounts have been suspended and are among those handed over to Congress as part of its investigation into Russia's meddling in the 2016 presidential election.
The page appears to have sold fewer than 100 items of Blacktivist-branded merchandise, but the actual amount of clothing sold is less significant than what the effort represented: A move by the people behind Blacktivist to go beyond social media and spread their influence into the physical world. The Blacktivist Facebook page also promoted at least seven rallies and demonstrations around the U.S. in 2016.
Related: Exclusive: Fake black activist accounts linked to Russian government
Jonathon Morgan, the founder of New Knowledge, a company that tracks the spread of misinformation online, says the promotion of events and the sale of merchandise is straight out of the Russian misinformation handbook, and that it "fits a pattern of Russian propagandists' attempts at appearing as authentic Americans participating in politics."
"The Russian objective the entire time has been to pit Americans against each other and to prey on divisions that already exist and to capitalize on the hyper-partisan environment that already exists in the US," Morgan said.
"It's one thing to get people arguing with each other on the internet but if you can get Americans marching in the streets that escalates conflict and further destabilizes the country."
Users on Blacktivist's Facebook page who clicked to buy one of the products there would have been taken to a website called Represent, which allows users to upload designs and place them on items like t-shirts and sweatshirts. Merchandise is only produced after an order is placed. Represent handles the payment for and production and shipping of each item and takes a cut on each sale.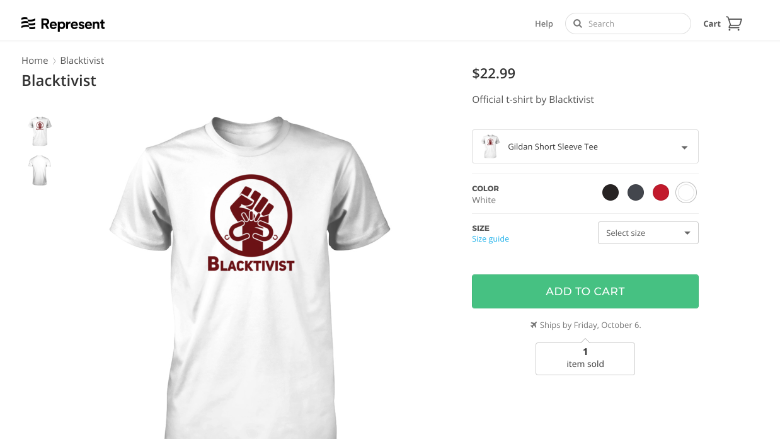 Represent pays sellers their cut through PayPal. Asked by CNN about Blacktivist, PayPal had no immediate comment.
The Blacktivist store on Represent, which CNN found while reviewing a cached version of the Blacktivist Facebook page, featured 84 items of clothing. It is not possible to say for certain whether the Russian group behind the Blacktivist Facebook and Twitter accounts started the Represent page, or whether it took advantage of someone else's work, but the Represent page appears to have been started after the Facebook and Twitter accounts, and the branding is consistent across the accounts. Many of the designs that were on offer appear to have been lifted from pre-existing designs, a practice seemingly not uncommon among some sellers of apparel online.
The Blacktivist store on Represent was taken down on Tuesday after CNN contacted the company. Represent would not say if it had been contacted by federal authorities investigating Russia's role in the 2016 election.
Every product on Represent's website includes an "items sold" count. Eighty-seven items were sold through the Blacktivist store, a CNN analysis of Represent's website found.
In a statement provided to CNN on Tuesday, Represent did not indicate whether it would inform customers who purchased apparel from the Blacktivist store that the group may have had ties to Russia. "The campaign has now ended, but if any customers would like a refund, we'd be happy to provide one," the company's statement said.
Like Blacktivist's accounts, which went undetected by Facebook and Twitter for months, the store on Represent did not arouse suspicion. "Our guidelines prohibit illegal or offensive content, but nothing in this campaign appears to have violated those guidelines," Represent said in a statement.
Blacktivist publicized its merchandise on its Facebook page using a feature Facebook calls a "shop section," cached versions of the now suspended page show.
Related: Stoking Islamophobia and secession in Texas -- from an office in Russia
Facebook offers two ways for page owners to sell products. With the first option, Facebook acts as the e-commerce platform, and users buy the product on Facebook. The second option, which Blacktivist used, allows users to view products on Facebook, then takes them to another site to check out. Any user who clicked to buy an item on the Blacktivist Facebook page would have been taken to the Represent store.
Facebook does not take a cut of sales generated through this feature, the social network says. It also says products added to shop sections are reviewed to ensure they comply with company policy.
Represent did not confirm if any of the Blacktivist store's 87 sales were the result of Facebook users using this functionality.
Facebook would not comment on the Blacktivist page, and pointed to its chief security officer's statement on September 6 that announced some of the company's findings from its investigation into Russian meddling on its platform. The statement did not mention any merchandise sold.
-- CNN's Liz Stark contributed reporting.