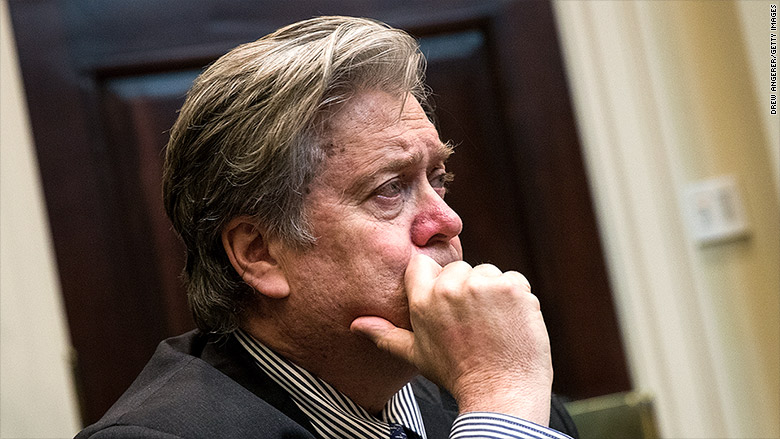 Stephen Bannon has left the Trump administration. But he's still having an influence at a government agency many outside of Washington haven't heard of but wields influence around the world: the Broadcasting Board of Governors.
The board controls U.S. government-funded media outlets like Voice of America and Radio Free Europe. Its aim is to counter propaganda from repressive regimes with independent news coverage and promote democracy to the rest of the world.
An ally of Bannon, the former White House chief strategist who has returned to Breitbart, is expected to be nominated as BBG's next chief executive.
But it's another man whose statements are raising concern internally. Jeffrey Scott Shapiro, a former investigative reporter who has ties to Bannon, was tapped by the White House for a position within the BBG over the summer. The BBG placed him in a job as a senior adviser to the Office of Cuba Broadcasting, a board division that runs Radio and TV Marti and other programs aimed at Cuba.
Shapiro has told colleagues that his goal is to turn the entire Broadcasting Board of Governors into a "Bannon legacy," according to three sources within or familiar with the agency. He has also said he believes the Castros have infiltrated the Office of Cuba Broadcasting, the sources told CNN.
The Office of Cuba Broadcasting, with an annual budget of $28 million and 125 employees, uses "satellite television, shortwave and AM radio, as well as ... flash drives, emails, DVDs, and SMS text [to bring] unbiased, objective information to all Cubans," according to its website.
The Broadcasting Board of Governors is considered the U.S. government's largest public diplomacy program. It reaches an audience of 278 million in more than 100 countries and 61 languages.
According to three sources, Shapiro has alarmed BBG employees, who see themselves as stewards of a free press and democracy to a people living under a repressive regime.
"[Shapiro has] been known to tell people that he'd like to see the BBG turned into a Bannon legacy," said a BBG official who requested anonymity. "Jeff Shapiro came in telling everyone he bumps into that he's a Bannon guy, that he talks to Bannon every day, telling people 'Bannon had entered the BBG through me.'"
Shapiro has a long and varied career. In addition to his work as a lawyer, he's written for Bannon at Breitbart. More recently he has worked as a Washington Times investigative journalist. After last year's election, Shapiro wrote an op-ed defending Bannon from claims that Bannon was anti-semitic and a white nationalist.
Colleagues at the BBG pointed to some of Shapiro's writings that have pushed questionable theories. For example, in a 2011 column published in the Washington Times and Breitbart, Shapiro lamented that journalists had not investigated the authenticity of President Barack Obama's birth certificate "with the same investigative drive with which they did investigate Watergate, President Clinton's alleged indiscretions and the Bush administration's missteps in Iraq."
Now, at the Office of Cuba Broadcasting, he has told people he is there to root out anyone who is not loyal to Trump and Bannon, according to the three sources.
"He sees himself as the Bannon talker, the Bannon whisperer inside of the BBG to root out all Trump disloyalists," said a person with detailed knowledge of the board and its discussions. "He truly believes that the Office of Cuba Broadcasting is in the pocket of Castro. That it's full of Trump disloyalty and those kinds of things and it's his job to make sure it is a tool of the Trump administration."
It's not clear whether Shapiro and Bannon actually talk on a regular basis. A spokesperson for Bannon did not respond to requests for comment.
A spokesperson for the BBG declined to comment, saying they don't discuss personnel or personnel issues, and directed questions to Shapiro directly, who did not respond to emails seeking comment.
The Trump administration placed two other advisers into positions at the BBG in January: Matthew Ciepielowski, New Hampshire state director for the Trump campaign, and Matthew Schuck, who was the campaign's Wisconsin communications director. Their roles were to act as liaisons between the Trump administration and the BBG headquarters. A BBG official said they have been constructive members of the team.
At the moment, neither Shapiro, Ciepielowski nor Schuck have decision making power. But another Bannon-ally may soon be in charge of the entire operation and with more unilateral power than the current CEO because of forthcoming changes to the leadership structure. People within the BBG wonder what, if any positions Shapiro may have after the new CEO takes over.
Michael Pack, a documentary film maker and former head of the conservative Claremont Institute, has been the White House's expected pick since early summer to serve as CEO of the Broadcasting Board of Governors. Pack, who at one point also served on the Corporation for Public Broadcasting, worked on two documentaries with Bannon. Pack also appeared on Bannon's radio show and wrote an op-ed praising Bannon as a pioneer conservative who can break through the "left-wing monopoly" on documentary films.
While his nomination has not yet been sent to the Senate, Pack has been preparing for the move, stepping down as president of the Claremont Institute in California over the summer.
Should Pack be confirmed, he'd have more unilateral power over the agency because of a provision enacted in the last weeks of the Obama administration that would disband the bipartisan board, which supporters saw as a firewall between the administration and the agency. Proponents though promoted the move as one to make the organization more efficient.
A White House spokesperson said they had no announcement at the time regarding Pack.
Pack declined to comment via a Claremont spokesperson who said in an email that "out of respect for the selection and nomination process, which is still ongoing, Mr. Pack would like to refrain from comment at this time."