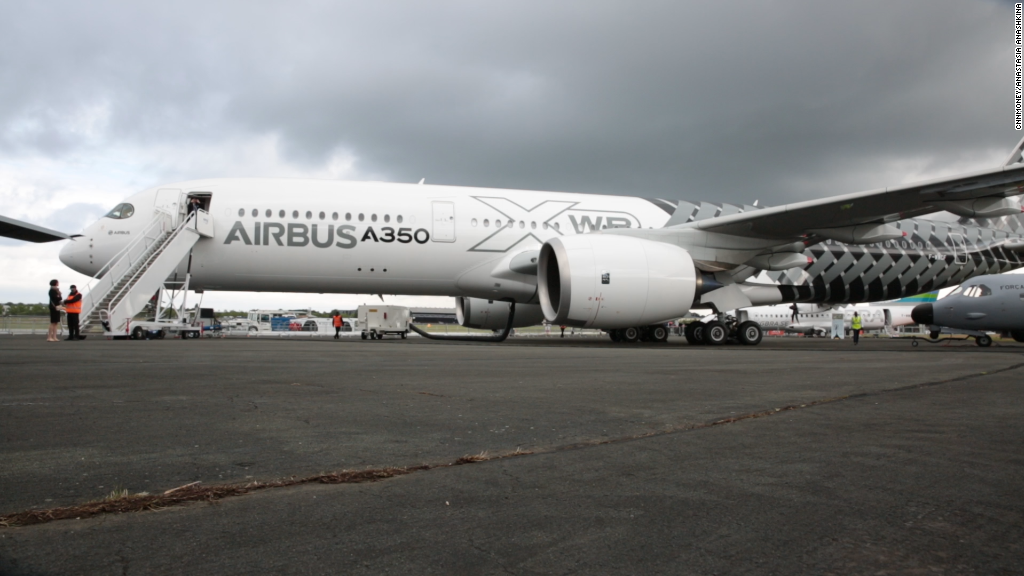 The U.S. Commerce Department has heaped another big tariff on Bombardier's new C Series jet -- a win for Boeing.
The department's International Trade Administration said Friday that it would recommend a 79.82% tariff on the import of each roughly 110-seat Canadian airliner.
The penalty stems from an allegation by Boeing (BA) that Bombardier sold the C Series to Delta Air Lines last year at "absurdly low prices" to undercut Boeing and win business.
The ruling comes on top of 219.63% penalty recommended by Commerce's ITA on September 26. The agency found that national and provincial governments in Canada had given improper subsidies to Bombardier when the company was struggling several years ago.
A final decision on the tariffs will be made by the International Trade Commission, a quasi-judicial U.S. government agency. That ruling is expected in February.
Friday's ruling means Delta or any U.S. airline that buys the Bombardier plane would have to pay what is essentially a tax of 300% on its purchases. If the tariffs go forward, Delta would be faced with canceling its orders of the jetliner or passing the additional cost onto customers.
Bombardier has fiercely denied it received subsidies and unfairly lowered the price of its CS100 airliner as part of a deal to sell Delta as many as 125 planes.
Bombardier called the ruling "an egregious overreach and misapplication" of trade law. It said the ruling would hurt the American aerospace industry, jobs and fliers.
Bombardier and Delta contend that the model it purchased does not compete with anything Boeing produces. Delta said it was "confident" Bombardier will prevail in the end because no U.S. manufacturer makes an aircraft that competes with the CS100. The first CS100s arrive in Delta's fleet in spring 2018.
Boeing praised the latest ruling. "These duties are the consequence of a conscious decision by Bombardier to violate trade law and dump their C Series aircraft to secure a sale," the company said.
Boeing alleges that Delta is paying $19.6 million per plane, putting a final price tag at $78.4 million with the tariffs included. The list price of the CS100 is $79.5 million, but airlines typically receive discounts of 40% to 60%.
"The Commerce Department's approach throughout this investigation has completely ignored aerospace industry realities," Bombardier said.
What Delta is paying for the planes isn't a mystery. It was disclosed as part of the investigation but redacted from public documents reviewed by CNN. Two people familiar with the deal said each plane was in the "high $20 millions."
Related: U.S. slaps stiff tariff on Bombardier's new jet
The trade feud has sparked a diplomatic row between the United States, Canada and the United Kingdom. Canada has threatened to kill a deal to buy Boeing F/A-18 Super Hornets, and the U.K. said future Royal Air Force purchases from Boeing might be threatened should the tariffs be imposed.
"We won't do business with a company that's busy trying to sue us and put our aerospace workers out of business," Canadian Prime Minister Justin Trudeau said last month.
Bombardier's aerospace division employs 28,500 worldwide, including more than 4,000 in Northern Ireland, where the jet's wings are manufactured. The airplane is also half produced by U.S. aerospace companies, including United Technologies which supplies the jet's Pratt & Whitney engines.