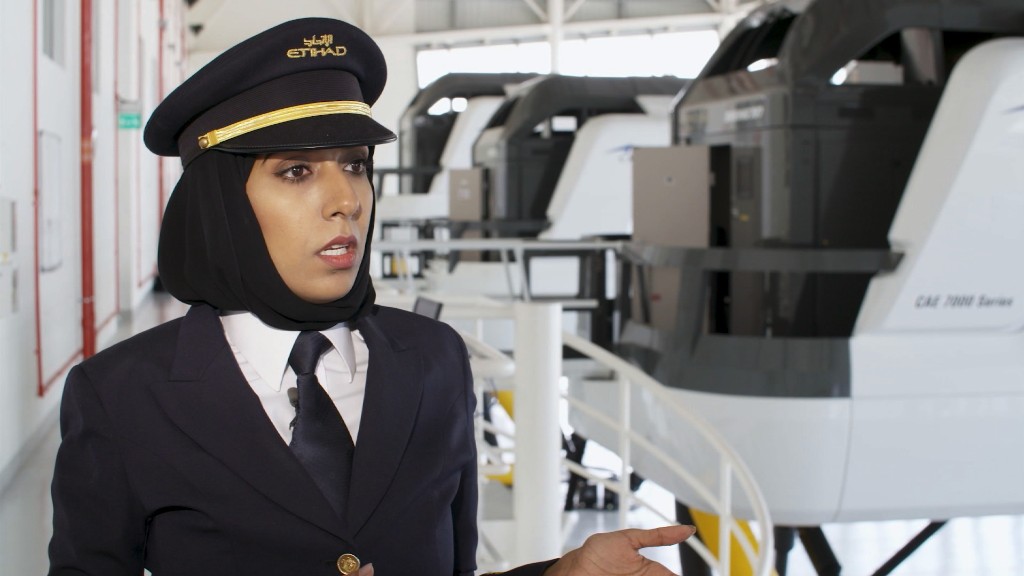 The Middle East has a poor record on getting women into work. One chief executive is trying hard to change that.
Nour Al Hassan runs translation service Tarjama, employing 400 full-time and part-time workers across the Arab world. About 90% of them are women.
Tarjama offers women the chance to stay home, working from laptops and choosing their shifts to fit around other commitments.
"Most of the females that work with us across the region are working mothers, taking care of their kids. They can't [do] a 9 to 5 job being in an office or commuting to the office," Al Hassan said.
The Middle East has the world's lowest rate of female participation in the workforce -- just under 22% in 2016 -- according to the World Bank.
Related: New app helps Saudi women claim their rights
The problem is particularly acute in Jordan, Al Hassan's home country, where only 14% of women work despite high levels of literacy.
Her business has benefited from a tendency of women in the region to study languages. She's already hired 60 women for editorial and translation positions in Jordan. That doesn't mean Tarjama won't hire men -- just they usually take other jobs in operations or marketing.
"We try to [achieve a] balance... it's healthier," said Al Hassan.
Uphill struggle
Tarjama runs training programs exclusively for women in Saudi Arabia and the United Arab Emirates (UAE) to help them acquire skills needed to enter the workforce. Tarjama also offers them paid internships.
But it's an uphill struggle in a region where many men still object to women working.
"It's definitely cultural," Al Hassan said. "The majority of jobs... high paid jobs go to men. If you go to employers today, due to maternity leave and other reasons, they prefer hiring a man versus a woman."
Male family members are not always supportive, either. Al Hassan says some of her staff have had to hide their laptops from their husbands.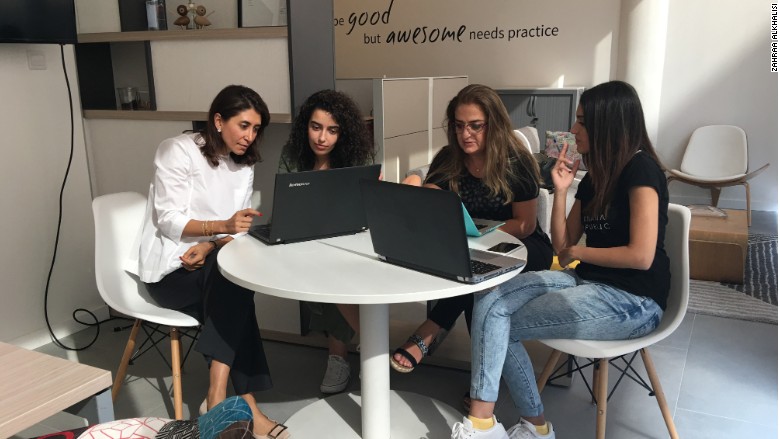 The picture is brighter in the UAE, where Tarjama is based. Almost 42% of women work, not far off the global average of 49%. And 66% of public sector workers are women.
"Leadership [in the UAE] have been amazing about women empowerment," said Al Hassan. "You get a fair opportunity if you are a female and interested."
Related: Women driving could rev up Saudi economy
The UAE is aiming to join the United Nations' list of the top 25 countries in the world for gender equality by 2021 (It currently ranks 42nd).
Last month it published a "how to" guide for employers dealing with the working environment, work-life balance, maternity and paternity leave, as well as the glass ceiling.
Paralyzed economy?
"We're encouraging entities to first have their own internal policies and not just implement decrees and legislation announced by the government," said Mona Al Marri, vice president of the UAE Gender Balance Council. "You can create your own internal policy as simple as flexi-hours or a child care center in your entity."
Al Marri hopes the UAE can set an example for countries that are trying to play catch up. Al Hassan agrees.
"If half of society is sitting at home and not working you have a paralyzed economy, unfortunately," she said.