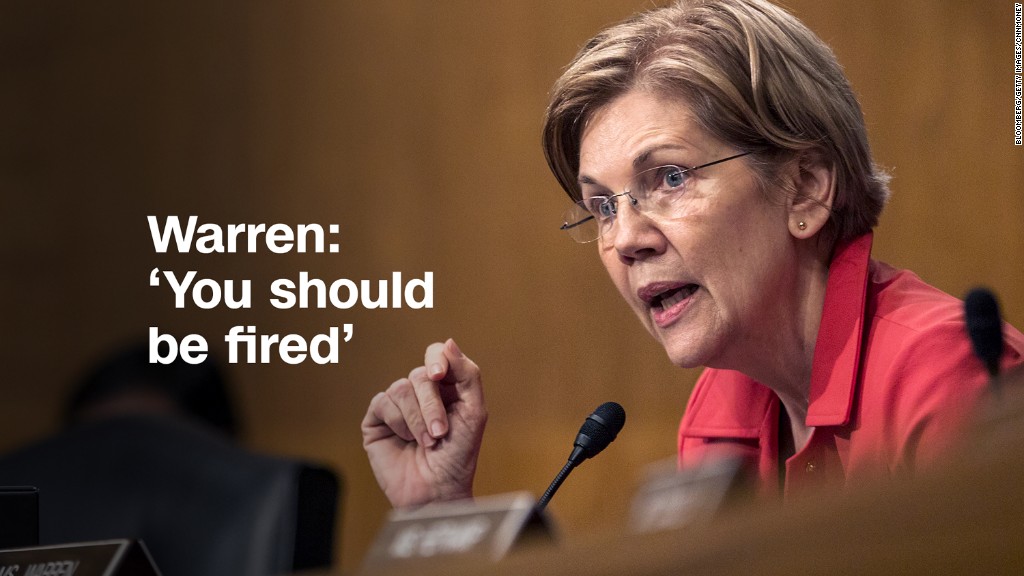 1. Big banks, even bigger profits: America's leading banks are minting money.
Five of the country's biggest banks are expected to rain down a combined $21 billion in profits this week.
The vast quarterly earnings from JPMorgan Chase, Bank of America, Citigroup, Wells Fargo and PNC are likely to account for nearly half of the entire banking industry's profits.
It's no wonder Wall Street is feasting on bank stocks. Investors are betting bank profitability will only be enhanced by proposed corporate tax cuts and deregulation. These positives have overshadowed hiccups from turbulent trading revenue and soft loan growth.
Not surprisingly, JPMorgan (JPM) remains at the front of the class. Not only is JPMorgan the most valuable U.S. bank and the one with the most assets ($2.1 trillion), but it's the most profitable. Jamie Dimon's company, kicking off the parade of bank earnings on Thursday morning, is expected to post $6.4 billion in profits.
Bank of America (BAC) and Citigroup continue to hit milestones in their taxpayer-assisted recovery from the financial crisis. For the first time since 2007, Citi is worth over $200 billion. That's thanks to a 52% surge in Citi's (C) stock price since President Trump's election.
BofA celebrated a landmark of its own last week. Its stock price topped $26 for the first time since September 2008, the month Lehman Brothers collapsed. Of course, it's still shy of the all-time high of $55 set in November 2006, before subprime became a bad word.
Even Wells Fargo (WFC) continues to rake in fat profits -- it's expected to post $5 billion in earnings on Friday. But CEO Tim Sloan should face tough questions about Wells Fargo's recent auto insurance and mortgage fee controversies. The bank's chronic scandals have left it out of the bank party on Wall Street.
And don't forget about PNC (PNC). The No. 6 U.S. bank by assets is the one poised to reveal the strongest earnings growth from last quarter.
Of course, it's not just the largest banks making big money. The overall U.S. banking industry earned a record $48.3 billion during the second quarter, according to the FDIC. That's well above the pre-crisis high of $38 billion in 2006.
These mega profits support Trump's argument that the economy is doing really well. But they also undercut his rationale for doing "a big number" on bank regulations.
Related: The Dow could be so hot that it melts
2. All eyes on Catalonia. Spain has been in turmoil since last Sunday's contested Catalonian independence referendum.
Spanish banks Caixabank and Banco Sabadell both announced plans to move their headquarters out of Catalonia, and others may follow in their footsteps.
Independence would mean chaos for Spain: Catalonia accounts for nearly a fifth of Spain's economy and one quarter of the country's exports. Plus, a split would create legal uncertainty for banks and businesses in the region.
Catalonia's government planned to make a declaration of independence during a parliamentary session on Monday, but the Spanish Constitutional Court banned the meeting in an apparent attempt to block the decision.
Related: Top bank moving HQ out of Catalonia over threat of split from Spain
3. NAFTA talks resume. The next round of NAFTA talks is set to begin in Washington, D.C., on Wednesday. There have been three rounds of negotiations so far, and not much has been resolved.
The Trump administration is trying to redraft parts of the agreement it believes are unfair to American workers and companies. A new deal is supposed to be done by the end of 2017, but U.S. Trade Representative Robert Lighthizer recently refused to predict whether the aggressive timeline is possible.
Related: Boeing-Bombardier battle looms over NAFTA talks
4. Retail sales and consumer confidence: On Friday, the U.S. Census Bureau will announce retail sales numbers for September. August's figures showed a 0.2% dip from July, but an increase of 3.2% from August 2016.
We'll see another indicator of how Americans feel about shopping when the University of Michigan releases its preliminary figures for consumer sentiment in October. The widely-used survey found a 1.7% dip in confidence from August to September. The October reports also releases Friday .
5. Coming this week:
Monday -- Nobel Prize for economics
Tuesday -- IMF World economic outlook
Wednesday -- Delta (DAL) earnings; BlackRock (AOCXX) earnings
Thursday -- JPMorgan earnings; Citigroup earnings
Friday -- Bank of America earnings; Wells Fargo earnings