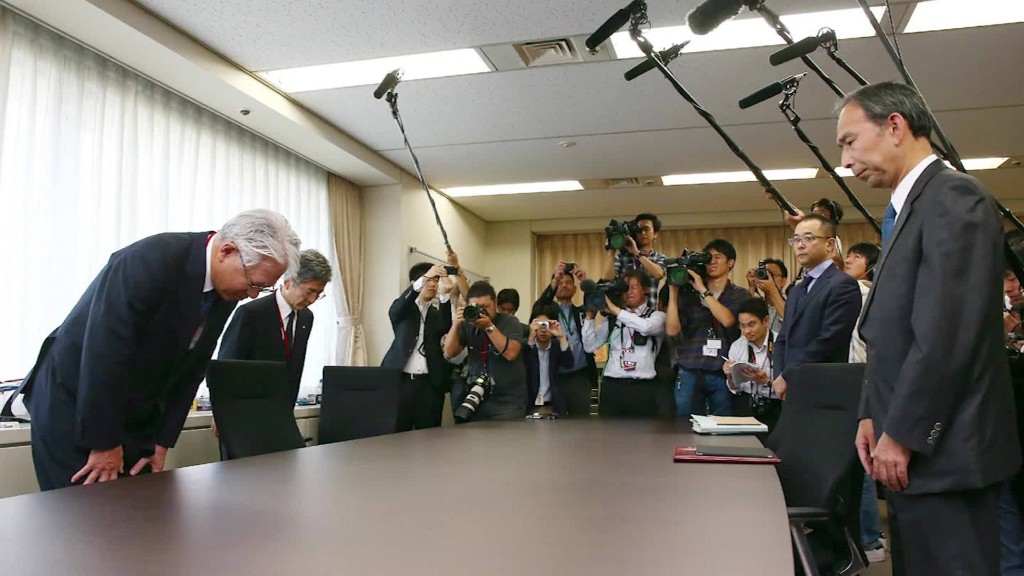 Another big Japanese company has admitted behaving badly... and it's already paying the price.
Shares in Kobe Steel (KBSTY) slumped 22% in Tokyo on Tuesday after the company admitted faking data about the quality of some of its aluminum and copper products.
Investors ditched the stock after the firm said 4% of products shipped over the 12 months to August 31 didn't comply with specifications agreed with customers, including Toyota (TM), Honda (HMC) and Nissan (NSANF).
Kobe is Japan's third biggest steel maker, with annual sales of $15 billion. Tuesday's market crash wiped nearly $1 billion off its stock market value.
In a statement, the company said it had begun contacting customers to explain that products including thousands of tons of aluminum and copper strips did not meet agreed specifications.
They were shipped to carmakers for use in doors and hoods, and to aerospace firms for use in window frames.
Kobe said the "improper conduct" came to light following its own inspections and emergency audits. Certificates had been improperly rewritten by employees to make it look as if the products met specifications, it said.
Metal was used in cars and planes
A Toyota spokeswoman confirmed that it had found Kobe materials from the period in question in "hoods, rear doors and peripheral areas." The carmaker was still trying to determine which models were impacted, she added.
Spokesmen for Honda (HMC) and Nissan (NSANF) also confirmed they had used Kobe materials with falsified data in their cars but were still assessing the consequences.
Mitsubishi Heavy Industries (MHVYF) said that it had used affected Kobe parts in its Mitsubishi Regional Jet, a narrow-body passenger plane, but a spokesman said checks had confirmed that safety was not compromised.
Related: Japanese jetliner could be game changer for U.S. flyers
Subaru (FUJHF) and Boeing (BA), also reportedly affected by the nonconforming products, didn't immediately respond to requests for comment.
Kobe Chief Executive Hiroya Kawasaki is leading an investigation, but the company has called in a law firm to help.
3rd big scandal in 3 years
The scandal has echoes of Takata's admission in 2015 that it had withheld key information about faulty airbag inflators for years, even after they started exploding in cars.
Takata (TKTDY) filed for bankruptcy earlier this year after the faulty components were linked to 11 deaths and prompted the recall of tens of millions of vehicles. In January, it pleaded guilty to corporate criminal charges in the U.S.
Related: How things got ugly for some of Japan's biggest brands
Japanese industry was shaken by another corporate scandal in 2015. Toshiba (TOSYY) admitted to inflating profits by at least $1.2 billion between 2008 and 2014.
Toshiba has never fully recovered. Its nuclear power division filed for bankruptcy protection in the U.S. earlier this year. This month, it sold its memory chip business for $18 billion to a group of buyers that includes Apple (AAPL).
'Enormous worry'
The longer term consequences of Kobe falsifying data are unclear at this stage.
Kobe said it would make another announcement when the impact of the incident on its business becomes clear and as the investigation progresses.
"Causing this serious matter has brought overwhelming shame to the company," it said. "The company deeply regrets this incident and sincerely apologizes for the enormous worry and trouble this incident has caused to its customers and other related parties."
Thanh Ha Pham, an analyst at Jefferies, said the impact on Kobe's financial position "could be substantial" depending on the scale of any product recalls.
The company's reputation could also be damaged in the long term, depending on how it handles the fallout, he wrote in a note to clients.
-- Sherisse Pham, and Yoko Wakatsuki in Tokyo, contributed to this article.