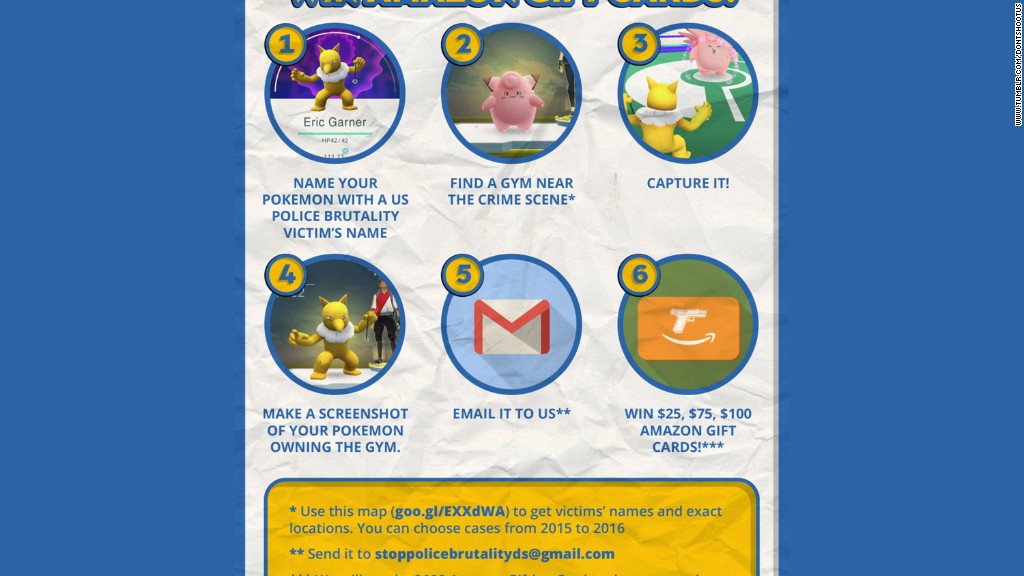 Russian efforts to meddle in American politics did not end at Facebook and Twitter. A CNN investigation of a Russian-linked account shows its tentacles extended to YouTube, Tumblr and even Pokémon Go.
One Russian-linked campaign posing as part of the Black Lives Matter movement used Facebook, Instagram, Twitter, YouTube, Tumblr and Pokémon Go and even contacted some reporters in an effort to exploit racial tensions and sow discord among Americans, CNN has learned.
The campaign, titled "Don't Shoot Us," offers new insights into how Russian agents created a broad online ecosystem where divisive political messages were reinforced across multiple platforms, amplifying a campaign that appears to have been run from one source -- the shadowy, Kremlin-linked troll farm known as the Internet Research Agency.
A source familiar with the matter confirmed to CNN that the Don't Shoot Us Facebook page was one of the 470 accounts taken down after the company determined they were linked to the IRA. CNN has separately established the links between the Facebook page and the other Don't Shoot Us accounts.
The Don't Shoot Us campaign -- the title of which may have referenced the "Hands Up, Don't Shoot" slogan that became popular in the wake of the shooting of Michael Brown -- used these platforms to highlight incidents of alleged police brutality, with what may have been the dual goal of galvanizing African Americans to protest and encouraging other Americans to view black activism as a rising threat.
The Facebook, Instagram and Twitter accounts belonging to the campaign are currently suspended. The group's YouTube channel and website were both still active as of Thursday morning. The Tumblr page now posts about Palestine.
Related: Exclusive: Russian-linked group sold merchandise online
All of the aforementioned companies declined to comment on the Don't Shoot Us campaign. Representatives from Facebook, Twitter and Alphabet, the parent company of Google and YouTube, have agreed to testify before the Senate and House Intelligence Committees on November 1, according to sources at all three companies
Tracing the links between the various Don't Shoot Us social media accounts shows how one YouTube video or Twitter post could lead users down a rabbit hole of activist messaging and ultimately encourage them to take action.
The Don't Shoot Us YouTube page, which is simply titled "Don't Shoot," contains more than 200 videos of news reports, police surveillance tape and amateur footage showing incidents of alleged police brutality. These videos, which were posted between May and December of 2016, have been viewed more than 368,000 times.
All of these YouTube videos link back to a donotshoot.us website. This website was registered in March 2016 to a "Clerk York" in Illinois. Public records do not show any evidence that someone named Clerk York lives in Illinois. The street address and phone number listed in the website's registration belong to a shopping mall in North Riverside, Illinois.
The donotshoot.us website in turn links to a Tumblr account. In July 2016, this Tumblr account announced a contest encouraging readers to play Pokémon Go, the augmented reality game in which users go out into the real world and use their phones to find and "train" Pokémon characters.
Specifically, the Don't Shoot Us contest directed readers to go to find and train Pokémon near locations where alleged incidents of police brutality had taken place. Users were instructed to give their Pokémon names corresponding with those of the victims. A post promoting the contest showed a Pokémon named "Eric Garner," for the African-American man who died after being put in a chokehold by a New York Police Department officer.
Winners of the contest would receive Amazon gift cards, the announcement said.
It's unclear what the people behind the contest hoped to accomplish, though it may have been to remind people living near places where these incidents had taken place of what had happened and to upset or anger them.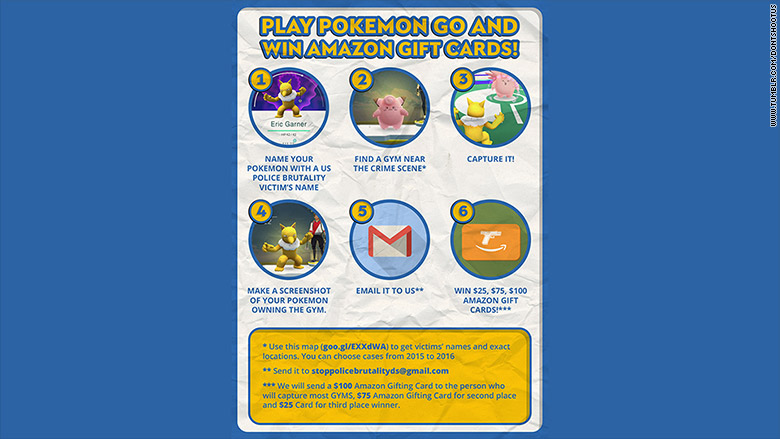 CNN has not found any evidence that any Pokémon Go users attempted to enter the contest, or whether any of the Amazon Gift Cards that were promised were ever awarded -- or, indeed, whether the people who designed the contest ever had any intention of awarding the prizes.
"It's clear from the images shared with us by CNN that our game assets were appropriated and misused in promotions by third parties without our permission," Niantic, the makers of Pokémon Go, said in a statement provided to CNN.
"It is important to note that Pokémon GO, as a platform, was not and cannot be used to share information between users in the app so our platform was in no way being used. This 'contest' required people to take screen shots from their phone and share over other social networks, not within our game. Niantic will consider our response as we learn more."
The Tumblr page that promoted the contest no longer posts about U.S. police violence. It now appears to be devoted pro-Palestine campaigns.
Tumblr would not confirm to CNN if the same people who operated the Tumblr page about Black Lives Matter now operate the pro-Palestinian page, citing the company's privacy policy. Tumblr also would not say whether it is investigating potential Russian use of its platform before, during or after the 2016 presidential election.
Related: Facebook could still be weaponized again for the 2018 midterms
Don't Shoot Us also worked to spread its influence beyond the digital world.
It used Facebook -- on which it had more than 254,000 likes as of September 2016 -- to publicize at least one real-world event designed to appear to be part of the Black Lives Matter Movement.
Just a day after the shooting of Philando Castile by police in a suburb of Saint Paul, Minnesota in July 2016, local activists in Minnesota noticed a Facebook event for a protest being shared by a group they didn't recognize.
Don't Shoot Us was publicizing a protest outside the St. Anthony Police Department, where Jeronimo Yanez, the officer who shot Castile, worked. Local activists had been protesting outside the Minnesota Governor's Mansion.
When an activist group with ties to a local union reached out to the page, someone with Don't Shoot Us replied and explained that they were not in Minnesota but planned to open a "chapter" in the state in the following months.
The local group became more suspicious. After investigating further, including finding the website registration information showing a mall address, they posted on their website to say that Don't Shoot Us was a "total troll job."
CNN has reached out to those local activists but had not heard back as of the time of this article's publication.
Brandon Long, the state party chairman of the Green Party of Minnesota, remembers hearing about the planned Don't Shoot Us event. He told CNN, "We frequently support Black Lives Matter protests and demonstrations and we know pretty much all the organizers in town and that page wasn't recognized by anyone."
This was not the only event that Don't Shoot Us worked to promote.
In June 2016, someone using the Gmail address that had been posted as part of the Pokémon Go contest promotion reached out to Brandon Weigel, an editor at Baltimore City Paper, to promote a protest at a courthouse where one of the officers involved in the arrest of Freddie Gray was due to appear.
The email made Weigel suspicious. "City Paper editors and reporters are familiar with many of the activist groups doing work in Baltimore, so it was strange to receive an email from an outside group trying to start a protest outside the courthouse," Weigel told CNN.
Weigel wasn't the only reporter to be on the receiving end of communications from Don't Shoot Us. Last January, someone named Daniel Reed, who was described as the "Chief Editor" of DoNotShoot.Us, gave an interview to a contributor at the now defunct International Press Foundation (IPF), a website where students and trainee journalists regularly posted articles.
"There is no civilised country in the world that suffers so many cases of police brutality against civilians," IPF quoted "Reed" as saying, among other things. (IPF was responsible for the British spelling of "civilised.")
The IPF contributor confirmed to CNN that the interview occurred through email and that she never spoke to "Reed" on the phone. The email address that "Reed" used for the interview was the same one that reached out to Weigel in Baltimore and that was included in the promotion for the Pokémon Go contest.
"Reed" sent the answers to IPF's questions in a four-page Microsoft Word document. The document, which outlined what "Reed" described as problems with the American justice system and police brutality, was written entirely in English.
However, when CNN examined the document metadata, "Название," the Russian word for "name," was part of the document properties.
Two cybersecurity experts who reviewed the document's metadata told CNN that it was likely created on a computer or a program running Russian as its primary language.
To date, Facebook has said that it identified 470 accounts linked to the Internet Research Agency, while Twitter has identified 201 accounts. Google has not released its findings, though CNN has confirmed that the company has identified tens of thousands of dollars spent on ad buys by Russian accounts.
Facebook and Twitter have submitted detailed records of their findings to both Congress and the office of Special Counsel Robert Mueller, who is conducting an investigation into Russian meddling in the 2016 presidential campaign.
On Friday, Maria Zakharova, the spokeswoman for the Russian Foreign Ministry, made her displeasure with this story clear in a Facebook post written in Russian, calling CNN a "talentless television channel" and saying,"Again the Russians are to blame... and the Pokémons they control."
-- CNN's Jose Pagliery and Tal Yellin contributed reporting.