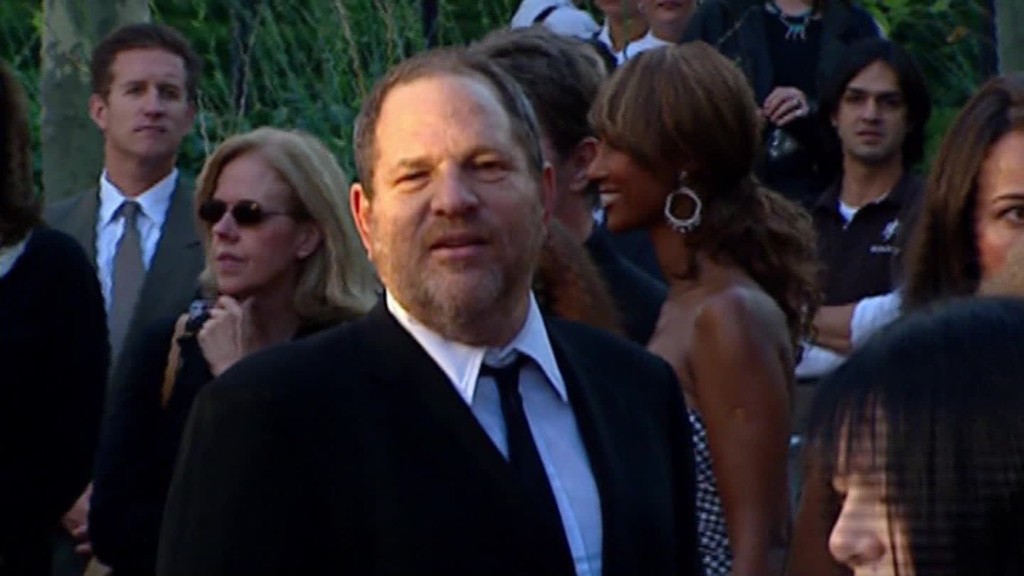 The mounting allegations against Harvey Weinstein -- ranging from sexual harassment to rape -- have been accompanied by other anecdotes that help explain how the powerful Hollywood producer kept his dark secrets under wraps for so long.
Explosive stories published in the last week reveal the extent to which Weinstein reportedly intimidated his victims into silence, and used his clout to keep negative stories out of the headlines.
Ronan Farrow, the author of a bombshell New Yorker story on Tuesday that included rape allegations against Weinstein, said that he was threatened personally with a lawsuit during the course of his reporting.
The New York Times was hit with its own legal threat from Weinstein's attorney last week after the newspaper brought the sexual misconduct allegations to light for the first time. Weinstein was fired by the board of his company days after the story was published.
The New Yorker declined to comment on whether it also faced the threat of a lawsuit. But whether there were lawsuit threats or not, both stories were published days after one another, bringing an end to the power that Weinstein wields over the media.
"I will say that over many years, many news organizations have circled this story and faced a great deal of pressure in doing so," Farrow said during an appearance on MSNBC on Tuesday night.
Farrow wrote in his piece that Weinstein and his legal team "have threatened to sue multiple media outlets."
A representative for Weinstein did not respond to a request for comment.
While Weinstein succeeded for years in keeping many allegations from being reported, one of the women who did speak up found herself dragged in the press.
After Ambra Battilana Gutierrez filed a sexual assault complaint against Weinstein in 2015, the young model's past was soon the subject of unflattering stories in the New York Post's Page Six, according to the New Yorker.
A day after she filed the complaint, Gutierrez got Weinstein to admit to groping her on tape as part of a sting operation orchestrated by the New York Police Department, but no charges were brought. Audio of Gutierrez's interaction with Weinstein was published in Farrow's story on Tuesday.
Related: How NBC gave up Ronan Farrow's explosive Harvey Weinstein scoop
NBC News, where Farrow serves as a contributor, has come under scrutiny over its decision to not run the piece that was ultimately published by the New Yorker.
The network has defended its decision by saying the piece wasn't publishable at the time it was submitted to them, a charge that Farrow disputed.
"I walked into the door at The New Yorker with an explosively reportable piece that should have been public earlier. And immediately, obviously, The New Yorker recognized that," Farrow said Tuesday night. "And it is not accurate to say that it was not reportable. In fact, there were multiple determinations that it was reportable at NBC."
The news division's president Noah Oppenheim said that "we didn't feel that we had all the elements that we needed to air it," so Farrow "took it to The New Yorker and did a ton more extraordinary work."
Unchecked influence over the media
The New York Times has also faced tough questions after a former reporter, Sharon Waxman, claimed last week that the newspaper "gutted" a story she had written in 2004 about sexual harassment allegations against Weinstein. The Times top editors at the time, Bill Keller and Jill Abramson, said they have no recollection of facing pressure over the story.
In his story, Farrow cited multiple sources, who said that "Weinstein frequently bragged about planting items in media outlets about those who spoke against him."
Media columnist Margaret Sullivan revealed Wednesday that "negative information about one of Weinstein's accusers" was offered to a reporter at her newspaper, The Washington Post, just as the New York Times readied its story for publication last week.
"The timing could, of course, be coincidental," wrote Sullivan, "but seems suspicious and tracks with Weinstein's well-known practices."
The public is getting a clearer picture of some of those practices thanks to the deluge of reporting on Weinstein this week. The Daily Beast's Lloyd Grove, a longtime New York City tabloid reporter, recounted in a Daily Beast story published Wednesday how Weinstein once attempted to kill a story about his divorce.
Grove wrote that Weinstein "wheedled that he was my most loyal fan and had advised the paper's owner to give me a raise." When Grove -- who wrote a gossip column for the New York Daily News at the time -- declined, Weinstein threatened to ban the reporter from screenings and premieres.
"I'm the scariest mother------ you'll ever have as an enemy in this town!" Grove recalled Weinstein saying.
Grove might not have buckled, but other reporters apparently have.
Writing for New York magazine last week, Rebecca Traister recalled her own encounters with Weinstein in 2000.
"Back then, Harvey could spin — or suppress — anything; there were so many journalists on his payroll, working as consultants on movie projects, or as screenwriters, or for his magazine," Traister wrote.
Traister said that at a book party that year, her boyfriend at the time tried to defend her against Weinstein when the mogul erupted into an expletive-laden outburst over a question she asked about one of his movies.
Tina Brown, the former editor of the New Yorker who founded Talk magazine with Weinstein's movie company Miramax, wrote in a story published Tuesday that Weinstein had numerous media scribes at his disposal.
"It was startling — and professionally mortifying — to discover how many hacks writing gossip columns or entertainment coverage were on the Miramax payroll with a 'consultancy' or a 'development deal' (one even at The New York Times)," Brown wrote.
It remains unclear who those "hacks" are, but their names -- like the damning allegations that have been brought against Weinstein -- may still emerge, bit by bit.