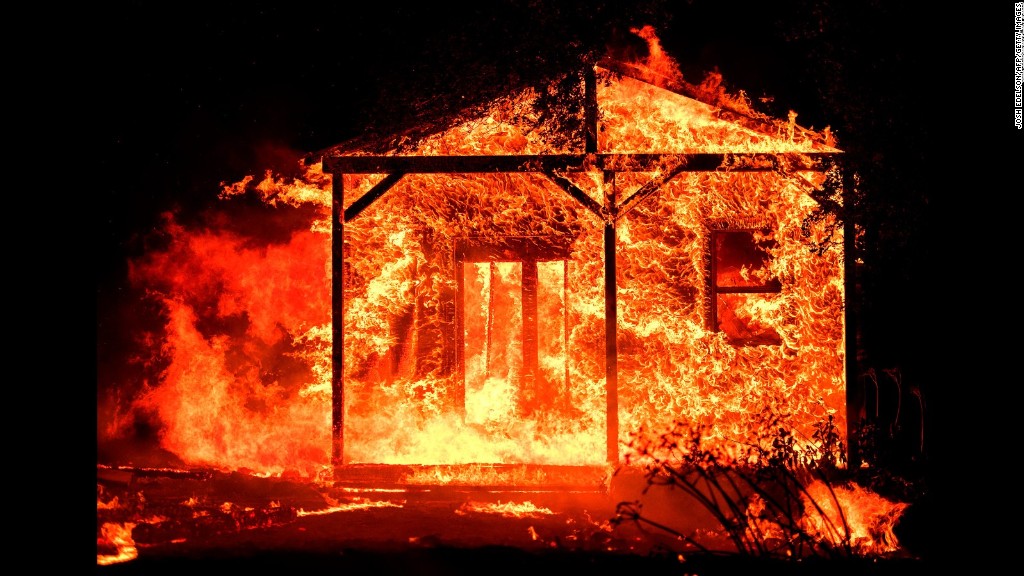 Deadly wildfires in Northern California are burning up marijuana farms in the so-called Emerald Triangle.
Blazes have destroyed a number of farms in Mendocino County right before legal recreational sales begin in California.
Cannabis business owners who lose their crops have little reprieve.
"Nobody right now has insurance," said Nikki Lastreto, secretary of the Mendocino Cannabis Industry Association. "They might have insurance on their house, but not on their crop."
Cannabis cultivators cannot insure their businesses because federal law prohibits marijuana, which means that financial institutions can't go near it.
Derek Peterson, CEO of Terra Tech, which grows and sells marijuana in California, estimates that farmers typically invest upward of $5 million in their facilities and as much as $3 million on growing the crop itself.
"If their facilities burn down, a lot of these people won't be able to get any economic relief for them from an insurance claim," Peterson said. "There's no mechanism for recovery to repay them for their loss. It's a tremendous risk for these people."
Josh Drayton, spokesman for the California Cannabis Industry Association, said it's too early to tell just how many of the state's estimated 10,000 to 15,000 marijuana farms have burned down.
He expects "the devastation is going to be larger than anybody would hope it to be."
Lastreto, co-founder of the cultivator Swami Select, said she knows several people who lost their farms already. Those who haven't lost everything are harvesting early so the crops don't get burned down or tainted from smoke.
"A lot of plants have been lost in the fire, especially in Sonoma County," she said. "In southern Mendocino County, there are farms burning right now."
Related: Retail marijuana is spreading to California, Massachusetts and Maine
The 22 wildfires currently raging through California have killed 23 people, with hundreds missing, and burned 170,000 acres along with thousands of homes and businesses. The seasonal wildfires have gotten worse in California in recent years, and this isn't the first time pot farms have gone up in smoke.
"It's very typical that in fires in Northern California that there could be marijuana farms burned up," said Stan Florea, fire information officer for the U.S. Forest Service, which has 1,500 firefighters deployed to California. Though he noted that any pot farms located on federal land are illegal.
Governor Jerry Brown has declared a state of emergency in eight counties, including the wine producing counties of Napa, Sonoma and Mendocino. That overlaps with some of the cannabis producing Emerald Triangle, which includes Mendocino but also Trinity and Humboldt counties, which are largely spared from the fires.
But the wildfires are unlikely to have a significant impact on the state's overall supply when retail opens up, said Peterson, because there are so many other farms scattered around the state.
Related: Smokejumpers parachute into forest fires for $15 an hour
Medical marijuana has been legal in California since 1996, and recreational marijuana was approved by referendum in 2016. The retail market for recreational marijuana opens on January 2018, and state officials are still working on how it will be regulated and taxed.
Sales totaled $2.8 billion last year, based on medical marijuana alone, according to New Frontier Data.
Recreational sales could boost revenue beyond $6.5 billion by 2020.
"Here comes this fire at the worst possible time for them," said Peterson "I have a lot of friends who are really troubled right now."