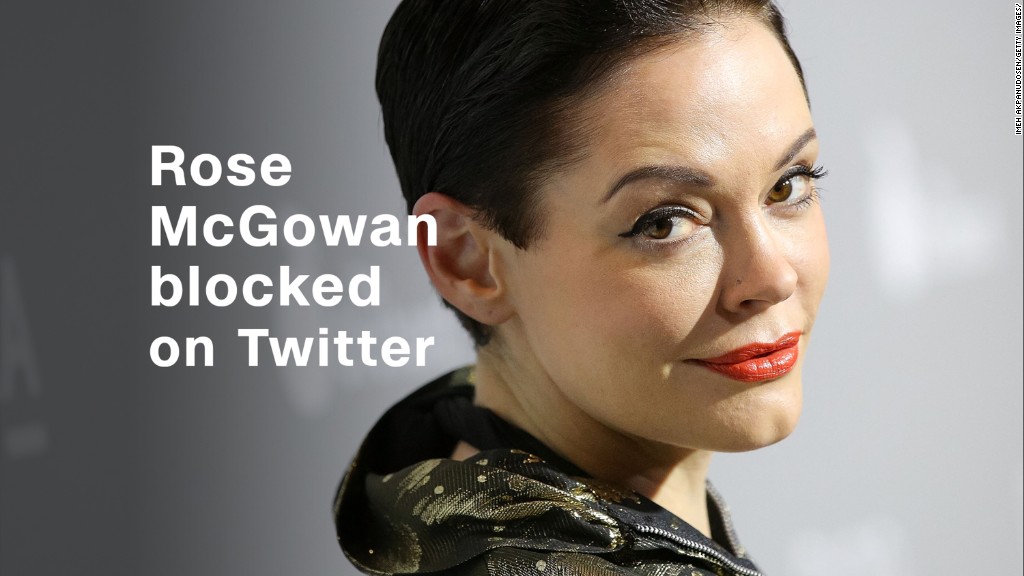 Twitter's top executive appears to have gotten the message from the #WomenBoycottTwitter movement.
In a series of threaded tweets Friday night, founder and CEO Jack Dorsey said the social media platform would announce new rules centered on "unwanted sexual advances, non-consensual nudity, hate symbols, violent groups, and tweets that glorifies violence."
"We decided to take a more aggressive stance in our rules and how we enforce them," Dorsey tweeted.
Dorsey did not give a timeline for when the new rules would be in place, but said they would drop in "the next few weeks."
Twitter said in a statement to CNNMoney that they could not provide any more details on the timeline as of Saturday evening.
Dorsey took time to reply to dozens of messages, many of them critical of the platform and skeptical of Dorsey's timing.
This week brought special attention to the social media platform.
Actress Rose McGowan's Twitter account was temporarily blocked for violating Twitter polices. It said she tweeted a phone number.
Related: Roger Goodell's wife used fake Twitter account to defend her
But the actress had been very active on this social media platform in the wake of the Harvey Weinstein scandal. McGowan posted a number of tweets about the sexual harassment scandal surrounding the media titan Harvey Weinstein. On Thursday she tweeted that "HW" raped me.
Twitter users reacted to her brief suspension from Twitter with a social media campaign for women to boycott. The hashtag #WomenBoycottTwitter became the number one global trend on the social media platform Friday.
The boycott hashtag is just the latest criticism of Twitter. In recent years, users have demanded more action against hate speech and harassment. Many see the platform as a haven for online harassment.
Twitter has attempted to respond before.
Earlier this year, Twitter rolled out new tools preventing serial abusers from creating new accounts, a new "safe search" function and blocking potentially abusive and "low-quality" tweets from appearing in conversations.
Related: Why Rose McGowan was blocked on Twitter
However, Dorsey acknowledged that the platform has not done enough to combat harassment.
"We see voices being silenced on Twitter every day. We've been working to counteract this for the past 2 years," he wrote in the first tweet of his series.
Dorsey also said Twitter is reconsidering its verification policies. The verification policy tease was not part of his twitter thread. A commenter replied to his thread asking why a white nationalist like Richard Spencer is verified on the platform.
Dorsey said that Twitter will get to changing its verification process "as soon as we can" but are bound by "limited resources" that requires them to "strictly prioritize."
"We're reconsidering our verification policies. Not as high a priority as enforcement, but it's up there," he said.
Public condemnation of Twitter's policies stems back several years.
In 2015, Twitter said it updated its policy in an attempt to stop people from tweeting abusive and violent posts.
At the time, Mark Cuban had called on Apple to ban Twitter and President Obama urged tech companies to make it harder for terrorist groups, such as ISIS, to "avoid justice" by using social media platforms.
Related: #WomenBoycottTwitter protest erupts over Rose McGowan's suspension
Some public figures, such as Martin Shkreli, the infamous former pharmaceutical executive, have been kicked off Twitter for "targeted harassment" after he made unwanted advances toward journalist Lauren Duca. Conservative firebrand Milo Yiannopoulos was also removed from Twitter after targeting actress Leslie Jones with a series of hate tweets last year.