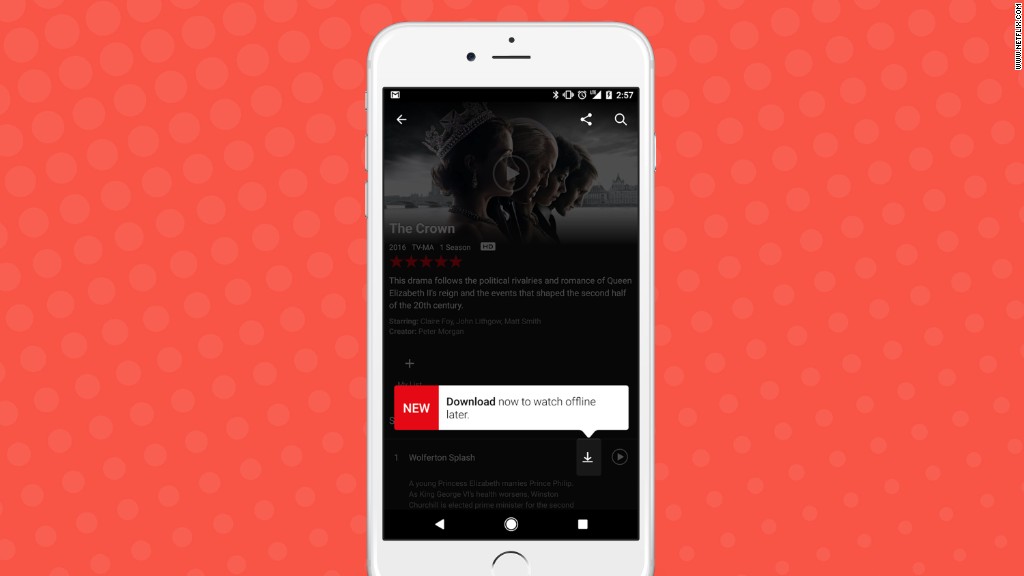 Netflix and chill doesn't come cheap.
The company said Monday that it will spend as much as $8 billion on shows and movies in 2018, up from $6 billion earmarked for content this year.
The boost in spending comes at a time when tech giants like Apple (AAPL), Amazon (AMZN) and Facebook (FB) are all using their sizable checkbooks to hunt for original shows and movies.
"We have a good head start, but our job is to improve Netflix (NFLX) as rapidly as possible ... to stay ahead of the competition in the decades to come," the company said in its earnings release Monday.
In particular, Netflix will be ramping up the number of original movies. Netflix chief content officer Ted Sarandos said on an earnings call Monday that the company plans to release "about 80" films next year.
Netflix's big bet on original content has helped it acquire and retain customers even as it seeks to raise prices and faces pushback from media partners.
Related: Netflix wants to make it easier to binge-watch on planes
The company added more than 5 million new members in the third quarter, with the vast majority of them coming from international markets. It now has 109 million subscribers, up from 86 million in the same quarter a year ago.
Earlier this month, Netflix announced plans to raise prices on its standard and premium streaming subscription services. The change, set to go into effect later this year, will push the monthly cost of its most popular plan from $9.99 to $10.99.
"It's really about slow and steady. We've been in no hurry," David Wells, Netflix's CFO, said on the call when asked about the timing for the price hike. "Many investors have sort of criticized us in the past for being under-priced."
Meanwhile, Netflix faces the threat of media companies removing content from its service. In August, Disney (DIS) said it would pull its movies from Netflix and launch its own streaming service.
Still, Netflix forecast strong growth in the upcoming fourth quarter. It expects to add more than 6 million members worldwide, in line with Wall Street estimates.
Netflix has doubled down on comedy with the recent release of a Jerry Seinfeld special. Mindhunter, a new series from director David Fincher, just came out. And the second season of Stranger Things, Netflix's breakout show, is scheduled to be released this month.
During the quarter, Netflix also acquired a comic book publisher with the goal of using it to develop new films and series. The deal was the first acquisition in Netflix's history, but on the call executives sounded open to similar buys.
At least one acquisition appears to be off the table: buying the beleaguered Weinstein Co. "It'd be extremely unlikely for us to be a bidder for the firm," Netflix CEO Reed Hastings said on the call.
Investor confidence in Netflix remains high. The stock topped $200 for the first time last week, and was up as much as 2% in after hours trading Monday following the earnings report