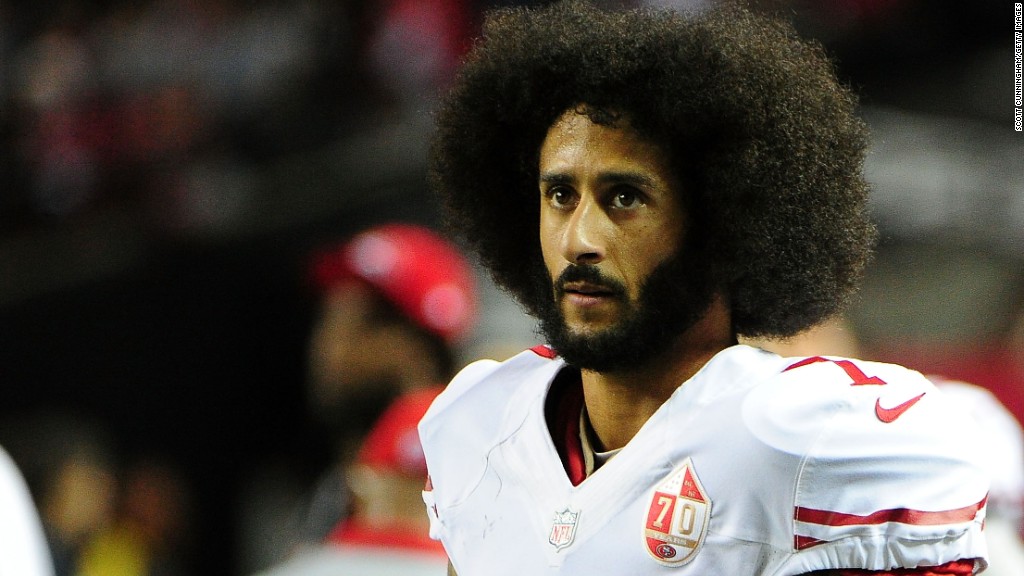 Colin Kaepernick isn't playing this season, and that's costing him millions.
Kaepernick had started the National Anthem protests that are now roiling the NFL. He hasn't been signed by a team since. In a grievance filed against the league, he alleges that NFL teams colluded not to sign him due to his controversial protest.
Whether he isn't playing because of his politics or his playing ability is debatable. But the fact is, Kaepernick made $14.3 million with the San Francisco 49ers in 2016. The contract would have paid him $16.9 million this season. But when it looked like he would be cut before he got that money, he became a free agent.
Kaepernick had good reason to believe he'd get signed by another team. Although the 49ers lost 10 of the 11 of the games he started last year, he threw 16 touchdowns and only four interceptions -- a very respectable record.
There were no offers.
If the arbitrator hearing the case decides in Kaepernick's favor, he stands to win millions in lost wages and damages.
It's hard to say just how much he could have earned this season.
"I'd say that $10 million is about what quarterbacks who are thought to be on the downside of their careers are getting," said Michael Ginnitti, managing editor of Spotrac, which tracks player salaries.
That's what quarterback Jay Cutler agreed to when he came out of retirement and signed a one-year deal with Miami. Tyrod Taylor signed a $30.5 million, two-year extension with Buffalo, but only half that money was guaranteed.
Related: NFL Commissioner - 'We need to move past this controversy'
Kaepernick's collusion complaint points out he never even got an offer to be a backup. A deal like that would have meant a big pay cut. But there are former starting quarterbacks, including Colt McCoy and Ryan Fitzpatrick, who agreed to deals worth about $3 million a year to be backups this season.
Kaepernick has already missed six weeks of a 17-week season, so even if he signed with a team now, he'd be looking at only about two-thirds of a full-year contract.
The absolute minimum for a veteran like Kaepernick to play the rest of this year would be about $500,000, under the collective bargaining agreement.
Kaepernick's complaint will be heard by an independent arbitrator, but collusion can be difficult to prove.
The agreement between the NFL and the players union specifically states that simply presenting evidence of a player's skills, and the lack of offers from teams, is not enough to meet the "burden of proof" needed to prove collusion.
Related: NFL No fines for teams that skipped National Anthem
It will help Kaerpnick's case if his lawyers find emails between clubs, or between the clubs and the league office, that show they discussed whether to sign him. But that kind of evidence isn't necessary to win, said Gene Orza, who was the chief counsel for the baseball players union when it won a massive $280 million case against Major League Baseball after teams stopped signing free agents in the late 1980s.
"A smoking gun was not the basis of that decision. Instead it was simply the inference of collusion, that all of sudden not one player who was a free agent was getting an offer," Orza told CNNMoney on Monday.
But it's tougher to prove collusion in the case of a single player, rather than with a series of players who don't get contract offers.
Barry Bonds also filed a collusion case against the league when he didn't get a single offer back in 2007. But it was widely believed that the allegations he used steroids made him too toxic for a team to sign, and he lost his case.
"The better analogy might be the Bonds case and not be the free agent collusion case," said Orza. "And if that's the case, it is problematic for Kaepernick."
If each team decided independently that Kaepernick is too controversial to sign, without communicating about it with each other or the league office, then there would be no collusion.
"It's a very tough case," said CNN legal analyst Jeffrey Toobin. "Picking quarterbacks is a very subjective process. And collusion requires not one team rejecting Kaepernick, it requires agreements between two or more teams. And that is very difficult to prove, even though all of us who are football fans know intuitively that Kaepernick is better than a lot of the quarterbacks who have been hired."