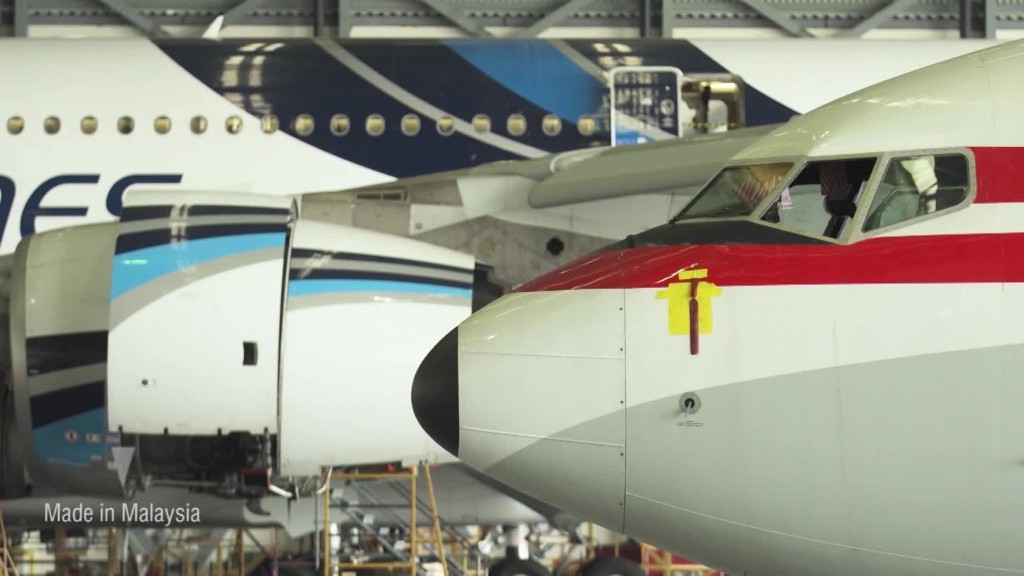 Yet another Malaysia Airlines CEO is leaving.
Peter Bellew is exiting the embattled airline -- which is trying to recover from the devastating loss of two passenger jets in 2014 -- after barely a year in the job. He's the third CEO to step down in less than three years.
Bellew is returning to Ryanair (RYAAY) as chief operations officer, the European airline said Tuesday. The announcement appeared to catch his current employer by surprise.
"Malaysia Airlines takes note of the unexpected announcement by Ryanair ... regarding CEO Peter Bellew," the company said, adding that its board of directors will meet "in due course."
Related: Malaysia Airlines CEO attempts 'greatest turnaround'
Bellew took over the task of revamping Malaysia Airlines from former CEO Christoph Mueller, who unexpectedly resigned last year. Mueller had replaced Ahmad Jauhari Yahya, who was in charge during the disappearance of Flight MH370 and the shooting down of Flight MH17 in 2014.
In an interview earlier this year, Bellew talked up his plans for the struggling carrier, which was nationalized after the 2014 disasters.
"I think this will be the greatest turnaround in the history of aviation and maybe even of any business," he told CNNMoney's Richard Quest. The company had already shed about 6,000 jobs and scrapped most of its long-haul routes to focus on flights within Asia.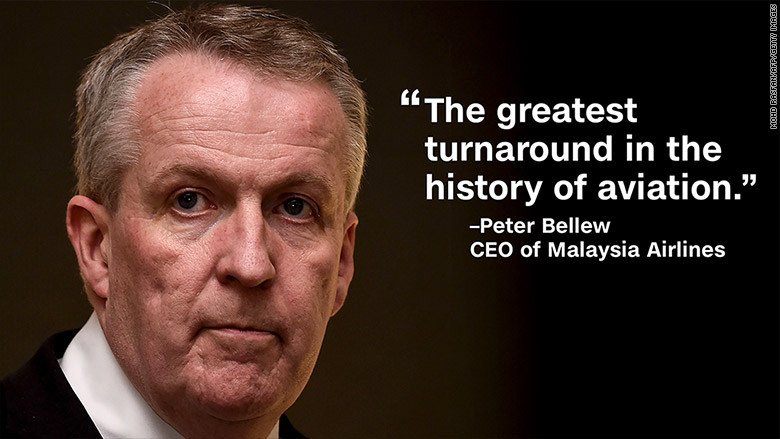 Bellew said he wanted to further drive down costs and turn the airline's fleet of A380 superjumbo jets into charter planes for Muslim pilgrims.
Although Malaysia Airlines has made significant headway in recent years, the "repeated turnover at the top ... makes the already challenging turnaround even more difficult to complete," said Brendan Sobie, a Singapore-based analyst at CAPA Centre for Aviation.
Just three weeks ago, Bellew was pushing back against talk that he would rejoin Ryanair, insisting at a news conference that he was proud to be part of Malaysia Airlines and that the turnaround would be "the greatest achievement of my life."
Fast forward to Tuesday, and Ryanair was welcoming Bellew back to the company, tasking him with leading "a significant transformation in the way we reward and interact with our pilots."
Related: Ryanair offers pilots major cash to keep flying
A massive pilot shortage recently forced the Dublin-based airline to cancel 40 to 50 flights a day through the end of this month, leaving some 315,000 customers in the lurch.
Bellew will return to Ryanair in December, the company said.