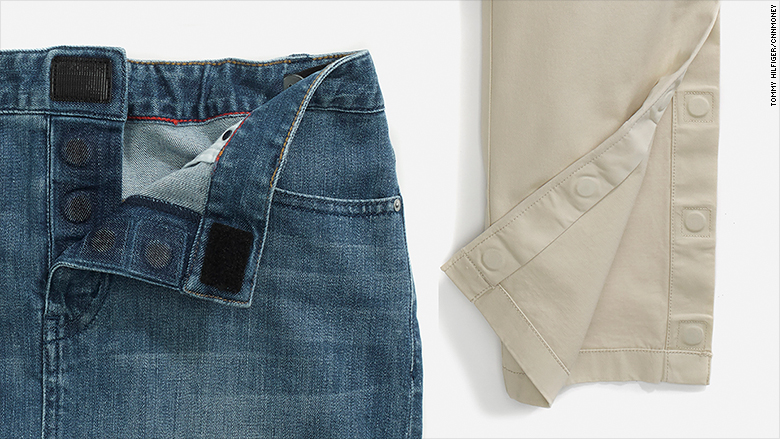 Tommy Hilfiger has a new line of clothes for an often overlooked set of customers -- people with disabilities.
The collection, which goes on sale Wednesday, uses magnets and Velcro to make it easier for people to get dressed. The line has 37 styles for men and 34 for women -- shirts, pants, jackets, sweaters and dresses.
The button-down shirts have buttons and cuffs that fasten with magnets to help people with disabilities take them off over their heads, or get dressed with one hand.
Pants, including chinos and denim jeans, feature magnetic flies and zippers and adjustable hems to accommodate leg braces and orthotics. They also have pull-on loops inside of waistbands.
"Inclusivity and the democratization of fashion have always been at the core of my brand's DNA," Tommy Hilfiger, the founder, said in a statement. "These collections continue to build on that vision, empowering differently abled adults to express themselves through fashion."
Hilfiger, owned by PVH Corp (PVH), rolled out a line of clothes last year for children with disabilities. The brand worked with Runway of Dreams, a nonprofit that focuses on making fashion more accessible for people with disabilities.
One advocate says Hilfiger's new collection is a big step.
"A lot of people with disabilities struggle with buying clothing that works," says Cara Liebowitz, development coordinator at the National Council on Independent Living. "It's a piecemeal approach."
Liebowitz says top fashion brands should step up their efforts to design clothes for people with disabilities.
"I would like adaptive clothing to be more mainstream," she says. "This shouldn't be a special thing that companies are doing."