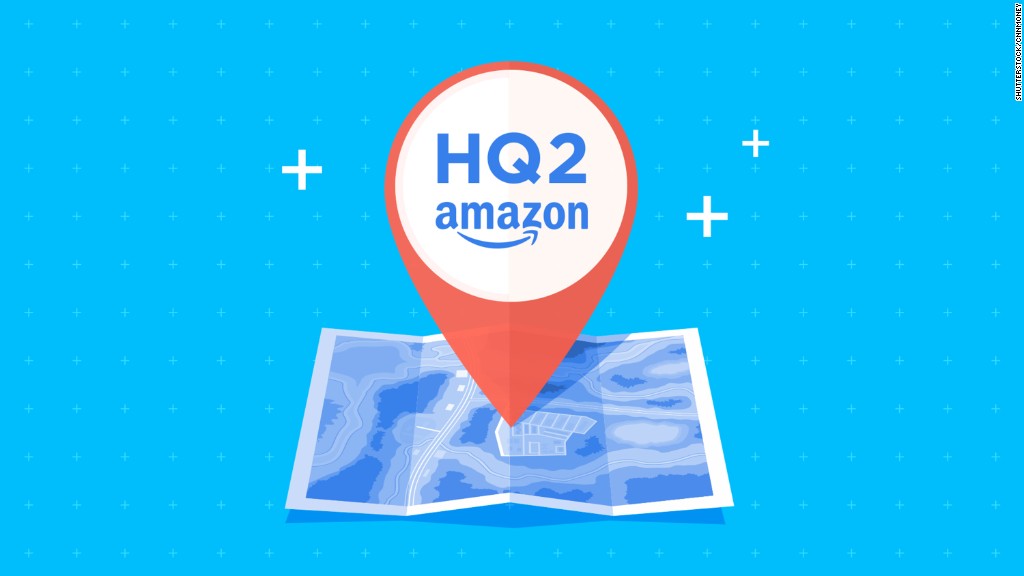 When Amazon began a search for a second headquarters a month and a half ago, its approach was radically public. The request for proposals was posted online. It outlined the company's criteria, including generous tax incentives.
Cities responded with splashy PR campaigns to woo Amazon and its 50,000 well-paying jobs. But when it comes to the nitty-gritty details of what cities are offering, which are due Thursday, officials haven't been quite so forthcoming -- which could keep citizens in the dark about what cities are giving away until a deal is nearly done.
"The Amazon bid will be submitted by the Partnership under a confidentiality agreement that applies to all bidding cities," said City of Houston spokesman Alan Bernstein, referring to the Greater Houston Partnership, the local Chamber of Commerce. "However the city is considering a public release of a general outline of the bid, if not some specifics."
Washington, D.C., released a public proposal for four possible development sites along with a video at a special website -- www.alexawhydc.com -- but declined to detail what incentives it might offer.
Buffalo and Rochester, New York, which are submitting a joint bid, also stayed tight-lipped. "Given the very competitive nature of the selection process, the submission team is at this time unable to unveil any specific details regarding the contents of the submission," the cities said in a statement.
Related: Cities make last-ditch effort for Amazon's second headquarters
Several cities are submitting their bids through local chambers of commerce, which are not subject to public records laws.
Amazon itself is also insisting on secrecy, but only for information that it provides about its plans during the bidding process.
"While the existence of the Project is not confidential, certain aspects of the Project and details regarding the company are confidential, proprietary, and constitute trade secrets," the request for proposals reads. "Amazon will deliver a Confidentiality and Non-Disclosure Agreement for execution at the appropriate time." An Amazon spokesperson clarified that these agreements do not restrict governments from talking about details of their bids.
A few cities -- including Toronto; Irvine, California; and Worcester, Massachusetts -- have released their full proposals, totaling hundreds of pages. But most contain few details of incentives beyond existing development programs that apply to all companies. Actual negotiations over any further subsidies would likely happen behind closed doors.
Secrecy isn't unusual for such negotiations. Initial public announcements of a new factory or a headquarters relocation, like Amazon's, are rare. (This year has seen a handful -- Toyota floated its search for new site earlier this year, and Foxconn announced it was coming to Wisconsin before even deciding which part of the state.)
Very often, companies will work through site selection consultants, and local governments don't even know who they're dealing with before they've made the final round of bids. Consultants even have code names for projects to keep them under wraps.
Why do they stay so hush-hush? Mark Williams, who runs a South Carolina-based site selection firm called Strategic Development Group, says that companies don't want to tip off competitors, vendors or even employees too long before they've made a final decision.
But local jurisdictions often like to keep the process quiet, too, out of fears that the public will respond negatively without fully understanding how tax incentives work. "The cities want to approve these incentives in a regimented, well thought-out process," Williams says. "They don't want them to be approved in the press, because they're very complex."
Related: 8 cities fit for Amazon's second headquarters
Some advocates have a problem with that. Greg LeRoy is president of Good Jobs First, a nonprofit that pushes for greater transparency in economic development incentives, and has counted $1.1 billion that Amazon has received from state and local governments. He says that when negotiations are carried out in secret, cities will make all kinds of promises that citizens might disagree with.
Usually incentive packages have to be approved in a public session, but sometimes with very little time for discussion. "Secrecy on these deals is always a problem," LeRoy says.
Skepticism around economic development incentives has grown over the years, particularly in hot cities that have experienced rising housing prices.
In the case of Amazon, some governments aren't planning to pony up cash at all. Five cities in the Bay Area, including Oakland and San Francisco, are submitting a joint bid. At an event in Washington on Tuesday, Oakland mayor Libby Schaaf said that they had mutually decided not to offer any financial incentives.
Elissa Silverman, a city council member in Washington, D.C., who has been skeptical of using tax breaks to attract companies, says she'd only be open to incentives to support community college programs that help local residents get Amazon's high-paying jobs, for example. "I'm not totally against it, if we smartly craft a package that would serve Amazon and the city in general," Silverman says.
Many smaller cities that raised their hands didn't offer much in the way of incentives. But they only have only a slim chance of attracting Amazon anyway.
Nashville Mayor Megan Barry said she'd rather see the city invest in public infrastructure.
"We sent them a letter. We said, 'Hey, we'd love to have you,'" Barry said. "It's much more important for us to pass a $5.2 billion transit initiative than it is to worry about Amazon."
-- CNNMoney's Kaya Yurieff contributed to this report.