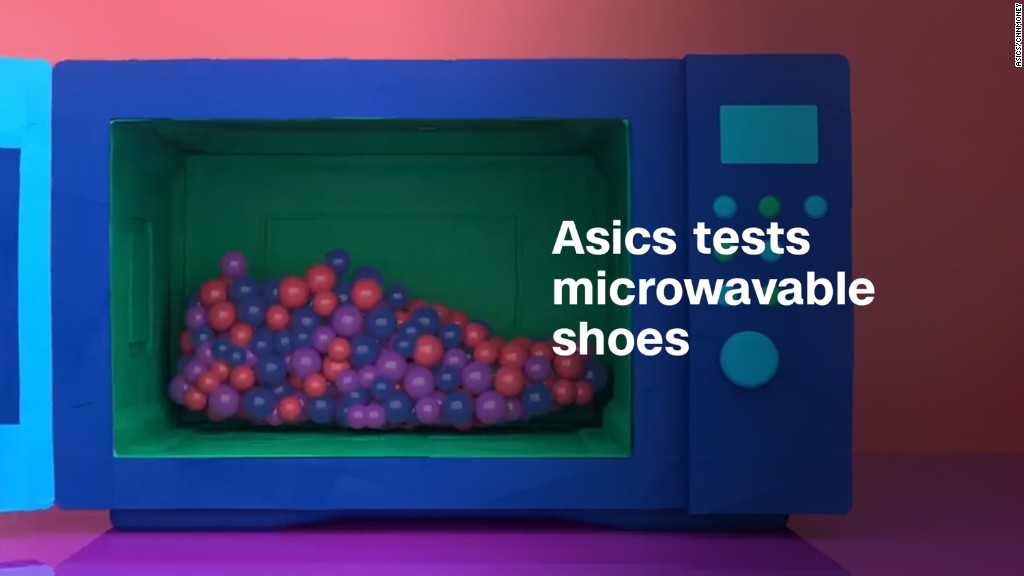 It's unlikely that Lonzo Ball, the insanely hyped rookie on the Los Angeles Lakers, will ever wear Skechers.
But who cares? Skechers may not be the most popular brand of sneakers for stars in the NBA, but the company is back on track with average consumers.
Shares soared more than 40% Friday after Skechers (SKX) reported quarterly results that easily topped Wall Street's forecasts.
Sales rose more than 16% to a quarterly record of $1.1 billion. Its earnings per share surged more than 40%.
The company said that it was able to post solid gains despite the fact that some of the Skechers-owned stores in Texas and Florida were temporarily closed during the quarter because of hurricanes Harvey and Irma.
And stores remain closed in Puerto Rico because of Hurricane Maria.
Related: Fumble! Nike's sales in the U.S. drop again
Skechers Chief Operating Officer and Chief Financial Officer David Weinberg noted in the company's earnings release that the company was doing particularly well internationally.
Sales in China and Europe were strong and there even was a "resurgence" in the United Kingdom -- despite some initial concerns that British consumers may pull back on spending because of all the uncertainty surrounding Brexit.
The good news from Skechers comes at a time when two other big sneaker companies are struggling. Nike (NKE), the worst performer in the Dow in 2016, has continued to flounder.
Even though the stock is up 4% this year, it lags the broader market. And Nike reported last month that U.S. sneaker sales tumbled again as the company's formerly hot Jordan line has been passed in sales by red-hot Adidas.
And Under Armour (UAA) has been a dud for two years running as sales languish. The stock is down nearly 45% this year -- and that follows a 30% drop in 2016.
Related: Slam dunk for Adidas as sales top Nike's Jordan line
Skechers hadn't exactly been slam dunking it on Wall Street lately, either. Before Thursday's earnings and solid outlook, the stock was actually down slightly for the year. Shares fell nearly 20% in 2016 on weak sales.
But apparently all is forgiven. The stock is now up more than 35% in 2017.
Having comfy shoes with memory foam is a more important selling point for Gen Xers like me than owning something "cool" that's worn by a top young sports star. To that end, Rob Lowe and Brooke Burke-Charvet are current Skechers endorsers.
Still, Skechers isn't the best performing sneaker stock on Wall Street. Adidas (ADDYY) wears that crown. Shares of the German footwear and athletic apparel giant have soared more than 40% this year.