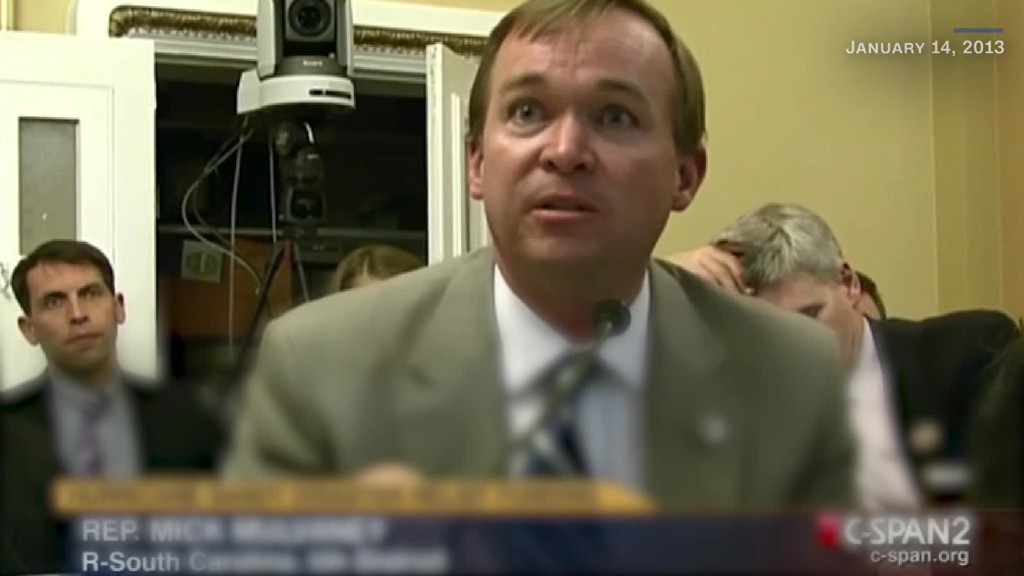 The federal deficit for fiscal year 2017, which ended last month, hit $666 billion, according to new numbers released Friday by the Treasury Department and White House budget office.
That's $80 billion higher than the year before.
The deficit reached 3.5% of the size of the economy, or GDP. In 2016, the deficit was 3.2% of GDP.
The deficit reflects the gap between how much the government brings in and what it spends.
Accrued deficits over the years contribute to the country's debt held by the public, which in 2017 rose to $14.667 trillion. But as a share of the economy, it actually fell slightly to 76.3%, down from 76.7% in the year-ago period. (Those figures don't include the money owed to government trust funds like Social Security.)
Money in: Tax receipts rose by $48 billion -- or 1.5% -- to $3.315 trillion, although they fell as a share of GDP to 17.3% from 17.7% a year earlier.
As always, individual income taxes made up the biggest piece of the total revenue pie. They rose by $41 billion to $1.587 trillion. Payroll tax receipts were also up. The combined increase "largely reflects increases in wages and salaries," according to the Congressional Budget Office.
Corporate income taxes, meanwhile, fell by $2.5 billion year over year to $297 billion.
Related: Conservatives hate deficits ... except when they finance tax cuts
Money out: Spending also rose but faster than tax receipts. It went up by $129 billion -- or 3.3% -- to $3.98 trillion. Despite that, it too fell as a share of GDP to 20.7%, down from 20.9%.
Unsurprisingly, given the aging of the population, spending on Social Security and Medicare were up by 2.5% and 1.5% respectively.
Among the biggest changes: Payments for interest on the debt climbed 6.3% to $457 billion. Outlays, meanwhile, for the Environmental Protection Agency, for instance, fell by more than 7% to $8.73 billion.
Treasury Secretary Steven Mnuchin and White House Budget Director Mick Mulvaney attributed the fact that spending growth outpaced revenue growth to "historically subpar" growth in the economy.
Related: Trump's proposals will balance the budget. Except they won't
And they interpreted the budget results as proof of the need for the Trump administration's push to reform the tax code and reduce regulations.
"These numbers should serve as a smoke alarm for Washington, a reminder that we need to grow our economy again and get our fiscal house in order. We can do that through smart spending restraint, tax reform and cutting red tape," Mulvaney said.
At the same time, they are also promoting a tax reform framework that could add trillions in debt if its tax cuts are not offset and don't generate the kind of growth that the most optimistic estimates may suggest.