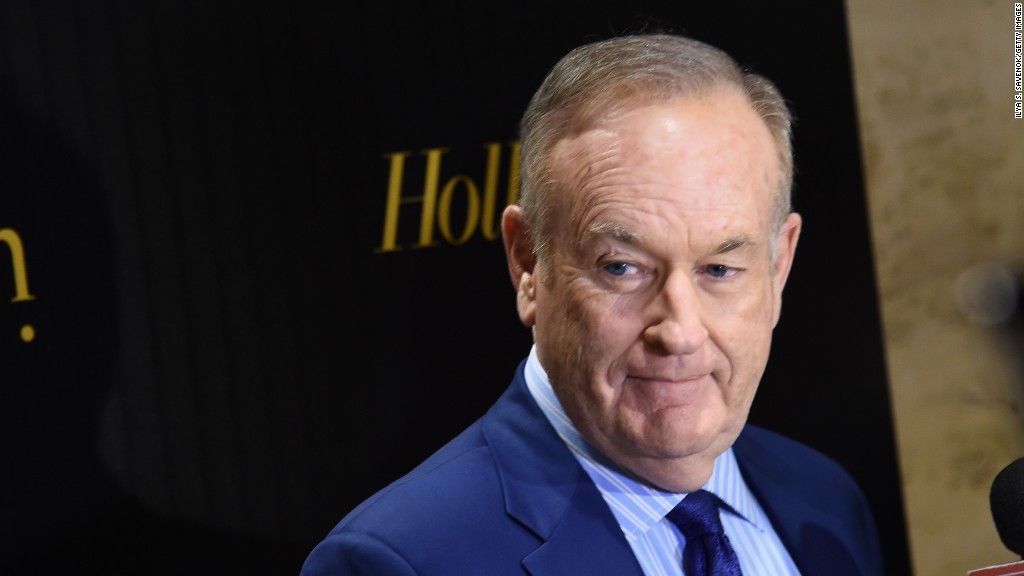 Bill O'Reilly claims The New York Times' latest bombshell is just "another smear article" against him.
On Monday he went on the attack against The Times, saying the newspaper "obviously hates me."
But he has not disputed the facts surrounding his $32 million settlement with longtime Fox News colleague Lis Wiehl, who was a legal analyst for the network.
Saturday's story in The Times about the incredibly expensive settlement has caused widespread speculation about why O'Reilly was willing to agree to such a deal. He says he didn't want to subject his family to an embarrassing lawsuit and trial.
In an interview on Glenn Beck's radio show Monday morning, the former Fox News host claimed without any evidence that The Times published the story because it wanted to ruin his career. The dethroned Fox News star has been trying to line up a new TV job.
"The end game is, 'Let's link Bill O'Reilly with Harvey Weinstein'" and "take him out of the marketplace forever," O'Reilly said, speaking in the third person.
He also suggested there is a conspiracy against him involving CNN, the liberal and anti-Fox press watchdog group Media Matters for America, and others.
It was clear from the interview that he feels he is the real victim.
Wiehl, meanwhile, is remaining silent, in accordance with the terms of the settlement.
But a former colleague of both individuals, Megyn Kelly, spoke out against O'Reilly on Monday.
The new O'Reilly revelations were a top story on TV and in the papers on Monday morning. The Times released new audio from an interview with him.
"We have physical proof that this is bullshit. Bullshit. Okay? So it's on you if you want to destroy my children further," O'Reilly told Times reporters Emily Steel and Michael Schmidt in the interview last week, a few days before the story about the $32 million settlement came out.
In the interview, O'Reilly repeatedly brought up his children, who have been the subject of a long-running custody battle.
"Why don't you be human beings for once?" O'Reilly said to the Times reporters. "This is horrible. It's horrible what I went through. Horrible what my family went through."
O'Reilly also referred to another former Fox host, Eric Bolling, and to the recent death of Bolling's son, saying, "I urge you to think about what you put in your newspaper. Eric Bolling's son is dead. He's dead because of allegations made — in my opinion and I know this to be true — against Mr. Bolling."
In a statement Monday afternoon, Bolling chastised O'Reilly for having said that.
"I believe it is beyond inappropriate for anyone to bring in the tragic death of my son Eric Chase Bolling. Just as Bill O'Reilly had wanted to shield his children from the allegations against him, I hope he will honor my request and avoid any future mentions of my son. My parting from Fox News was in no way connected to the tragic news of my son's passing. The coroner has in fact indicated to us that they believe it was an accident," Bolling said.
O'Reilly's angriest comments came at the very end of the interview, after one of the audio recorders had already been turned off, according to the Times.
"This is crap. And you know it," O'Reilly told the reporters. "It's politically and financially motivated. And we can prove it with shocking information."
O'Reilly has repeatedly made this claim in interviews and on his nightly podcast, with little to show for it.
On Saturday, hours after the Times story about the $32 million settlement came out, O'Reilly tweeted: "My investigative team has done a superb job in exposing the lies and smear. I will speak with you on Monday."
O'Reilly has a nightly podcast for subscribers to his web site. It is unclear if he will address the matter on Monday night's podcast.
The crux of O'Reilly's response to the controversy has been to charge the Times (and Fox) with sabotage. On Saturday his spokesman Mark Fabiani asserted that the leaks to the Times were "obviously designed to embarrass Bill O'Reilly and to keep him from competing in the marketplace."
On CNN's "Reliable Sources," Steel had a different account. She and Schmidt had been pursuing information about the Wiehl settlement "for a while," she said, but they weren't able to confirm it for their first story about O'Reilly's secret settlements, which was published back in April.
O'Reilly denied wrongdoing then too, but Fox opened an investigation and companies yanked ads from his show. Within weeks, he was replaced by Tucker Carlson.
The Times continued to look into his conduct with Wiehl. It turned out that the settlement payment dwarfed all the past deals involving O'Reilly or other Fox employees accused of misconduct.
Wiehl had come forward and threatened to sue O'Reilly in January. The deal was struck in a matter of days, according to The Times. CNN has independently confirmed the $32 million figure and reviewed a copy of Wiehl's affidavit in the case.
Related: 'Outrageous:' Gretchen Carlson and others react to new Bill O'Reilly revelation
Why O'Reilly was willing to pay Wiehl so much money is the crux of the mystery.
"Her allegations included repeated sexual harassment during her 15-year tenure as a legal analyst at Fox News," Steel said. "We also know that she made allegations of a nonconsensual sexual relationship, and that her allegations included that he sent her pornographic material that included gay pornography."
Speaking on The Daily, a podcast produced by the Times, Schmidt said "I think that he was concerned about the gay pornography stuff."
The podcast contained clips from Schmidt and Steel's interview with O'Reilly, which took place a few days before the story about the $32 million settlement came out.
"Leaks are not facts. Leaks are designed to hurt people, and surely you both know that," O'Reilly told the reporters.
He defended his workplace conduct, saying that in his 43-year career, "I've never had one complaint filed against me by a co-worker in any Human Resources department."
Then, "all of a sudden, all of this stuff happens, and the pain it brings to my children is indescribable," O'Reilly said.
At times during the interview he was subdued; at other times, he was angry.
The settlement agreement was supposed to remain a secret. O'Reilly's spokesman emphasized over the weekend that Wiehl withdrew her complaint when the settlement deal was struck.
Wiehl's affidavit, dated January 17, affirms that she considered suing, but says, "we have since resolved all of our issues. I would no longer make the allegations contained in the draft complaint."
The next day, she told colleagues that she was leaving Fox News.
A couple of weeks later, 21st Century Fox renewed O'Reilly's contract to host "The O'Reilly Factor," the most-watched show on cable news.
According to the company, top executives knew about the existence of a settlement between O'Reilly and Wiehl, but did not know the price tag.
Importantly, the new contract gave Fox an "out." The company said it "added protections for the company specifically aimed at harassment, including that Mr. O'Reilly could be dismissed if the company was made aware of other allegations or if additional relevant information was obtained in a company investigation."
That "out" made it easier for Fox to boot O'Reilly in April.
But he was welcomed back for an interview with Sean Hannity last month -- his first time back on Fox since the scandal.
In the wake of the newly embarrassing headlines about the $32 million, a return appearance is exceedingly unlikely.