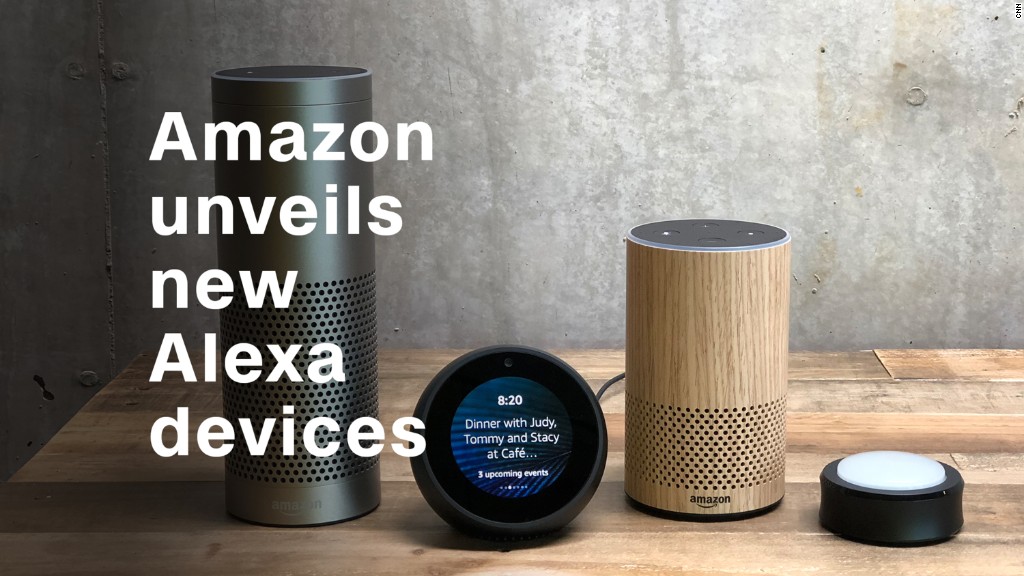 Amazon's latest service wants you to feel comfortable letting delivery people into your home to drop off your packages.
The concept may sound a bit alarming, but the company says the service, called Amazon Key, for Amazon Prime members, is not only convenient but secure.
Amazon Key is a two-part service with the Cloud Cam security camera and a compatible door lock. Users can let Amazon couriers into their homes while they are away and can keep watch through an app to make sure the drivers don't do anything besides deliver a package and leave. The Cloud Cam can be purchased separately, and collects and stores video clips for up to 30 days with a subscription.
According to Amazon (AMZN), couriers will be vetted with background checks and motor vehicle records reviews, and will only get access to homes once for each delivery.
It's a pricey solution: $250 for the Amazon Key bundle, and security camera subscribers can pay for the Cloud Cam service starting at $69 per year.
The move is a part of an effort to make deliveries easier for Amazon customers and keep packages safe from inclement weather or potential thieves. Walmart last month announced a similar service with smart lock company August.
Critics say the benefits of the service, available starting next month in select markets, might not outweigh the potential privacy and security concerns.
Not only will strangers and Amazon be entering your home, but it could become a target for hackers, too.
"I don't think people fully understand the ramifications of storing 24-hours of internal home surveillance video and audio that wouldn't necessarily equal what the tradeoffs are for convenience," says Katie Moussouris, founder of Luta Security.
Related: Amazon will let delivery people inside your house
People have long given up personal data in exchange for using products and services. For example, Facebook (FB)is a free service that monetizes human data by selling targeted advertisements. Turning on location services on your phone lets maps and other apps track your whereabouts.
Smart speakers such as Amazon Echo and Google Home are "always-on" listening devices that can connect to your calendar, Uber accounts, and more. The devices are triggered by a verbal command and act as your personal assistant.
As companies provide more tech solutions to everyday problems -- such as not being home to sign for a package -- they're asking for permission to embed themselves deeper into our lives.
"We all have this tendency to decide what is worth it to us to give up some of that privacy," Moussouris said. "Society is being steered right now by companies that see better ways to target ads or drive profit."
The data collected via Cloud Cam won't be used for advertising purposes or in other Amazon products, the company confirmed to CNN Tech.
According to analyst Michael Pachter with Wedbush Securities, Amazon Key is a way to sell cameras.
"I believe this 'service' is a Trojan Horse to enter the home security market," Pachter said. "If Amazon can convince 10% of its estimated 55 million U.S. Prime members to buy a camera and sign up for a home security [system], it will generate well over $1 billion in revenue initially. It could conceivably generate another $500 million or more annually in service revenue."
Related: Amazon's new plan aims to get teens hooked
Although many consumers say they value privacy, some studies indicate that people will happily give that up for small incentives.
According to research published by the National Bureau of Economic Research, consumers are willing to relinquish privacy when offered incentives, or faced with additional steps to be more secure. In one part of the study, students were offered free pizza in exchange for friends' email addresses -- most students obliged. Further, when offered encryption on an account, a majority of the participants skipped setting up the privacy feature and chose an easier to implement but less secure option.
There are also potential security concerns with Amazon Key that comes with adding an internet-connected device to the home. In 2016, the Mirai botnet, which is an an army of computers controlled by one hacker, used connected security cameras to take down major websites. Meanwhile, some hackers have been caught spying on people through webcams -- even built-in ones on Mac computers.
If vulnerabilities are ever found in Amazon Key's software, a patch will have to go out quickly, Moussouris warned. Otherwise, the cameras could turn into a botnet, too.
The Internet of Things is only growing -- as is Amazon's ecosystem of services. Research firm Gartner estimates there will be 20.4 billion IoT devices in use by 2020. With each new addition -- from books to groceries to Echo to Key -- the company is asking its consumers for both their trust and personal information.
According to Vineetha Paruchuri, security researcher at the University of Pennsylvania, there's no perfect framework to help people make security decisions. And for some, the benefits and ease of use of smart technology are more important than the potential risks.
"A simple rule of thumb here could be to visualize the best case, average case, and worst case scenarios," Paruchuri said. "See how each of those affect you, and [make] a call on whether you are equipped to deal with the fall out, and whether the tradeoffs are worth the convenience."