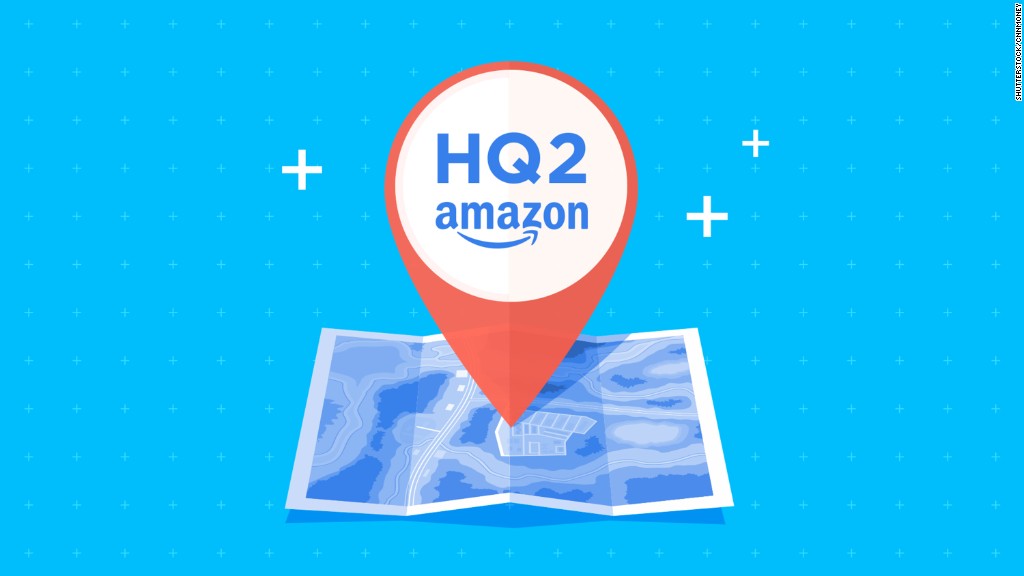 Cities across North America want the 50,000 jobs that come with Amazon's HQ2. But will it really make life for residents better?
Amazon sent cities into a frenzy when it announced plans to build a second headquarters, expected to cost $5 billion to construct. Amazon (AMZN) said it received 238 proposals from across the continent.
Submissions came from major urban centers like New York City and Los Angeles, Canadian metro areas including Toronto, and smaller U.S. cities like Worcester, Massachusetts and Stonecrest, Georgia.
"Bringing in up to 50,000 jobs into a city is pretty much an event you can't duplicate any other way. ... It's akin to winning the lottery," said Steve Glickman, cofounder and executive director of the Economic Innovation Group.
But hosting Amazon's new facility will also have its disadvantages. A lot depends on which city the company ultimately picks.
While the project will bring high-paying jobs, it won't hit all places with equal force. In smaller cities where housing is more limited, home prices could rise. Meanwhile, big cities like New York that already employ a lot of white collar workers aren't likely to see a major economic transformation -- they'll just get richer.
Related: Cities are doing wacky things to host Amazon's second headquarters
A 50,000-job stimulus
The expected 50,000 jobs the new headquarters will bring is impressive in and of itself. The fact that they will pay well makes the opportunity even more attractive.
"People often just count the number of jobs, but not the quality. ... These are high-quality, high-paying jobs. That is a huge benefit," said Nathan Jensen, a professor at the University of Texas at Austin.
As a result, the new facility would bring more highly-skilled workers to town. Some Amazon employees could eventually leave the company and start their own businesses in the city, according to Ravi Madhavan, a professor of business administration at the University of Pittsburgh.
"It just takes a few people to launch a business and for one of them to become really successful," Madhavan said.
Amazon could also act as an "anchor" company, and attract its suppliers or other big tech companies to the winning city.
But the effect of 50,000 jobs will depend on the size of the winner's local job market.
"The smaller the town, the bigger the impact. In a city like New York with over 8 million people, the impact won't be as dramatic as a Danbury, Connecticut, as an example," said Rob Adams, director of Texas Venture Labs at the University of Texas at Austin.
Related: 8 cities fit for Amazon's second headquarters
Housing gets pricier
At the same time, the city that scores the second headquarters can expect housing prices, along with other costs of living, to increase.
New research from Apartment List, a site that catalogs apartment rentals across the country, forecasts an annual rent increase of up to 2% per year in the city that houses HQ2. That's on top of organic price increases that already occur from year to year.
"Rents are already rising rapidly nationwide," Apartment List said in a report that analyzed data from the U.S. Census and Bureau of Labor Statistics. Half of renters are considered "cost burdened," spending 30 percent or more of their income on rent, according to the firm.
Apartment List said Raleigh, Pittsburgh and San Jose would experience the highest rent increases if HQ2 comes to town. The impact would be smaller in cities like Washington D.C., Los Angeles and Dallas.
The largest increase in housing costs would be in Raleigh, which wouldn't be able to build enough homes to sustain the influx of workers, according to the report. Meanwhile, housing costs would stay lower in places like Dallas, which has lax building restrictions and a cheaper labor pool.
Related: Amazon could put its second HQ in Canada. But will it?
The Seattle example
Those curious about how Amazon can transform a city need look no further than Seattle. Though the metropolitan area is home to other major employers, such as Microsoft (MSFT) and Starbucks (SBUX), locals often attribute rising prices and congestion to the online retailer.
Amazon arrived in the Seattle area in 1994. Now, home prices are rising more there than anywhere else in the country, according to the most recent data from S&P CoreLogic.
In July, home prices in Seattle increased 13.5% compared to last year. In Portland -- the city with the next highest level of growth -- home prices increased 7.6%. New York, known for its tough housing market, saw prices increase 3.9%.
"A few years ago, [Seattle] was one of the most affordable West Coast markets. That's becoming less and less the case," said Aaron Terrazas, a senior economist with online real estate company Zillow.
The influx of Amazon workers has also snarled traffic and put more pressure on public transit. The Seattle Times reported that the local transit service had to add buses this summer to accommodate all of Amazon's interns.
And then there's the construction. Constant building is a sign of economic growth, but it can also change the character of a city. In May 2017, Seattle was home to 58 cranes -- far and away the highest count in the country, according to the Rider Levett Bucknall Crane Index.
Amazon now occupies a staggering 19% of all prime office space in the city, according to an analysis conducted by the Seattle Times.
"I hope that cities eager to lure Amazon's second headquarters are ready for the Amazon fallout we've experienced in Seattle: skyrocketing housing costs that push residents out of the homebuying and rental markets; worsening traffic gridlock; an increased gap between the rich, middle class and poor; and the dulling of any unique local character that the city is desperately trying to retain," Susan Fairo of Seattle wrote the Seattle Times in a letter to the editor published Sept. 15.
For its part, Amazon estimates that its investments in Seattle from 2010 through 2016 added $38 billion to the city's economy, which was worth $330 billion in 2016.
Will it be worth it?
So will the benefits of HQ2 outweigh the costs? Depends on the city -- and the tax incentives and other perks they offer.
"A city or state has to be careful not to give so many tax benefits that they give away their actual advantage that they had in getting Amazon," Jensen said.
To pay for local tax cuts, cities may have to raise taxes elsewhere or cut spending on public services like education and infrastructure.
For that reason, cities and states should push Amazon to invest in these services as part of their agreement, according to Megan Randall, a researcher with the Tax Policy Center. They should also bake in provisions to ensure the promised high-paying jobs actually materialize.
Overall, HQ2 will be a "net positive" for the winning city, said John Lettieri, cofounder and senior director for policy and strategy at the Economic Innovation Group.
"[But] it should be tied to a larger, more robust economic development strategy, where this is a means to a broader end than just winning Amazon itself," he said.