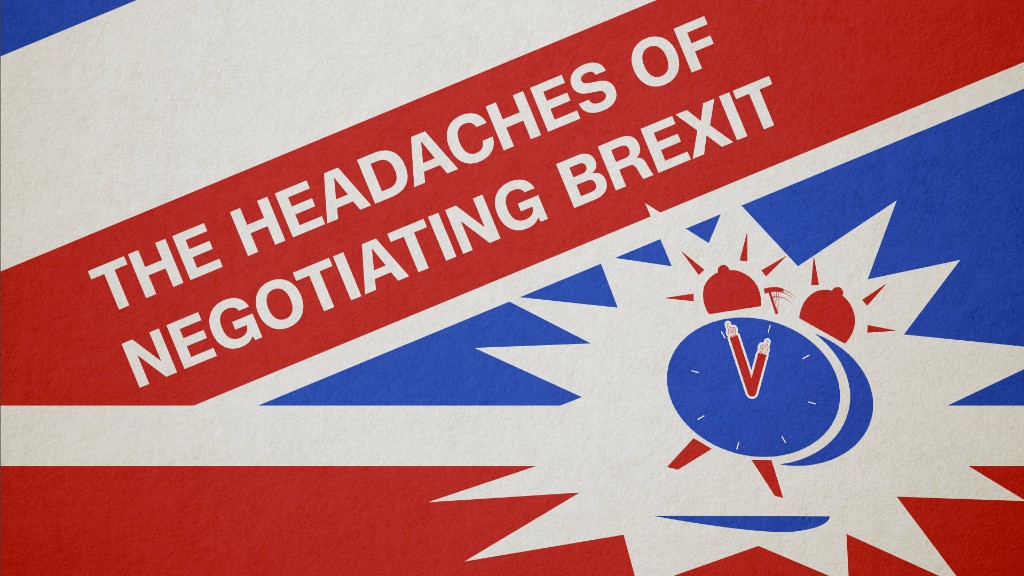 Grounded flights. Massive delays at border crossings. A shortage of parts for nuclear power plants. 75,000 lost finance jobs.
These are a handful of the dramatic economic consequences if Britain crashes out of the European Union in 2019 without agreeing a new relationship with the bloc. Negotiations have hit a roadblock but are due to resume next week.
The British government has assessed the damage that a "no deal" Brexit would have on 58 industries. Opposition lawmakers are heaping pressure on the government to publish the findings, but it has so far refused.
Here's a look at what experts say could happen in the days and weeks following a "no deal" Brexit:
Aviation
No deal would mean that key trade, regulatory and legal agreements that underpin Britain's economy will be invalidated on March 29, 2019.
One immediate consequence: Thousands of flights in and out of Britain could be grounded.
That's because the U.K. is signatory to international aviation agreements via the EU that allow flights to operate in and out of the country.
Thomas van der Wijngaart, an airline specialist at law firm Clyde & Co., said that flights to all 27 EU members would be affected, along with 17 other countries including the U.S., Canada and Israel.
Aviation experts say that London and Brussels are under immense pressure to reach a deal.
"It is so unthinkably disruptive that some arrangement has to be put in place, but what arrangement we don't really know," said Jonathan Wober, chief financial analyst at CAPA - Centre for Aviation.
Airlines are taking precautionary measures. British budget carrier EasyJet (ESYJY) recently set up a separate business unit in Austria to make sure it can keep flying within the EU if there's no deal on Brexit.
Trade
For decades, trucks and ships carrying EU goods have entered and exited Britain with scarcely a second look from customs officers. But not anymore.
"No deal" means that Britain would lose free trade with Europe, and all trade deals and treaties that the EU has negotiated with other nations.
Instead, Britain would be forced to operate under World Trade Organization rules.
That would mean higher prices. Tariffs on dairy products from the EU would rise by 45%, while those on meat products would spike 37%, according to the U.K. Trade Policy Observatory and the Resolution Foundation.
Imports from outside the EU, such as Cuban cigars and South African wine, would also be affected.
Related: The CNNMoney Brexit jobs tracker
A messy exit would result in chaos at border crossings, where new customs infrastructure would need to be installed.
The Port of Dover, which handles 17% of the country's trade in goods, has warned that just two minutes of extra processing time per truck "would cause [lines] of over 17 miles."
If fresh foods were stuck at the border -- say tomatoes from Spain -- they could rot before they reach grocery shelves. The U.K. currently gets about 30% of its food from the EU.
"One of the main challenges beyond the paperwork is the logistics," said Philippe Binard, general delegate of European fresh food association Freshfel. "Maybe there will be a practical solution over time, or maybe not."
The pain would extend beyond physical goods: Consulting firm Oliver Wyman says that 75,000 finance jobs could be lost over the long term if there's no deal on Brexit.
Electricity
Brits should prepare to pay more for energy too if a deal is not reached.
Electric power imported from the EU would be more expensive if it's no longer covered by free trade deals.
"No deal" also promises to make life difficult for the nuclear power industry, which supplies roughly 20% of the country's electricity.
If the U.K. loses access to the EU's nuclear safeguard system, operators would have trouble importing parts for their aging reactors. If plants are forced to shut down, the stability of the U.K. power grid could be at risk.
The country would need to quickly negotiate new nuclear agreements and establish domestic oversight to comply with international nuclear rules.
"Our concern is that there is a lot to do in a short period of time," said Tom Greatrex, head of the British Nuclear Industry Association. "It's hard to see there will be anything other than significant disruption."
Immigration and rights
Roughly 3 million people from other EU states live in the U.K. Meanwhile, 1 million Brits live in other EU nations. Under EU law, both groups currently enjoy the same rights when it comes to jobs, pensions and health insurance.
Related: Why Britain needs the immigrants it doesn't want
But a messy Brexit could instantly render both groups illegal residents.
If negotiations collapse, it would be up to each individual country to determine the rights of these expats.
Jonathan Portes, professor of economics and public policy at King's College London, said it's unlikely that Britain or EU countries would start deporting people in the absence of a deal.
But given the uncertainty surrounding their status, it might be more difficult for them to get a job or rent an apartment, he said.
Irish border
"No deal" could mean drastic changes to the land border between Ireland (in the EU) and Northern Ireland (part of the U.K.).
The border is currently "invisible," with up to 30,000 people and 13,000 commercial vehicles freely crossing it each day.
Many companies have a presence on both sides of the border, and products often cross it several times before reaching consumers.
"With no transitional arrangements in place, and no future customs relationship agreed, we will see an immediate re-imposition of customs controls at the Northern Irish border," said Andrew Gilmore, deputy director of research at Ireland's Institute of International and European Affairs.
Gilmore said that customs checks would be "profoundly disruptive for business," and policing the border would be a major challenge.
Ports and airports would require significant extra staffing and storage infrastructure.
The reintroduction of controls would also present a major political headache. The 1998 peace accord that marked the end of 30 years of deadly violence is based on cross-border cooperation and the removal of visible barriers.
-- James Frater contributed reporting.