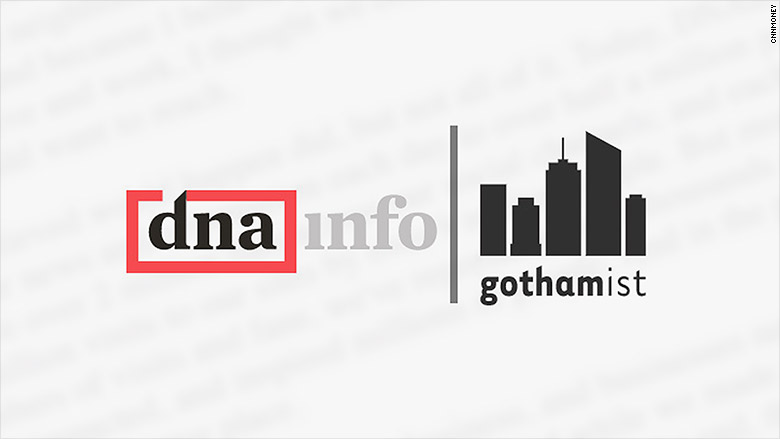 A week after they voted to unionize, journalists at DNAinfo and Gothamist learned that their websites have shut down.
On Thursday evening, visitors to the sites -- two leading suppliers of local news in New York City -- were met with a message from billionaire owner Joe Ricketts.
"Today, I've made the difficult decision to discontinue publishing DNAinfo and Gothamist. Reaching this decision wasn't easy, and it wasn't one I made lightly," said Ricketts, who founded TD Ameritrade and is worth a little more than $2 billion according to Forbes.
He added that DNAinfo, which was founded in 2009, "is, at the end of the day, a business, and businesses need to be economically successful if they are to endure."
"And while we made important progress toward building DNAinfo into a successful business, in the end, that progress hasn't been sufficient to support the tremendous effort and expense needed to produce the type of journalism on which the company was founded. I want to thank our readers for their support and loyalty through the years. And I want to thank our employees for their tireless effort and dedication."
The announcement marks a dramatic change of fortune for staffers at the two websites. Last week, reporters and editors there were celebrating a successful vote to form a union. The efforts to organize began in the spring after DNAinfo bought Gothamist.
Related: Robert Mercer says he'll sell Breitbart stake, distances himself from Bannon and Milo
But Ricketts refused to recognize the union, which meant that the National Labor Relations Board had to conduct an official vote. In September, Ricketts explained his opposition to unions on his blog.
"I believe unions promote a corrosive us-against-them dynamic that destroys the esprit de corps businesses need to succeed," he wrote. "And that corrosive dynamic makes no sense in my mind where an entrepreneur is staking his capital on a business that is providing jobs and promoting innovation."
Nevertheless, workers overwhelmingly voted to join the Writers Guild last week, which meant that Ricketts and management would have to bargain with the union going forward.
Ricketts' message about the shut down was posted on the websites around 5:00 on Thursday, the same time staff members were informed of his decision.
Gothamist-affiliated sites in Washington, D.C., Chicago, Los Angeles and San Francisco will also be shuttered. Also affected was the semi-autonomous Shanghaiist site, which was hosted on Gothamist servers but run by a team in China.
Staff members were apparently floored by the announcement.
Related: NYC terror attack: Journalists covering a crime right in their backyard
"It was literally like the daily flow of the newsroom came to a screeching halt," said Scott Heins, a photojournalist at Gothamist. "It was just an absolutely normal day at the office and then someone said 'oh my god the email' and then everyone checked their work email. Some of my colleagues burst into tears really quickly, others shouted. It was immediate shock when we got the email."
Rachel Holliday Smith, a reporter for DNAinfo who covered the Brooklyn neighborhood of Crown Heights, told CNNMoney that Ricketts' decision will hurt "all New Yorkers who care about news in their cities and neighborhoods."
"I've been getting a lot of messages of support from readers thanking me for my coverage, which is heartbreaking because I truly don't know now who will provide thorough, on-the-ground reporting in large swaths of the city, as we did," Smith said. "There are so many people whose stories were told by DNAinfo and Gothamist. Those voices have been snuffed out. I say this often but it's worth repeating: support local journalism in any way you can."
Dan Washburn, who founded Shanghaiist and now works for the New York-based Asia Society, said the news was "heartbreaking."
"In an instant, a huge, important, chunk of my life gone, vanished, erased," he wrote on Twitter.
The Writers Guild of America East said in a statement that it was "deeply concerned" about Rickett's decision to shut down the publications.
"The New York offices of DNAinfo and Gothamist recently voted to unionize and it is no secret that threats were made to these workers during the organizing drive," the organization said in a statement. "The Guild will be looking at all of our potential areas of recourse and we will aggressively pursue our new members rights. We will meet with management in the near future to address all of these issues."
In the email to employees, which was provided to CNNMoney by a staffer, Ricketts said they will be placed on paid administrative leave beginning Friday and ending on February 2. They'll receive their full salary and benefits until then, unless they start working full-time elsewhere.
He said that management plans to reach out to the Writers Guild on Friday "to engage promptly in a good faith negotiation about the effects of the DNAinfo/Gothamist February 2, 2018 shutdown."
"As I am sure is true for all of you, this is a sad and disappointing day, but I would like us to wind down things in the way we have always operated: with integrity and professionalism," Ricketts said.
--Oliver Darcy and James Griffiths contributed to this story.