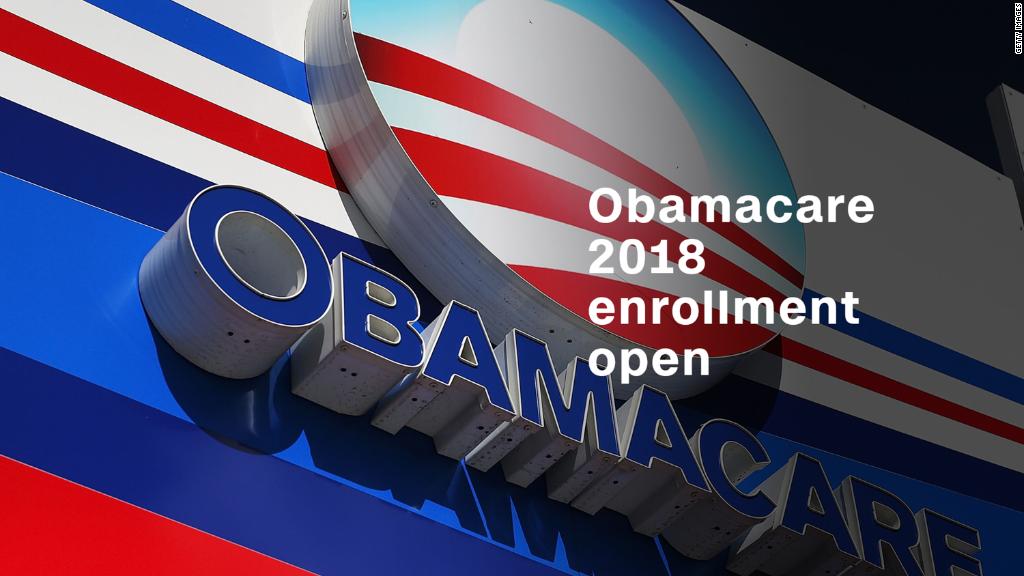 The Trump administration may be downplaying the start of Obamacare open enrollment, but the states that run their own exchanges are making sure residents know to sign up.
More than a dozen states have their own marketplaces, which gives them more control over advertising, outreach and even enrollment in some cases. Many are taking advantage of this power to spread the word that the Affordable Care Act remains the law of the land and federal assistance is still available.
Open enrollment for 2018 began Wednesday and runs through December 15 in the more than three dozen states that use the federal exchange, healthcare.gov. In prior years, there was a bigger ad push and the enrollment period lasted at least until the end of January.
The Trump administration has taken other steps that critics say undermine the health reform law. It is doing only one-tenth of the advertising for open enrollment that the Obama administration did last year. It's also cut the federal support for the non-profit agencies that help people sign up.
Also, Trump has repeatedly pronounced that Obamacare is dead and has yanked the funding for a key Obamacare subsidy. All this has Obamacare advocates worried that fewer people will sign up.
State-based exchanges are trying to counteract that messaging.
"They understand that the federal chaos will have a negative impact on enrollment," said Emily Curran, research fellow at Georgetown University's Health Policy Institute. "State marketplaces are really well-positioned to step up and do more for their consumers."
Related: Obama wants you to know Obamacare open enrollment has begun
Covered California, which has roughly 1.3 million enrollees, plans to increase its marketing and outreach budget by $12 million this enrollment season. It is spending a total of $111 million, with more than half going towards television, radio, print, digital and other advertising -- including a spot during the World Series Game 7 in Los Angeles. Also, it has allocated $33.5 million for enrollment assistance.
Exchange officials are also hitting the road to promote enrollment, traveling 1,300 miles over seven days in a bus wrapped in the Covered California logo. Local artists will paint murals to attract attention to sign up locations across the state. Enrollment in the Golden State will last until Jan. 31.
The #1 goal: Encourage people to check out the exchange's website, coveredca.com, and shop.
"If people shop and see the price, they'll sign up," said Peter Lee, Covered California's executive director, noting that 85% of consumers who get subsidies can find plans with lower premiums for 2018.
In Connecticut, exchange officials ran public service announcements on local television stations and social media in October to make sure residents understood that the Affordable Care Act still exists, financial help is still available and the uninsured will still be penalized.
"It's never been this confusing for consumers," said Andrea Ravitz, director of marketing and sales for Access Health CT, which extended enrollment by a week to Dec. 22.
Related: 5 changes for Obamacare open enrollment for 2018
Access Health CT is making it easier for people to sign up by staffing 10 enrollment locations -- up from two last year -- as well as holding five enrollment fairs, which it is promoting heavily. The exchange also debuted a mobile-friendly website to make it easier to shop on cell phones and tablets.
And it is mining the data on its 95,000 enrollees to send them tailored messages by email, text, phone and mail. For instance, residents enrolled in unsubsidized silver plans this year will receive messages asking them to update their income on their applications to see whether they now qualify for help and letting them know that bronze and gold plans may be cheaper on the exchange than off it. Also, officials are advising them that if they buy an off-exchange policy, they won't be able to receive a subsidy even if their income drops during the year.
Advertising is key to getting people to sign up for Obamacare, experts said. In Kentucky, for instance, each TV ad sparked nearly 8,000 page views of kynect, the state-based exchange, over the first four enrollment periods, according to researchers from the University of North Carolina, University of Michigan and the Wesleyan Media Project.
Then, Republican Governor Matt Bevin took office in December 2015 and canceled television advertising for the final four weeks of the 2016 open enrollment period. Kentucky's enrollment dropped 19% between 2015 and 2016.
"Reductions in public outreach efforts could have negative effects on the individual market if consumers are uncertain about the continued availability of coverage and so-called 'healthy procrastinators' fail to enroll as a result, contributing to lower enrollment and potentially a worse risk pool for insurers," the researchers wrote.
Related: Most Obamacare enrollees could pay less for policies next year
Conscious of the importance of outreach, the Maryland state-exchange is tripling the number of emails, texts and mailings it is sending this year. Plus, it is pushing notifications through its mobile app.
The top priorities are letting consumers know that they must enroll by Dec. 15 and that most can escape the big rate increases since they qualify for financial assistance.
"We realize it's a shorter period so we have to get people in the door quicker," said Andrew Ratner, chief marketing officer for Maryland Health Benefit Exchange, which runs the marketplace.
Sign-ups have been brisk so far, with more than 5,000 people picking plans in the first two days, nearly twice as many as last year. The Maryland Health Connection website, which usually closes at 11 p.m., had to stay open an hour later on Wednesday because 300 people were still online. Maryland currently has about 120,000 Obamacare enrollees.
While a lot of consumers are confused about the status of the Affordable Care Act, the news coverage has raised awareness of open enrollment, Ratner said.
"In some ways, all the attention to the reduction in advertising gets the message out in a different way," he said.