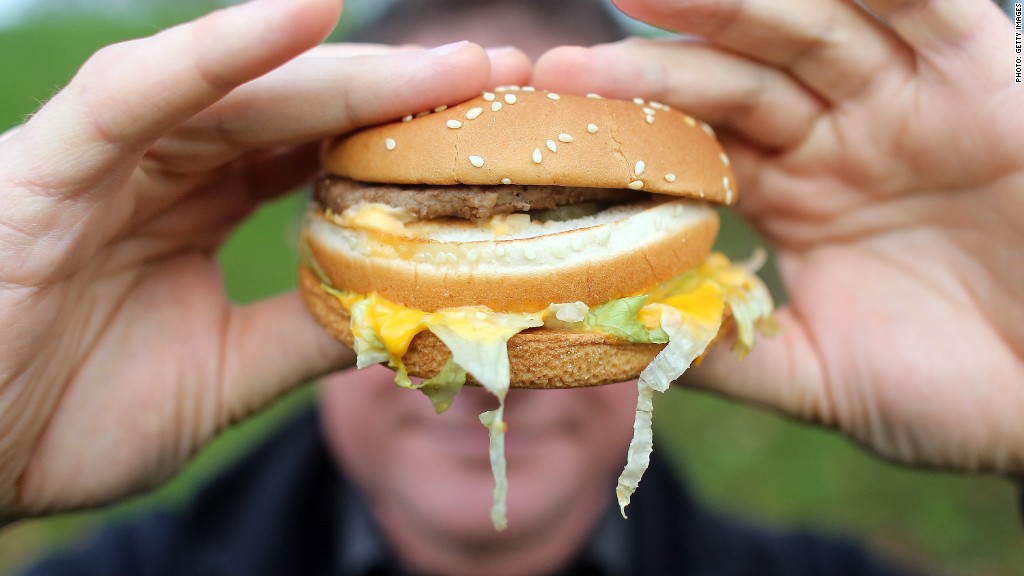 Wendy's may be starting to find that it's not easy being in third place in what's shaping up to be a two-horse (or should it be cow?) race in the fast food burger battle.
Shares of Wendy's (WEN) fell 4% Wednesday after it reported overall revenue and profits that missed forecasts and a slowdown in same-store sales, an important measure for restaurants and retailers that looks at locations open at least a year.
Same-store sales were up just 2% in North America, compared to a 3.2% rise in the second quarter.
Part of the problem was that disruptions due to hurricanes Harvey and Irma hurt sales at restaurants in Texas and Florida.
But analysts grilled management during the company's conference call about increased competition from rivals McDonald's and Burger King as well.
Both chains have been busy launching new food items on the menu and deeper discount meal options. Mickey D's has already found success with its McPick 2 menu -- that offers 2 items for $5 -- and it will soon launch $2 and $3 value menus too.
John Ivankoe of JPMorgan asked if there was anything that Wendy's was planning to do to counter McDonald's new plans.
Wendy's is fighting back with value options of its own, including a 50-cent Frosty dessert promotion as well as a 4 for $5 meal that includes a Giant Junior Bacon Cheeseburger, fries, four chicken nuggets and a small drink.
But Wendy's executives stressed that it's important to offer both value and quality.
That didn't seem to be enough to satisfy Jake Bartlett of SunTrust Robinson Humphrey. Bartlett wanted to know why the company seems to have lost share to McDonald's and Burger King in the third quarter.
Wendy's management team pointed out that sales are still strong over a two-year period and that it would be a mistake to overreact to just one quarter's numbers.
Related: Big Mac attack! McDonald's is still red hot
Nevertheless, Bartlett persisted. "I think there's concern among investors that all three of the larger players can't be successful at once. How do you answer that kind of question more directly in terms of your ability to compete?" he asked.
But Wendy's executives dismissed those concerns, saying that there have been several times in the past few years when all three burger franchises have thrived.
Management also noted that the broader quick service restaurant sector has boomed while so-called fast casual chains like Chipotle (CMG) and Shake Shack (SHAK) have struggled lately.
Still, it appears that customers and investors are more impressed by what Wendy's larger rivals are doing.
Shares of McDonald's (MCD). which reported strong third quarter sales in the U.S. and worldwide last month, are up 40% this year. And the stock of Restaurant Brands (QSR), which owns Burger King as well as Popeyes and Tim Hortons, has gained nearly 40% too.
But Wendy's is up just 4.5% -- so it's not just lagging its burger rivals but the broader market as well. The Dow is up about 20% so far in 2017.